Battle of Dunlap Farm
Introduction
The Battle of Dunlap Farm, also known as The Battle of Dunlap Hill, or Stoneman's Raid, was a historic battle of the Civil War. The battle took place on July 30, 1864, with General George H. Stoneman led Union forces on an attack against Confederate controlled Macon, Georgia. The battle is known to be the battle that started the end of Stoneman's raid within Georgia. The Confederate victory that day allowed Confederate forces to corner Stoneman's forces at the Battle of Sunshine Church on July 31, and ultimately cause Stoneman to surrender. Today, a historical marker stands to honor the lives lost during the battle, and key buildings from the battle still stand and can be visited.
Images
Historical marker, erected in 1954.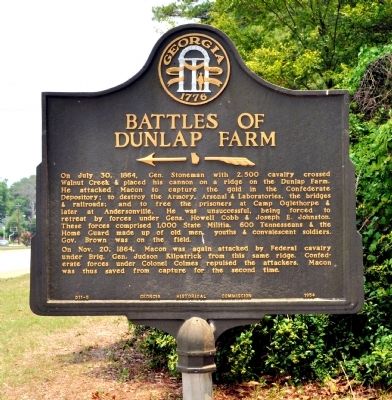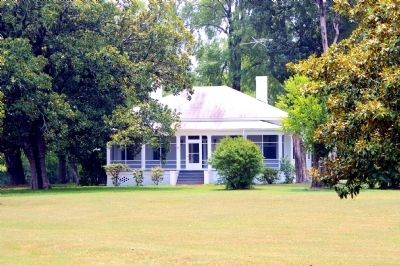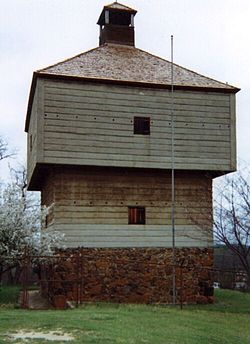 Backstory and Context
During the summer of 1864, Union Major General William Tecumseh Sherman ordered 9,000 men south in two columns, led by General George H. Stoneman and Major General Alexander McDowell McCook. Their mission was to destroy the railroad along the way, cutting off vital supplies to strong fortifications in Atlanta that otherwise could not be breached. On July 27, Stoneman left Decatur, crossing the Ocmulgee River with 2,112 men and two pieces of artillery, with the intent to join the others at Lovejoy, where they would destroy the Macon railroad. However, as he made his way through Covington and Monticello toward McCook's column, he soon discovered there were no bridges along the stretch. Hesitant to rejoin Sherman without accomplishing his mission, Stoneman made the decision to capture Macon, where he would free 35,000 Union soldiers imprisoned at Camp Oglethorpe and Andersonville.
On the morning of July 30, Georgia's Governor Brown was in Macon with Confederate officers Major General Howell Cobb and General Joseph E. Johnston. Warned of an attack, Brown reinforced the city with Cobb's Georgia reserves and militiamen. As Stoneman's forces started approaching Macon, small skirmishes with Confederates grew and intensified. Stoneman, however, proceeded in order to free the prisoners and take supplies at Fort Hawkins in Macon, where there was gold, and he could destroy the armory, arsenal, laboratories, bridges, and railroads. The fort was established in 1806 by President Thomas Jefferson and Indian (Native American) Agent Colonel Benjamin Hawkins as a U.S. Army Fort and Indian Factory for trading and meeting with Native Americans.
At that point in time, the area was the Western Frontier and a wilderness, which overlooked the ancient "Old Fields," an Indian Mound held sacred by the Muskogee Creek Nation, the Ocmulgee River, the Lower Creek Pathway that became Federal Road, which connects Washington, D.C. to Mobile and New Orleans. It became the future site of the city of Macon 17 years later. On July 30, Stoneman set up a temporary entrenchment at the Dunlap House and began to shell the city, unaware of the advanced warning of his arrival. Fort Hawkins proved to be a useful spot for the Confederates, as it allowed them to rain heavy fire down on Stoneman's forces. To combat this, Stoneman ordered Lieutenant Colonel Robert W. Smith's 24th Indiana Battery to use its 3-inch rifle guns to open fire on active civilian targets within the city. Despite Stoneman's efforts, the Union was unable to break the Confederate line of defense to capture the city. Heavy casualties caused Stoneman to order his forces to retreat, ending the Battle of Dunlap Farm, sometimes referred to as "Stoneman's Raid."
After Stoneman's defeat, his forces were cornered the next day at the Battle of Sunshine Church by Brigadier General Alfred Iverson, Jr., CSA, who was sent from Atlanta to intercept Stoneman. Stoneman helped two of his brigades escape north through Eatonton, Madison, High Shoals, and Watkinsville, before being forced to surrender with 600-700 of his men. Stoneman was imprisoned at Camp Oglethorpe, the same prison he sought to liberate, and his men were sent to Andersonville. Because Confederates eventually rebuilt the railroads and bridge Stoneman had destroyed over the Oconee River, the only lasting effect was a cannonball that struck the house of Judge Asa Holt, although the intended target was Confederate Treasurer William Butler Johnston. This battle was a significant Confederate victory during the Civil War and ended Stoneman's raid in Georgia. An unknown number of casualties were inflicted on both sides.
Today, a historical marker erected in 1954 honors the lives lost during the battle. It is located within Ocmulgee National Park near the Ocmulgee National Monument. Areas of the battle can be explored within the park itself, as well. The park is also home to the Dunlap Farm House, where much of the fighting took place. Fort Hawkins also still stands today.
Sources
Seibert, David. Battles of Dunlap Farm. The Historical Marker Database. July 13, 2011. Accessed June 27, 2018. https://www.hmdb.org/marker.asp?marker=98661.
Cox, Dale. Battle of Dunlap Hill (Dunlap's Farm) - Macon, Georgia. Explore Southern History. May 28, 2013. Accessed June 27, 2018. http://www.exploresouthernhistory.com/dunlaphill.html. 
Cox, Dale. Battle of Dunlap Hill (Dunlap's Farm) - Macon, Georgia. Southern History. October 21, 2010. Accessed June 27, 2018. http://southernhistory.blogspot.com/2010/10/battle-of-dunlap-hill-dunlaps-farm.html.
 Taylor, Jr., George Lansing. Stoneman Raid Marker, Macon, GA, University of North Florida. September 3rd 2011. Accessed October 18th 2020. https://digitalcommons.unf.edu/historical_architecture_main/4553/.
Ocmulgee Mounds, National Park Service. Accessed October 18th 2020. https://www.nps.gov/ocmu/learn/historyculture/stories.htm.
Fort Hawkins, Explore George. Accessed October 18th 2020. https://www.exploregeorgia.org/macon/general/historic-sites-trails-tours/fort-hawkins.
Image Sources
By David Seibert, July 4, 2011, https://www.hmdb.org/m.asp?m=98661.

Additional Information