The Battles of Martin's Creek & Morgan's Mill
Introduction
The Battles of Martins Creek and Morgan's Mill was a small skirmish during the Civil War between Union forces commanded by Colonel John W. Stephens and Captain T. J. Miller, and Confederate forces commanded by Colonel Thomas R. Freeman on February 8th, 1864. The battle was a result of Union forces chasing down Freeman's Confederate force to Morgan's Mill where the Confederates successfully outnumbered and drove back the attacking Union forces. The Confederates sent them on the run for eight miles before the Union forces successfully escaped. This battle is a good example of small skirmishes fought between Union scouting parties and small groups of Confederates. Today, a historical marker sits along side Morgan's Mill to honor those that died during the battle.
Images
Historical marker erected in 2004.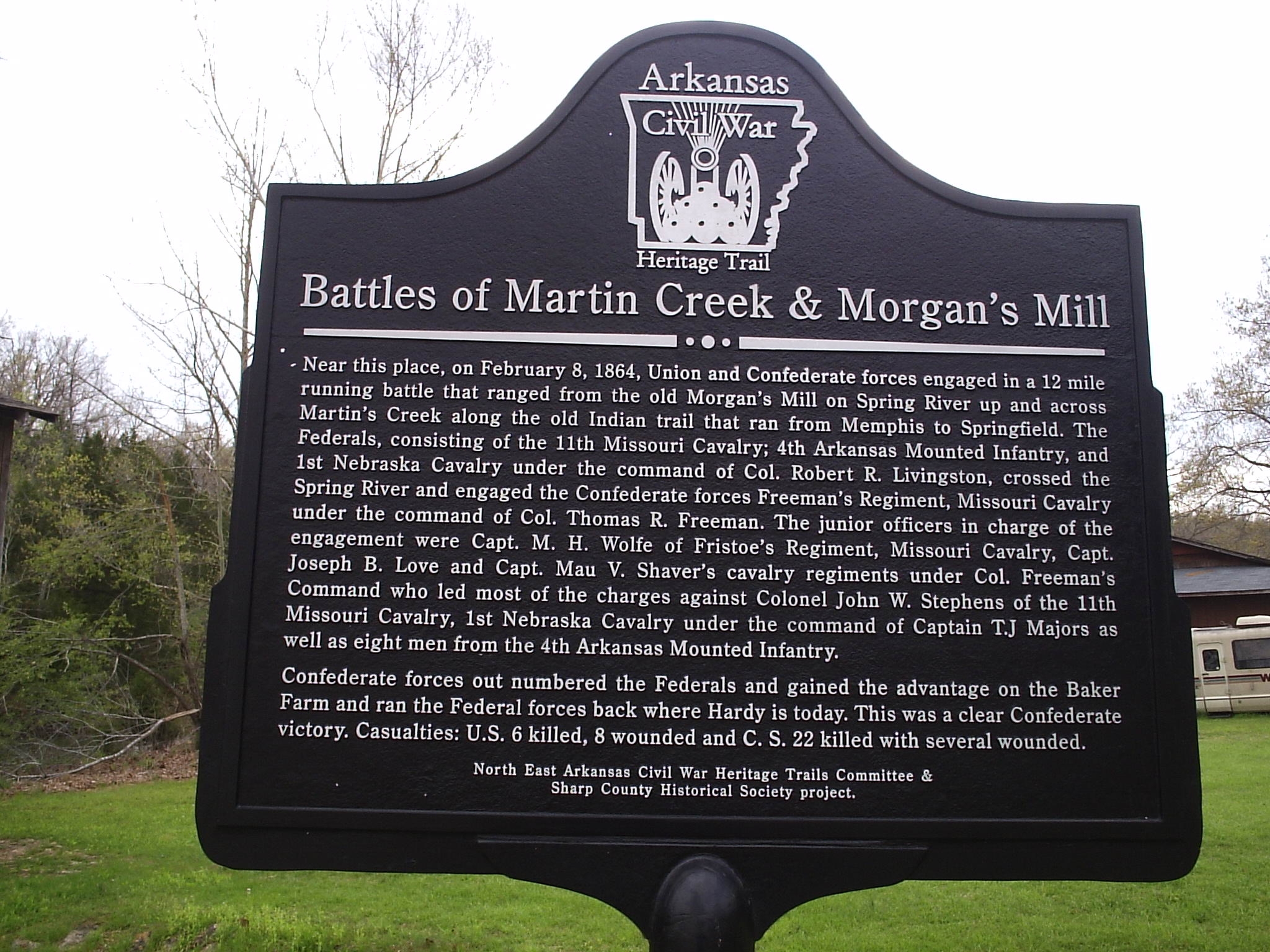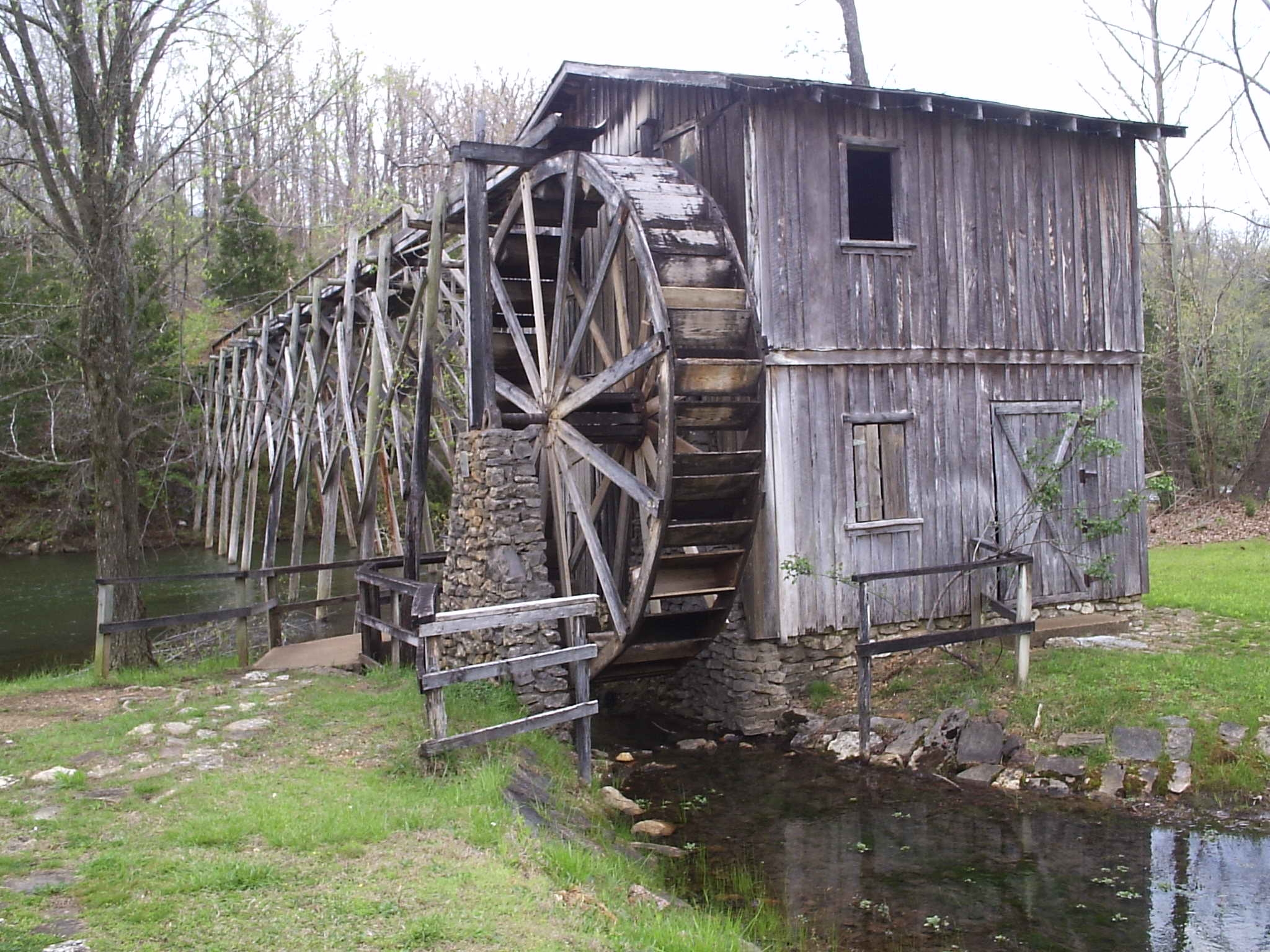 Backstory and Context
Shortly Union Colonel Robert R. Livingston and his forces captured Batesville and established the District of Northeastern Arkansas, Livingston sent some of his units to search and pick off small groups of Confederates in the surrounding region. One of these units was the First Nebraska Calvary who were sent to Smithville, Evening Shade, and Hookram on a scouting mission. Two days later, on February 6th, Confederate Colonel Thomas R. Freeman had set up camp near Smithville about 40 miles away from Batesville. Freeman decided to strengthen his forces by calling for a short truce where he sent Captain M. H. Wolf to exchange four of captured Union soldiers for some of Freeman's men. The next day, a Union force composed of 72 men, 64 from the Eleventh Missouri Calvary and 8 from the Fourth Arkansas Mounted Infantry, under the command of Lieutenant Colonel John W. Stephens and 40 men of the First Nebraska Cavalry under the command of Captain T. J. Majors received orders to attack Freeman's camp site. Freeman anticipated this attack and had ordered Major Mau V. Shaver to move his force of about 100 men from the camp site to Martin's Creek which was about 16 miles north. There they set up camp at Morgan's Mill, near the mouth of Martin's Creek. When Stephens' and Majors' forces arrived, they found the camp site abandoned and the Confederate force had moved northward. The Union forces followed in pursuit through Smithville up to the Spring River where they decided to camp for overnight.
When dawn struck, Stephens and Majors decided to split their forces and march along both sides of the Spring River toward Morgan's Mill. After traveling about 7 miles, the Union forces encountered Confederate pickets, but swiftly drove them back. However, more Confederate forces arrived and greatly outnumbered Stephens' and Majors' forces. Around 300 men under the command of Colonel Joseph B. Love and Lieutenant Colonel W. O. Coleman had been sent to reinforce Freeman's force of about 200 men. It was clear now that the Union forces would not win this fight due to the sheer number of Confederate soldiers. Although Stephens had reported that some Union forces broke through the Confederate's center line, the Confederate forces were swiftly surrounding Stephens' men and the Union forces were forced to retreat. However, this retreat would not have been possible without the help of Majors' forces who attacked the rear of Freeman's forces, allowing Stephens' forces to successfully retreat. Stephens and his forces kept a constant fighting retreat for about eight miles before successfully escaping Freeman's Confederate force. The Confederates had successfully driven the Union forces back to Batesville.
This battle is a good example of the small skirmishes between Union scouting parties and small groups of Confederates. The Union would later go on to abandon Batesville in May due to Confederate Brigadier General Joseph O. Shelby's forces moving into the region. The number of Union lives lost in the battle was 6, with another 8 men wounded. The Confederates lost 22 men with an unknown number of men wounded.
Today, a historical marker stands to commemorate the battle. Erected in 2004, the marker includes information about the battle and the number of lives lost. The marker is located on US Highway 62 on the turn-off for Newman Trail. The marker stands next to the location of Morgan's Mill which is still standing today.
Sources
1. Miller, P. A.. Battles of Martin Creek and Morgan's Mill. The Historical Marker Database. October 26, 2011. Accessed June 27, 2018. https://www.hmdb.org/marker.asp?marker=49108.

2. Perkins, Blake. Skirmish at Morgan's Mill. The Encyclopedia of Arkansas History & Culture. March 27, 2012. Accessed June 27, 2018. http://www.encyclopediaofarkansas.net/encyclopedia/entry-detail.aspx?entryID=6732.

3. White, Maude Shaver. "BATTLE IN SHARP COUNTY." Arkansas Gazette. Arkansas GazetteOctober 03, 1943. , 4-4.

Additional Information