Tucker Tower and Lake Murray State Park
Introduction
Tucker Tower is one of several structures within Lake Murray State Park, which is the largest state park in Oklahoma and named after a former governor. Created by the Works Progress Administration and the Civilian Conservation Corps during the Great Depression, this 12,500 acre park and lake, with almost entirely man-made shoreline, is a popular destination for fishing, boating, swimming, camping, and hiking. Overlooking the miles of artificial shoreline is the rustic Tucker Tower, formerly to be a summer vacation home for Oklahoma's governors but now used as a nature center. The National Park Service, which had a hand in the creation of the park in the 1930s, listed Lake Murray and its 195 contributing structures on the National Register of Historic Places.
Images
Map of Lake Murray State Park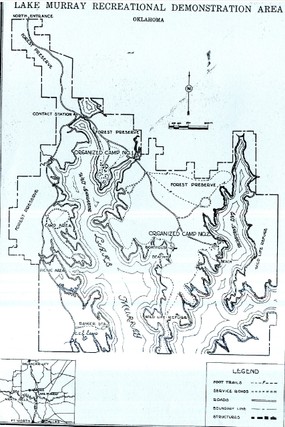 E.J. Johnson Memorial Bridge in Lake Murray State Park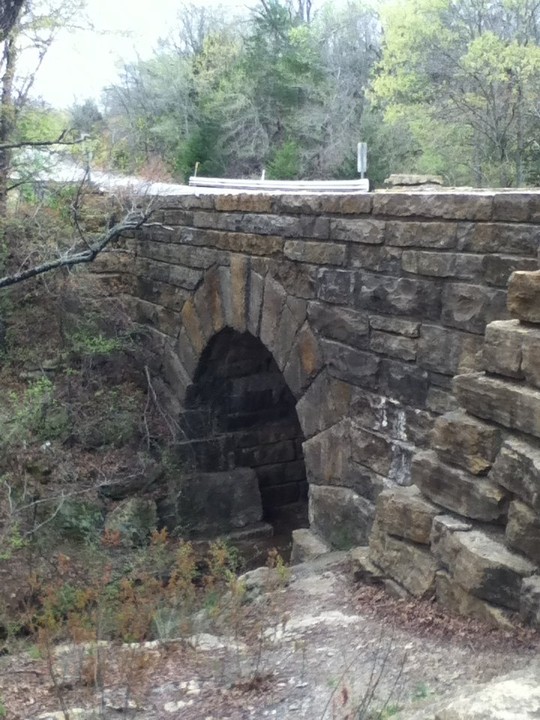 E.J. Johnson Memorial Bridge in Lake Murray State Park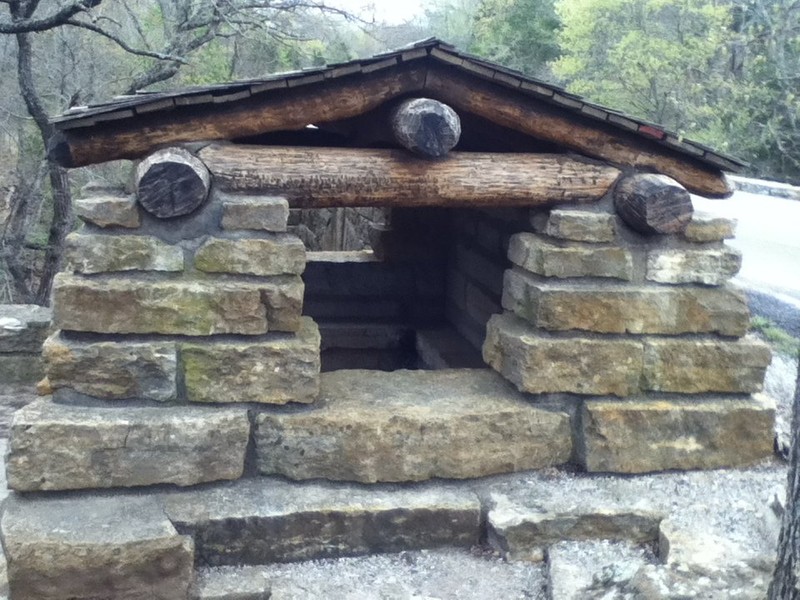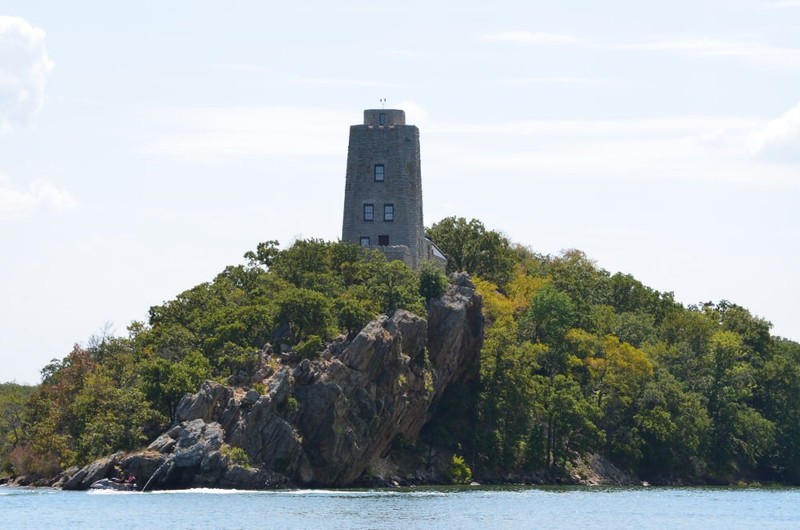 Backstory and Context
In 1932, the State of Oklahoma discovered an ideal place for the development of Oklahoma's first state park, within a hundred mile radius of Oklahoma and Texas's heaviest-populated areas. The location, in Carter and Love Counties near Ardmore, Oklahoma, was ill-suited for development of any kind; with rough, stony land covered with scrubby timber, deeply rutted dirt roads and a few farms where efforts far exceeded results, is was undesirable land, not worthy of protecting. Yet the Land Program of the National Park Service saw an opportunity. With soil erosion, uneconomic land, and unsuccessful agriculture, it was "as fine an example of submarginal land" as could be found. It was land put to a wrong use, yet had the potential for re-creation for the purpose of recreation.

Oklahoma's virulently anti-New Deal governor, William Murray, fought President Roosevelt's New Deal policies on nearly every front, but when approached with the idea of having a park named after him, he supported it, hoping that the revenue stream from locals and out of state visitors alike would pour millions into local economy and the state coffers. In 1933, the state developed a parks department to coordinate with local communities. Financial and moral support from towns such as Ardmore were important elements when it came to building Lake Murray, and the lake's presence close to their town promised the financial growth from future recreationists that Murray envisioned. In this, both the park and Ardmore benefited economically.

Building the lake was no easy task. The Works Progress Administration, hired to improve public works such as roads and local parks, and the Civilian Conservation Corps, a group of young men who were paid a monthly stipend to do hard manual labor on public lands, dug out the dusty land, use heavy machinery to move the thick layers of limestone, and construct a concrete and earth dam. They dammed three main tributaries, East and West Anadarche Creek and Fourche Maline, to create the massive lake from scratch. The dam itself was approximately a thousand feet long, with equal width, with a height of 165 feet. At its greatest width, the lake is nearly four miles. The lake is the largest in Oklahoma, with a shoreline of more than 210 miles.

The WPA also built Tucker Tower, a granite mansion wholly constructed from local materials, whose original purpose was as a summer retreat for Oklahoma governors. Today, Tucker Tower is used as the park museum, containing interpretive exhibits on the region's ecology and history. Tucker Tower can be seen from nearly any point along the lake throughout the park. The WPA and the CCC also constructed over 300 structures in the park, including lodges, bridges, campground buildings, and administrative buildings. Such structures emulated the National Park Service's unique form of architecture known as rustic park architecture, or "parkitecture." Perfected and overseen by famous park architect Herbert Maier (who designed many structures in Yellowstone, Yosemite, and Grand Canyon National Parks), each structure in the park, from the Tower to the E.J. Johnson Memorial Bridge, exemplifies the rustic architecture. His designs always used local materials such as limestone and local lumber that blended into the surrounding environment, giving the structures the appearance that they are part of nature and not a man-made structure. Visitors to the park today will still drive over the roads and bridges that the WPA and CCC built.

In 1995, the National Park Service recognized the CCC and WPA's architectural and conservation work, and added Lake Murray State Park to the National Register of Historic Places. Lake Murray, born from a dying landscape of dry dust and rocks, became a 12,500 acre park and lake for the purposes of recreation, including boating, fishing, swimming, camping, hiking, biking, and even golfing. Scenic Highway 77S runs along the perimeter of the lake, making it ideal for a peaceful drive. Today, Lake Murray State Park continues to be the most visited unit in the Oklahoma state park system.
Sources
The Building of Lake Murray. Oklahoma City, OK: Oklahoma Tourism and Recreation Department, 2014. DVD.

Department of Interior. Lake Murray State Park, National Register of Historic Places, 1995.

–. National Park Service. Murray Lake Recreational Development Area. "Changing a Liability into an Asset: Oklahoma's New State Park." NARA File #601-12, RG 79 (Recreational Demonstration Areas Program Files, 1934-1947). Box 200, June 1941.

United States Department of Interior, National Park Service. The CCC and Its Contribution to a Nation-Wide State Park Recreational Program. Washington, D.C.: GPO, 1937.

Additional Information