Military Park, Newark
Introduction
Listed on the National Register of Historic Places, the history of this public park dates back to 1666 when the land was set aside as one of three "commons" by the city founders. The triangle-shaped park is bound by Rector Street, Park Place, and Broad Street. For most of its history, the land was used for militia musters and training. The land served as a camp and training ground for troops during the French and Indian War. During the Revolutionary War, officers of the Continental army again used the land as their camp. The U.S. Army recruited troops here during the Civil War, and during WWI, the park once again served as a recruiting station for troops. Today, the park offers visitors a variety of activities, programming, and attractions including sports opportunities, fitness programs, arts and culture, a farmers market, a carousel, and a restaurant called Burg (short for burger).
Images
Aerial photo of Military Park. The "Wars of America" sculpture is in the center of the picture.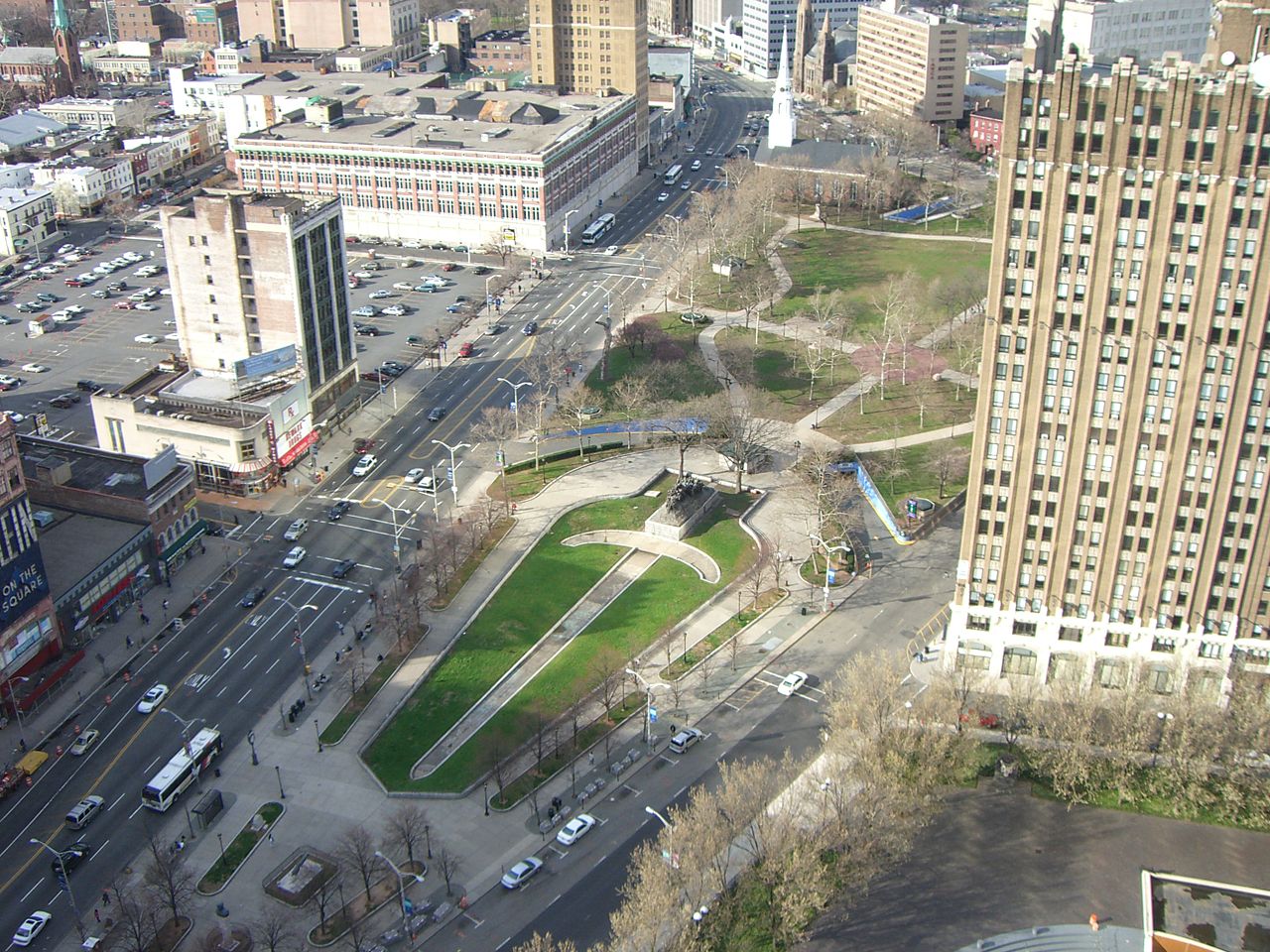 Backstory and Context
After the Revolutionary War, the commons was designated a public park. As stated above, it was used for military purposes over its history (including during the War of 1812). By the 1970s, the park was not well maintained and fell into disrepair. Fortunately, the city renovated the park in 2013 after years of planning and construction. This effort helped revitalize the surrounding neighborhood which now features numerous shops and restaurants.
The park also features the historic Trinity & St. Philip's Cathedral (built in 1810), which is located on the northern end. There are also a few sculptures, one of which is a bust of John F. Kennedy, and the other is a large one called "Wars of America," which was created by Gutzon Borglum, the sculptor of Mount Rushmore and numerous other statues and monuments around the country.
Sources
Dowdell, Kimberly. "Military Park: A Catalyst for Newark's Renaissance." Legacy Cities Initiative. July 23, 2014. http://www.legacycities.org/2014/07/military-park-a-catalyst-for-newarks-renaissance.

"Military Park HIstory." Military Park. Accessed June 27, 2018. http://militarypark.com/historyofthepark.

Zakalak, Ulana D. "Military Park Commons Historic District." National Park Service - National Register of Historic Places Nomination Form. June 18, 2004. https://npgallery.nps.gov/GetAsset/2c63edce-def4-43f3-bfe2-fec8d7a568f2.

Photo: Wikimedia Commons
Additional Information