Chellburg Farm
Introduction
This historic farmstead was constructed in 1885 by Anders and Johanna Kjellberg, a family of Swedish immigrants. This region was a leading destination for Swedish immigrants who sought to acquire farmland while after being pushed from their home country as a result of factors ranging from famine and overpopulation to the growing cost of land. The home is an exemplar of the Folk Victorian style popular throughout the United States in the late nineteenth and early twentieth centuries. The farm is currently part of the Indiana Dunes National Lakeshore and is listed on the National Register of Historic Places as one of several historic Swedish homesteads in the region.
Images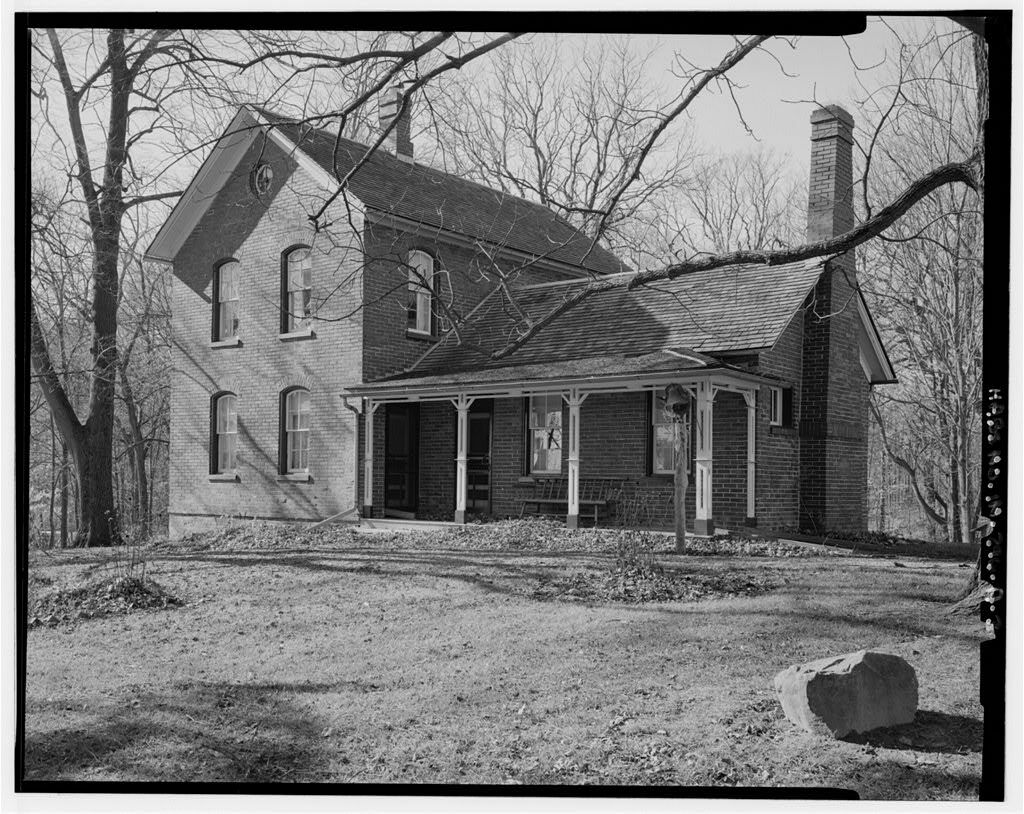 Backstory and Context
Between 1868 and 1873, many Swedes emigrated to the United States due to a combination of rapid population growth and famine. In particular, many Swedes emigrated to the Chicago area, which had the largest proportion of prominent businessmen of Swedish birth in the United States during the nineteenth and early twentieth centuries.

Anders and Iohanna Kjellberg immigrated to the United States from Sweden in 1863 with their son Cahrl. In 1869, Anders purchased land near Baillytown, Indiana and began farming: By 1879, the farm included an apple orchard, 40 acres of tilled land, 10 acres of woodland, and 10 acres of unimproved land. The Kjellbergs were active members of the Swedish-American community. In particular, Anders was a lay preacher at the Augsburg Lutheran Church in Porter, IN and served as the church school superintendent.

After a fire on December 16, 1884, construction began on the current brick structure which was completed in 1885. It was built in the folk Victorian style, a subset of Victorian architecture employed in the United States from around 1870 to 1910. This style is characterized by its simplicity, with decorative detailing on the porches and cornice line being the main feature setting it apart from ordinary homes of the period.

Following the death of Anders Kjellberg on April 16, 1893, the home was occupied by his son, known by that time as Carl Chellberg (hereafter, C.L.) C.L. installed a windmill on the property in 1906 and began a dairy operation in 1908. Additional structures were added in the following decades including a barn, a silo (c. 1917), tenant house (1926), and sugar camp (1934/5). C.L. Chellberg died on August 6, 1937.

C.L. Chellberg was succeeded by his son Carl. He began raising sheep in the 1940s and constructed a sheep shed. In the late 1950s, Carl sold the sheep, ending the use of the property as a family farm. The U.S government bought the farmstead in 1972 and incorporated into the Indiana Dunes National Lakeshore. The National Park Service currently operates the property as a working farm.









Sources
"Chellberg Farm." Cultural Landscape Report. US Dept. of the Interior, NPS. May, 2000. http://www.npshistory.com/publications/indu/chellberg.pdf. Accessed June 26, 2018.

Miller, Martha.The Chellberg Family, the Chellberg Farm. Chesterton, IN: Millar, 1982.
Additional Information