Woody Williams Armory
Introduction
Dedicated in 2012, this joint West Virginia Army National Guard and Army Reserve Armory in Fairmont, West Virginia, was named in honor of Medal of Honor recipient Hershel Woodrow "Woody" Williams. Williams was awarded the highest honor for American servicemembers for his heroic actions during the battle of Iwo Jima and his continued service to veterans and the people of West Virginia. The state of West Virginia dedicated the $25 million training center in 2012.
Images
MG Burch, Woody Williams, Governor Tomblin, and Senator Manchin listen to the Adjutant General of the West Virginia National Guard speak at the dedication ceremony. Woody Williams is the only living Medal of Honor Recipient from Iwo Jima.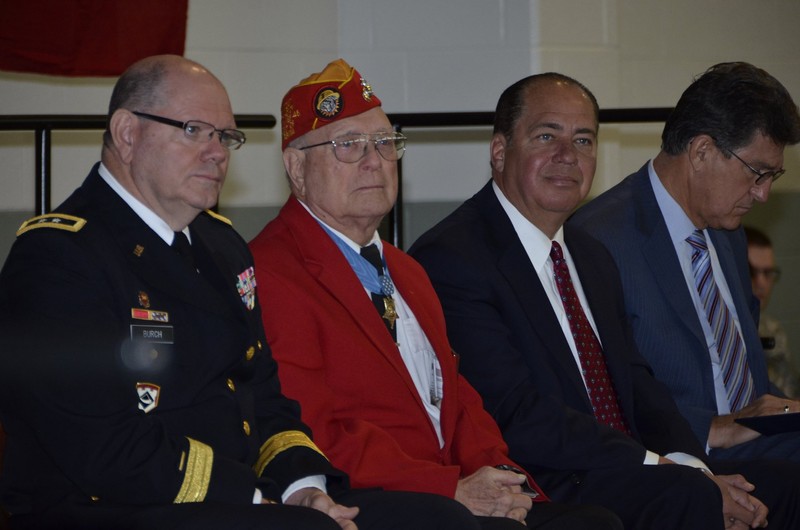 Sign outside the Armed Forces Reserve Center.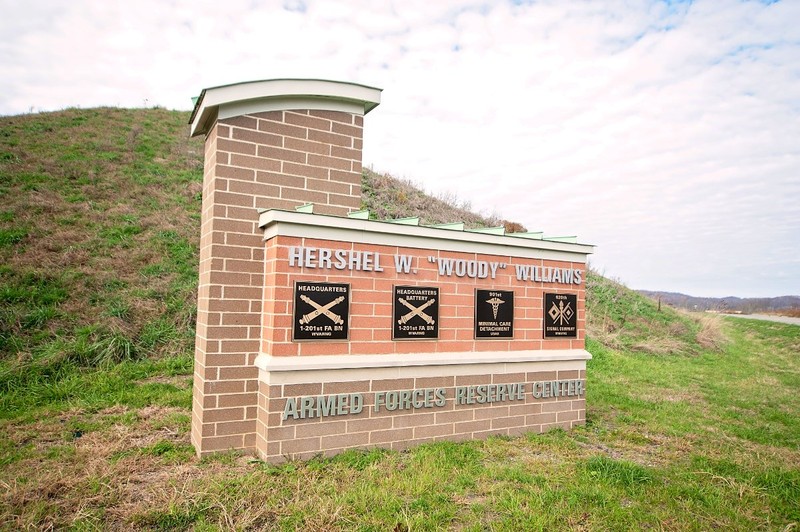 Backstory and Context
Woody Williams
Hershel "Woody" Williams was born on a dairy farm in Quiet Dell, West Virginia in 1923. Like many young men in the Great Depression, Williams joined the Civilian Conservation Corps to help his family in 1941. Following the attack on Pearl Harbor, he attempted to join the Marine Corps but was initially rejected for not meeting the height requirement. He later joined the Corps in mid-1943 when the height regulation was changed.

Williams completed his training and became a Marine in May 1943. He was shipped to Guadalcanal and was taught how to survive in combat by the battle-hardened veterans in his new unit. It was during the Battle of Iwo Jima where he distinguished himself, and be awarded the Medal of Honor.

In the years following the war, Williams suffered from post-traumatic stress disorder. He credits a religious experience in 1962 as helping him cope with this trauma. In 1979, Williams retired after 20 years in the Marine Corps as a Warrant Officer. Later in life, Williams advocated on behalf of veterans and worked as a veteran's service representative at the Department of Veterans Affairs.

The construction of the Fairmont Armed Forces Reserve Center was announced in 2008 and construction was complete in 2012. Today, multiple units use the facilities including the 1/201st Field Artillery and 1st Detachment 1/201st Field Support Company of the West Virginia Army National Guard, and the 901st Medical Detachment from the US Army Reserve. The AFRC was built with federal funds and they added a multipurpose community area to help the community. A year after the armory was dedicated in 2012 the city of Fairmont renamed the street "201st Artillery Drive" after the unit stationed at the armory.

Sources
1. Hall of Fame: Hershel Woody Williams. WV Civilian Conservation Corps Legacy. Accessed June 24, 2018. http://www.wva-ccc-legacy.org/hall_of_fame_pages/hershel_williams.html.

2. Hershel "Woody" Williams. Marine Corps University. Accessed June 24, 0008. https://www.usmcu.edu/?q=node/3336.

3. Bonnstetter, Cathy. "Semper Fi: the Legacy of Woody Williams." West Virginia Executive. West Virginia ExecutiveFebruary 07, 2018.

4.About Woody Williams. Hershel Woody Williams Medal of Honor Foundation. Accessed June 24, 2018. http://hwwmohf.org/woody-williams.html.

5. Stationed Units. Current Operations. Accessed June 22, 2018. https://currentops.com/installations/us/wv/hershel-woody-williams-afrc.

6. Legge, Jessica. "City to get new Armed Forces Reserve Center." Times West Virginian (Fairmont) July 15, 2018.

7. Good, Collen S. "Street has been renamed '201st Artillery Drive'." Times West Virginian (Fairmont) November 02, 2013.

Additional Information