Latrobe Country Club - Arnold Palmer
Introduction
The Latrobe Country Club is the golf course where Arnold Palmer got his start as a golfer. His father, Milfred J. Palmer - Deacon (or "Deke") designed the course and was head groundskeeper of the club and the club pro. It was founded in 1920 by some leading industrialists, professional people, and bankers in the Latrobe, Pennsylvania area. The course was purchased by Arnold Palmer and remains in the family. In 2012, it became open to the public. It is located on US-30, The Lincoln Highway.
Images
Hole 13 - Latrobe Country Club. Photo credit: Latrobe Country Club.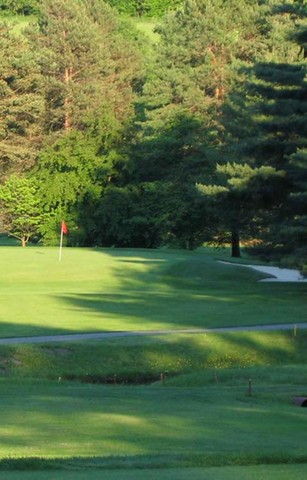 Backstory and Context
Latrobe Country Club was under construction in 1921 when a teenager named Deacon Palmer helped build the course. It started out as a nine-hole course that was formerly part of the Kennan Farm which bordered the Lincoln Highway, US Route 30, which was a national highway at the time. but steadily grew during the Great Depression and more land was acquired. This permitted revisions in the golf course. And major ones came when the Unity Land Company bought the course and steadily added more land to the course. In 1963, enough land was acquired to make the course an 18-hole layout.
The effort to design an 18-hole layout was carried out by both Deacon and Arnold Palmer. Arnold came up with an idea to have covered bridges cross a creek (name not given), not only to enhance the Pennsylvania landscape but to also serve as shelters during a storm. Arnold includes the Latrobe Country Club's 8th hole as one of the best he has ever designed, coming eight on the list.
When Arnold was a young boy, he was required to work along with his father to take care of the grounds of the golf course. Palmer and the tractor he used at Latrobe Country Club as a boy was used to later pitch the highly successful ads for Pennzoil. But young Arnold had to use the tractor all the time and caught a lot of criticism whenever Arnold would cause the wheels to slip on the grass, tearing it up.

Arnold Palmer has gone down in history as one of the greatest players in golf history. He won 62 events on the PGA Tour, including 62 times on the PGA Tour, 11 times internationally and 9 additional events. He won the US Open in 1960 and won four Masters and two British Opens. He was hugely popular with the fans, who followed him everywhere as "Arnie's Army." He is credited with rescuing the British Open from near irrelevance. His popularity and charisma also served him well in business.

Sources
1. Barrett, C. (2016). In his own words. Golf Magazine, 58(12), 20-25.
2. Chwasky, M. (2016). The tinkerer. Golf Magazine, 58(12), 62-63.
3. Deacon, J. (2005). At play with a golfing God. Maclean's, 118(38), 56-59.

4. Garrity, J. (2010). The best damn Open ever!. Golf Magazine, 52(6), 4.
5. Golf-Arnold Palmer. . Accessed June 26, 2018. https://www.arnoldpalmer.com/golf.

6. History of Latrobe. Latrobe Country Club. Accessed July 24, 2018. https://www.latrobecountryclub.com/about-latrobe/history.

7. Jerry, P. (n.d). Palmer and prize pupil up for challenge. USA Today.
8. Latrobe Country Club. Accessed June 26, 2018. https://www.latrobecountryclub.com/.

9. Parker, Dr. T. Arnold Palmer and his Impact on The Open Championship. World Golf Hall Of Fame. (2016). Accessed July 20, 2018. http://www.worldgolfhalloffame.org/media-center/news-articles/arnold-palmer-impact-on-the-open.
10. Passov, J. (2016). Empire of the son. Golf Magazine, 58(12), 30-32.
11. PGA Tour. Arnold Palmer. Accessed July 20, 2018. https://www.pgatour.com/players/player.01910.arnold-palmer.html.
12. Schwartz, M. (2016) A Life Well Played: My Stories By Arnold Palmer. Walt Disney Golf. Accessed July 20, 2018. https://www.golfwdw.com/blog/88-a-life-well-played-my-stories-by-arnold-palmer.
13. Sens, J. (2016). Teeing off. Golf Magazine, 58(6), 16-21.
14. Sirak, R. (2016). Thanks, Arnie Cheering for a local boy who made good. Golf Digest. Accessed July 20, 2018. https://www.golfdigest.com/story/thanks-arnie.
15. The best holes ever designed by K Club architect Arnold Palmer. (2006). Sports Illustrated, 10544-47.
16. Von Drehle, D. (2016). Arnold Palmer. Time. p. 12.
Additional Information