Bobby Sands Circle, Irish Republican Army Memorial
Introduction
At the intersection of Maple and Freeman streets, just outside the Goodwin Park Golf Course, stands a white stone cross in the Celtic style. It has stood in its small traffic circle for over 20 years as a monument to Bobby Sands and his fellow Irish Republican Army members who died in a Northern Ireland prison in 1981 after a long hunger strike. This monument to these IRA activists is the only one of its kind in the US.
Images
The Hunger Strikers' Memorial at Bobby Sands Circle.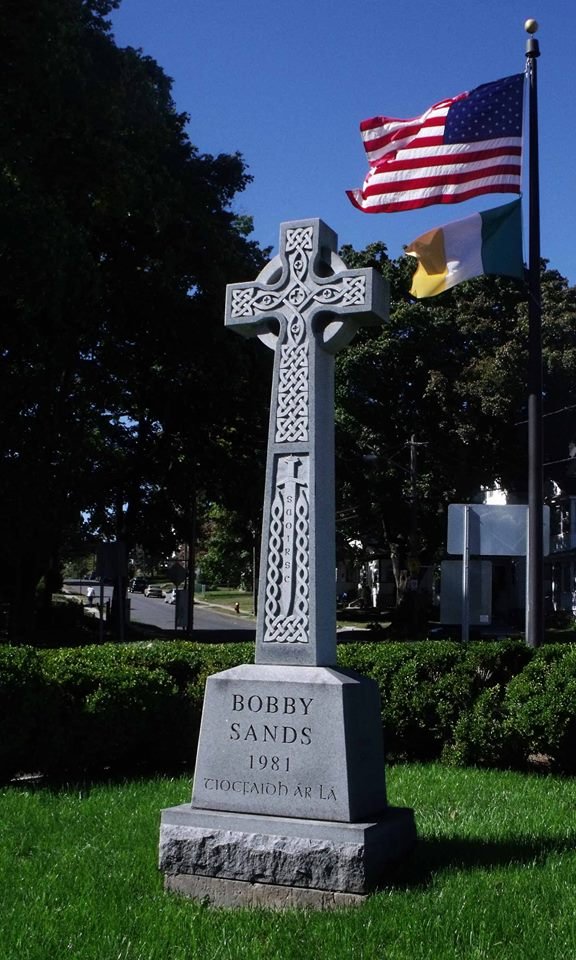 Street sign at the corner of Freemont and Maple Avenues.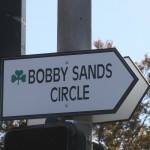 Names of the other strikers who died alongside Bobby, engraved on the monument.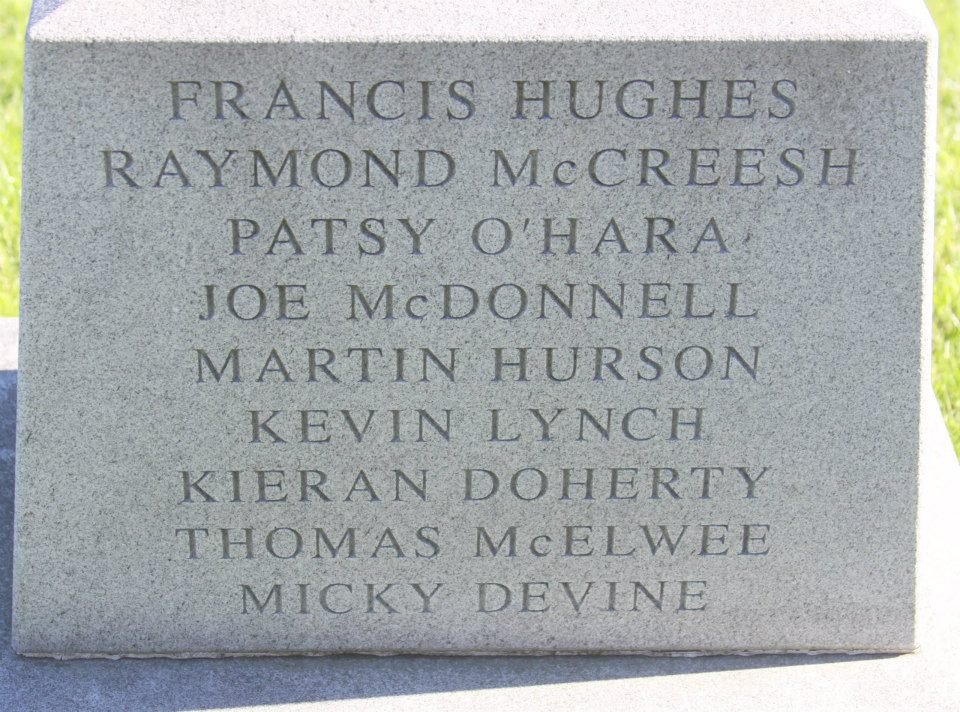 The Hartford chapter of NORAID, sponsors of the monument.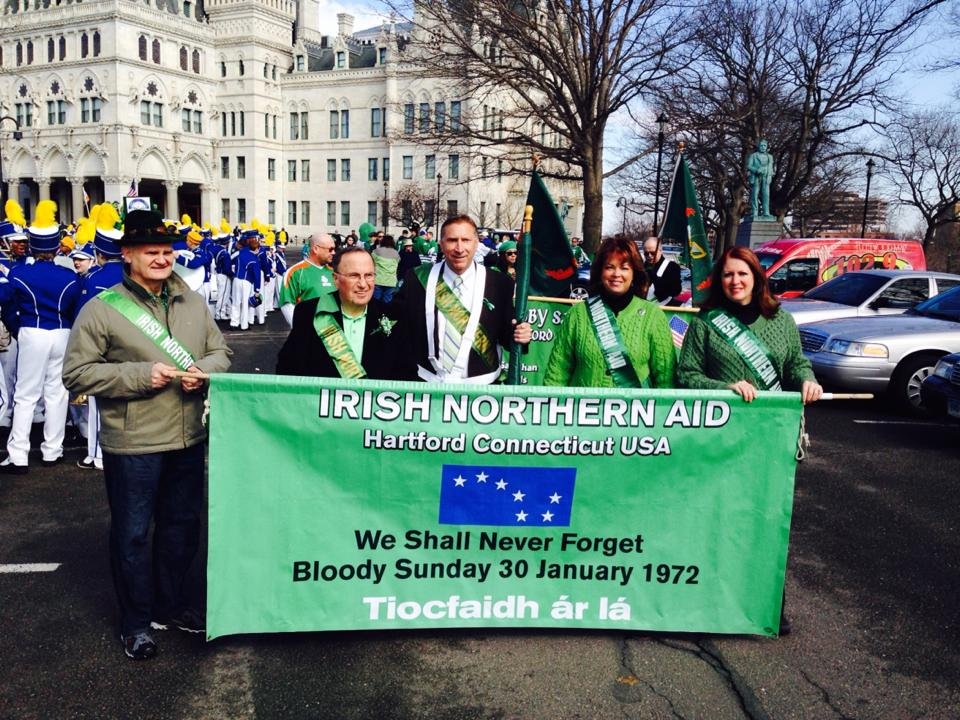 A commemorative ceremony held at the monument on the 32nd anniversary of Sands' death.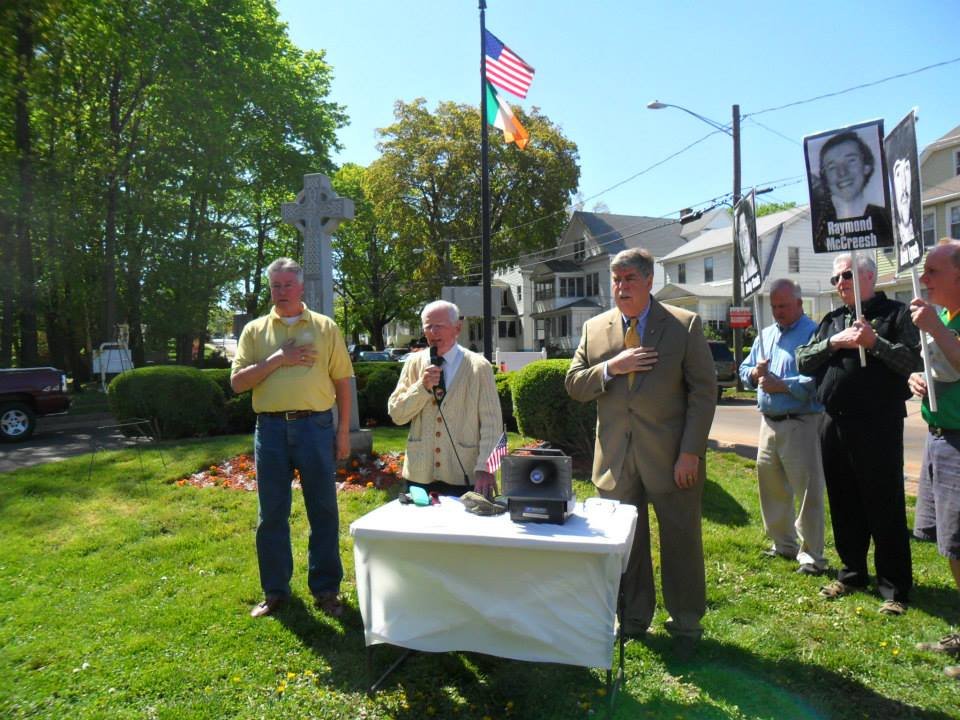 Backstory and Context
The monument is a reflection of the deep roots of Hartford's Irish-American community dating back to the early 19th century when immigrants began arriving to work in the textile mills. By the end of the century, by which time many Irish were also employed in the Colt Armory, Hartford's population was about 20% Irish. Even though the percentage has dropped somewhat today, as numerous other immigrants from all over the globe have been arriving over the past few centuries, West Hartford still has a significant population of Irish descent that is estimated to represent 15% of the whole community while East Hartford is estimated at 12%.

Many of the people of Hartford showed a great deal of support for the Irish as they struggled for independence from British rule. Labor leader James Connolly was warmly received on a 1902 visit to Hartford, a town that had just elected an Irish mayor. 14 years later, Connolly would lead the Easter Uprising and be executed at Kilmainham Gaol and subsequently immortalized in numerous ballads and the poetry of W.B. Yeats. Another distinguished visitor was Eamon de Valera, who passed through town sometime between breaking out of a different British prison and getting elected president of the newly-formed Irish Free State.
Although the conflict in Northern Ireland abated somewhat in the aftermath of the 1919-1921 Irish War for Independence, hostilities flared up again in 1968 with the onset of the Troubles. It was against this background of violent clashes and political failure that had been going on for over a decade that Sands organized a protest among his fellow Maze Prison inmates to demand better treatment for incarcerated IRA members. Sands began refusing food on March 1 of 1981, with others joining the strike at staggered intervals. On May 5 of that year, after 66 days without food, Sands passed away and, in so doing, passed into the pantheon of Irish martyrs like Connolly.
As William Butler Yeats was no longer living to commemorate Sands in a poem, Hartford attorney Richard Lawlor decided he would do so via traffic circle. Lawlor, vice-chairman of Irish Northern Aid, had been deeply involved in generating political and financial support for the Irish Republican cause, and in the course of his numerous visits he had become acquainted with Sands' family. By 1995, he had persuaded the Hartford city council to pass a resolution dedicating the intersection of South Freeman Street and Maple Avenue to Sands' memory, and he even convinced Sands' widow Geraldine to attend the dedication ceremony. In fact, the speech she made there was her first public speaking engagement since her husband's death 14 years earlier. By 1997, Lawlor and the local chapter of NORAID, along with other members of Hartford's Irish-American community, had raised the $15,000 needed to erect the monument. It was dedicated on May 5, 1997, the 16th anniversary of Sands' death. The second ceremony in Sands' honor also featured a family member, sister Marcella Sands Kelly.
The white granite cross at the center of the monument is inscribed not only with Sands' name, but with the names of 11 other hunger strikes who also perished. Nine of those who died did so in the same 1981 strike led by Sands, while two had starved to death in a previous strike in 1976. The cross is also engraved with two swords, one inscribed with the Gaelic word 'Saoirse' and the other with its English translation 'Freedom'. Around the cross are growing 32 small bushes representing Ireland's 32 counties, and the monument also features a flower bed of green, white and orange planted to resemble the Irish flag.
Although some Hartford residents and visitors have expressed anger at this monument to what they see as "terrorism," there are many others who feel differently. The Bobby Sands Circle Trust is a group devoted to raising money and organizing work parties to provide for the monument's upkeep. A dedicated crew, their motto is "We Shall Never Forget", and this monument serves as a testimonial that many Americans have remembered the conflict between Ireland and England.
Sources
Bobby Sands Memorial - Hartford, CT. Waymarking. . Accessed June 26, 2018. http://www.waymarking.com/waymarks/WMD9DB_Bobby_Sands_Memorial_Hartford_CT.

Hunger Strikers Memorial, Hartford, CT. Irish Northern Aid Committee Hartford, Connecticut Unit. . Accessed June 26, 2018. http://hartford.homestead.com/hungerstrikers.html.

Hunger Striker's Memorial. Connecticut Museum Quest. June 17, 2009. Accessed June 26, 2018. http://www.ctmq.org/hunger-strikers-memorial/.

No Part Too Great or Small. The Shoeleather History Project. . Accessed June 26, 2018. https://shoeleatherhistoryproject.com/2014/01/06/no-part-too-great-or-too-small/.

Lee-Murphy, Michael. Our Irish Soul: How the Irish Shaped Connecticut, and Vice Versa. Connecticut Magazine. March 14, 2017. Accessed June 26, 2018. http://www.connecticutmag.com/the-connecticut-story/our-irish-soul-how-the-irish-shaped-connecticut-and-vice/article_c5219ccc-f310-11e6-ae45-4fe260a5a165.html.

Bobby Sands Circle Trust. Facebook. . Accessed June 26, 2018. https://www.facebook.com/Bobby-Sands-Circle-Trust-231350573727873/.

Hunger Strikers. Bobby Sands Trust. . Accessed June 26, 2018. http://www.bobbysandstrust.com/hungerstrikers.

Early 19th-Century Immigration in Connecticut. Connecticut History. . Accessed June 26, 2018. https://connecticuthistory.org/early-19th-century-immigration-in-connecticut/.

Percentage of Irish in Connecticut by City. Zip Atlas. . Accessed June 26, 2018. http://zipatlas.com/us/ct/city-comparison/percentage-irish-population.3.htm.

Eamon de Valera (1882 - 1975). BBC History. . Accessed June 26, 2018. http://www.bbc.co.uk/history/historic_figures/de_valera_eamon.shtml.

The Troubles. BBC History. . Accessed June 26, 2018. http://www.bbc.co.uk/history/troubles.

Alvarez, Maria. Hartford's Irish Honor Prisoner's Sacrifice. Hartford Courant. September 01, 1995. Accessed June 26, 2018. http://articles.courant.com/1995-09-01/news/9509010375_1_northern-ireland-hunger-strikers-irish-republican-army.

Mahoney, Patrick J.. Echoes of Irish Martyrdom on Hartford's Maple Avenue. Hartford Courant. March 13, 2013. Accessed June 26, 2018. http://articles.courant.com/2013-03-13/news/hc-op-place-mahoney-high-crosses-0314-20130313-1_1_hunger-strike-northern-ireland-political-prisoners.

Brown, Matthew Hay. Memorial Dedicated To Irish Republicans. Hartford Courant. May 05, 1997. Accessed June 26, 2018. http://articles.courant.com/1997-05-05/news/9705050112_1_hunger-strikers-northern-ireland-irish-community.

Puleo, Tom. Intersection To Be Dedicated Today To Irish Hunger Striker Bobby Sands. Hartford Courant. August 31, 1995. Accessed June 26, 2018. http://articles.courant.com/1995-08-31/news/9508310652_1_irish-pride-hunger-strikers-northern-ireland.


Additional Information