Star Hill AME Church (Star Hill Museum)
Introduction
The Star Hill community, which is just outside Camden, was founded by free Blacks who acquired the land from local Quakers. The Star Hill AME Church was founded in 1863 after a split in the Zion AME Church in Camden. The church hosted anti-slavery meetings and was a safe place for escaping slaves. Star Hill AME Church is listed on the National Register of Historic Places.
Images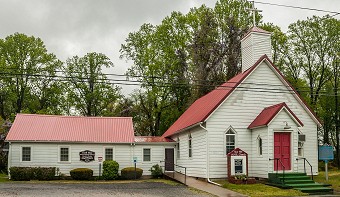 Backstory and Context
The community of Star Hill owes its existence, at least in part, to the notable Quaker presence in the area. Free Blacks settled the land with assistance from local Quakers in the late 1700s. Quakers also established a school for African American children in the area in the early 1800s. The school may have been housed in the church's wing, which was constructed in 1843 and is the oldest part of the church.

African Americans from the Star Hill community worshiped in Camden at the Zion AME Church until 1863, when the congregation split, leading to the formation of the Star Hill AME Church, which was also known as the Star of the East Church. The new congregation purchased the land from Henry Postles for $30 in 1866. A cemetery was established to the east of the church.

According to local lore, the name Star Hill was chosen because of the symbol of a star as a guiding light for runaway slaves. The congregation was reportedly active in the Underground Railroad, with the church hosting anti-slavery meetings as well as serving as a safe place for escaping slaves.

Over the years, membership at Star Hill AME has dwindled, but the members who remain are devoted to preserving the church's history. Members of the church formed the Star Hill Historical Society in the 1980s and were instrumental in getting the church listed on the National Register of Historic Places. The church also houses the Star Hill Museum.


Sources
Building Freedom. Delaware Historical Society. . Accessed June 25, 2018. http://dehistory.org/building-freedom.

Star Hill AME Church. NPS Gallery. . Accessed June 25, 2018. https://npgallery.nps.gov/NRHP/GetAsset/e394fe1e-930c-434a-b243-39b22f327c3a.


Additional Information