Hopewell Furnace National Historic Site
Introduction
The Hopewell Furnace National Historic Site is a wonderful example of a rural, 19th century "iron plantation." It was founded in 1771 by Mark Bird and by the early 19th century it had grown to a self-sustaining village that included the facilities to produce finished iron products from iron ore mines to shipping facilities. Today, the site contains 14 structures, some original, some recreated and 52 items from the National Park Service's list of Classified Structures on 848 wooded acres. Visitors to the site can learn about life on the plantation from ironmaster to wood cutters. They can also pick their own apples in the autumn on the site's 5-acre orchard. The plantation was designated a National Historic Site in 1942.
Images
A wooden bridge ushers visitors into the Hopewell Furnace National Historic Site.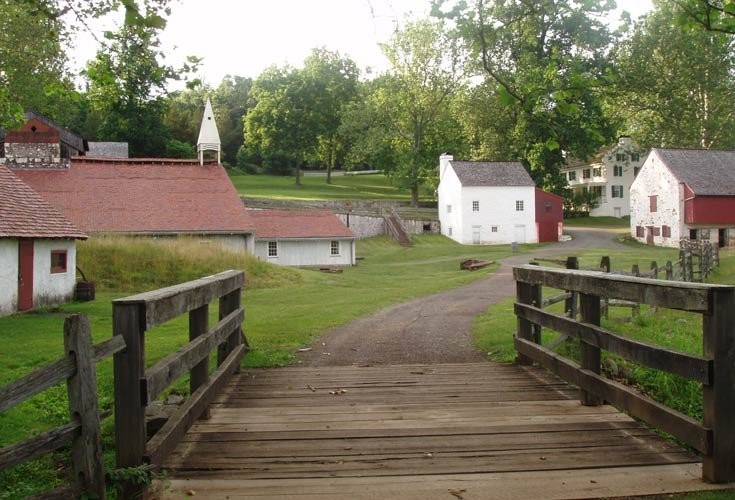 The ironmasters house at Hopewell Furnace.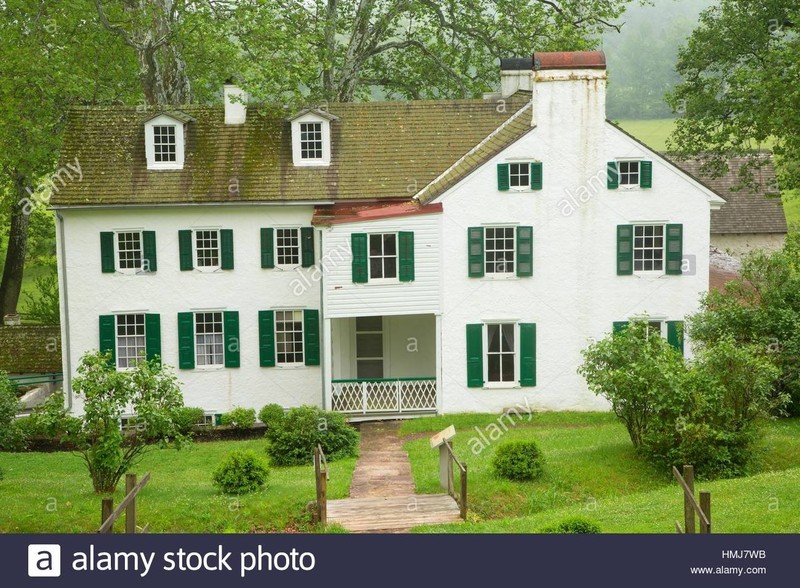 One of the original blast furnaces at Hopewell.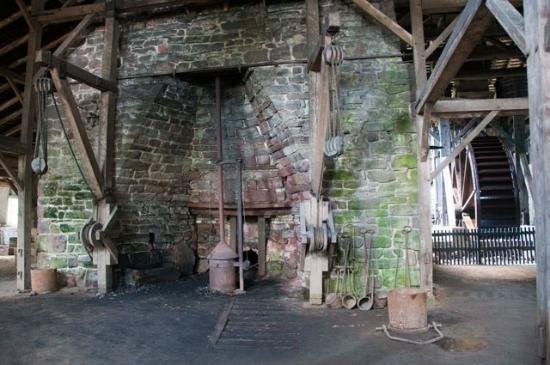 This large water wheel was used to compress air that was then shot into the blast furnaces.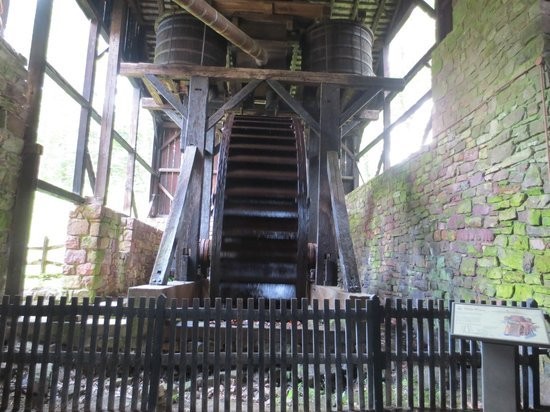 Two period actors fill a sand mold with molten iron.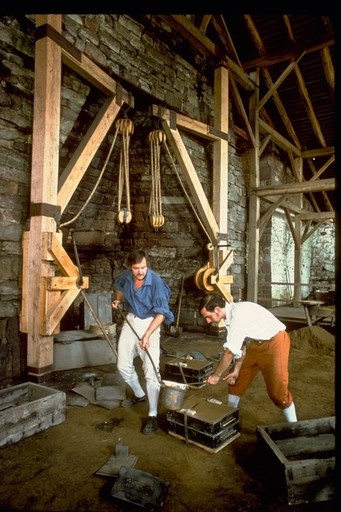 Backstory and Context
Mark Bird, the son of William Bird for whom the nearby town of Birdsboro is named, first established an iron producing facility at Hopewell in 1771. Bird quickly realized the site had all the necessary components to produce iron from hardwood forests with which to produce charcoal to heat the furnaces, to iron ore and limestone, to a creek to drive the massive water wheel, to labor from the city of Philadelphia. Soon, Southeast Pennsylvania became the center of America's fledgling industrial revolution and Hopewell was a significant contributor.
Hopewell's furnaces supplied Washington's Continental Army with cannon and ammunition with which they used to defeat the British. Bird was so leery of being raided by the Brits, that he often had his workers bury the Continental Army's cannons until delivery. Unfortunately, Bird was never fully paid for the arms he delivered to the Continental Army. He later fled Pennsylvania for North Carolina to escape debtor's prison in 1788 and died there in 1816.
By the early 19th century, under the management of ironmaster Clement Brooke, the iron operations at Hopewell grew to include housing, religious, farming and retail facilities for the 300 people who lived and worked there. Its work force included all those necessary to produce finished iron products as well as support staff. Those founders, moulders, colliers (charcoal makers), woodcutters, teamsters, and guttermen were fully supported by domestic servants, farmers, cooks, seamstresses, candle makers and merchants. Together, these workers, which included an integrated African-American work force, produced tools, horseshoes, cooking utensils and its famous "Hopewell stove" that were then shipped across the young country as well as overseas.
Patrons to Hopewell today begin their journey at its visitor's center which includes a short video introduction to the site and then they can embark on a self-guided tour. This tour includes the site's ironmaster's mansion, blast furnaces, large water wheel, remains of an anthracite furnace, sluice, Bethesda Church and cemetery, and worker's quarters. Along the way, visitors tour exhibits and learn about what life was like on the plantation from the perspective of all involved. Hopewell also hosts various living history days in which guests can watch a moulder producing a sand mold or the founder providing those moulders with molten iron. Finally, in the autumn, visitors can pick their own apples from Hopewell's orchard that includes over 30 varieties, many of which are no longer sold commercially.
Sources
"Hopewell Village National Historic Site." National Park Service. Accessed June 25, 2018. https://web.archive.org/web/20061012151011/http://www.cr.nps.gov/history/online_books/hh/8/hh8toc.ht...
Shuman, Sue. "At Hopewell Furnace National Historic Site in Pa., pick up some history along with your fruit." Washington Post. September 26, 2013. Accessed June 25, 2018. https://www.washingtonpost.com/lifestyle/travel/at-hopewell-furnace-national-historic-site-in-pa-pic...
Hayes, John. "Hopewell Furnace National Historic Site." Pittsburgh Post-Gazette. Accessed June 25, 2018. https://newsinteractive.post-gazette.com/usparks/hopewell-furnace-national-historic-site/
Additional Information