Comet, Montana (Ghost Town)
Introduction
The mining town of Comet was founded in 1876. In 1879 the Alta-Montana Company invested over $500,000 in developing the Comet and nearby Alta Mine. In 1883 the Helena Mining and Reduction Company bought the assets of the struggling Alta-Montana Company and built a new smelter at Wickes, six miles northeast of Comet. More importantly, the company convinced the Northern Pacific Railway to construct a branch line between Helena and Wickes. Soon, mining operations were expanded again, adding yet more mining equipment and hiring more men. Comet's heyday years were during the 1890s, when the mine became profitable enough to even weather the silver panic and depression of 1893. At this time, the town boasted some 300 people, a school, which taught more than 20 children, numerous businesses and homes, and more than 20 saloons.
Images
Main Street in Comet, Montana today, photo by Kathy Weiser, July, 2008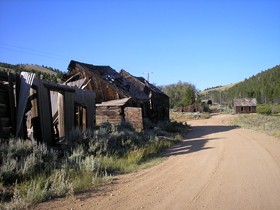 Ore bin and head frame, photo by Kathy Weiser, July, 2008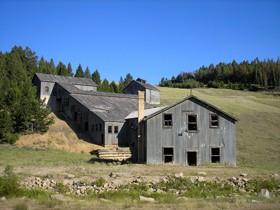 Backstory and Context
By the turn of the century, the ore was beginning to play out and Comet became a ghost town by 1913. In, 1927 the Comet and the Gray Eagle Mines were purchased by the Basin Montana Tunnel Company which built improvements and brought new technology making Comet "the most modern [mining town] in Montana." With better technology, the mines created new jobs, employing about 300 men at its peak. Mining operations continued until 1941 at which time, most of the equipment was sold, the people moved away, and Comet became a ghost town once again.
Sources
http://www.legendsofamerica.com/mt-comet.html
Additional Information