Straz Business Hall
Introduction
Straz Business Hall, originally just called the Hall of Business Administration, was built to launch the new College of Business Administration. Over the years, it has operated as such and expanded with new needs. In 1984, it was renamed to David A. Straz, Jr. Hall.
Images
An artistic view of the building.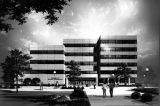 The entrance of the building.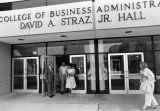 Backstory and Context
Following World War Two, the University saw enrollment sharply increase—from less than 2000 in 1936, to over 5000 in 1950—which necessitated the expansion of classrooms and dormitories. As such, the University prioritized expansion and development initiatives. Looking for new space and growth opportunities, the board of governors wanted new class space and decided to invest in a College of Business—both as a physical building and as an institution. Construction of the building, located on 13th street behind Gesu Church, began in 1949 and finished in 1951. This facility was primarily funded by private donations as well as the University's budget surplus and has operated as the business administration building ever since. With the building of Straz Hall, the College of Business Administration was born with full administrative/academic autonomy.

Straz Hall has maintained the same role since its founding but has expanded in its capacity. To accommodate increased enrollment over the decades and interest in business education, the college completed new classrooms, a computer lab, a reading room, faculty offices, and a research center as well as a student lounge and a large lecture hall in 1983.

At the same time as these renovations, the business building—and college, as well—took on the name of the distinguished alumnus of the school David Straz. Now, the building holds the name David Straz Jr. Hall. David Straz earned a finance degree from Marquette business school in 1965 and later attended the law school as well. He created a successful career in banking and used his wealth to become a patron to his alma mater. He later went on to help fundraise for the library and other Marquette facilities, resulting in another facility being named after him—Straz Tower.

In 2006, the College invested in the Applied Investment Management program which has allowed select students the opportunity to manage University endowment funds. The purpose was to expose Finance majors to real world investment practices. The program is highly regarded and has brought much distinction to the College. The program occupies distinct space on the second floor of building, which serves as a classroom and mimics a stock exchange with real time market information and stock indices prices.
Sources
"Building name to honor business alumnus Straz". Ann Downey. November 15, 1984. Marquette University Archives.
"Business addition breaks ground to handle increased enrollment". Liz Geary. April 27, 1983. Marquette University Archives.

Jablonsky, Thomas J. Milwaukee's Jesuit University: Marquette, 1881-1981. Marquette University Press, 2007.