Erwin Hotel - 244 East Graves Avenue
Introduction
This two-story structure was built in 1926 for John W. Camac and named for his wife's family. A seasoned real estate developer and banker, Camac commissioned J.P. Prettyman to build the hotel as well as complete the construction of the adjacent Laverne Apartments. The hotel was advertised on February 4, 1927 in the Orange City Times. It contained a lobby and seventeen rooms on the second floor and five commercial stores on the first floor. The commercial stores were home to hair dressers, hardware stores, antiques dealers, and used book retailers. Other notable commercial occupants on the first floor included the town post office and the Beverly Restaurant.
Images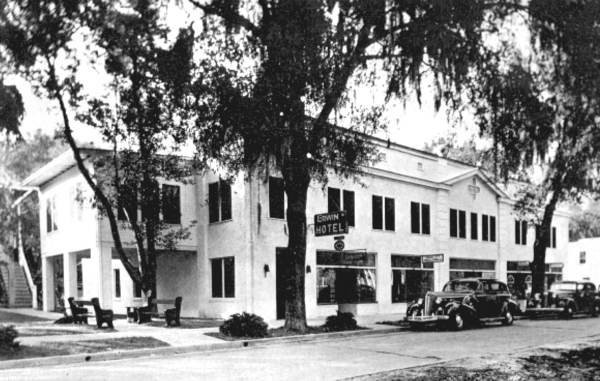 Erwin Hotel now Apartments. Photo by Donna Cobb. 2019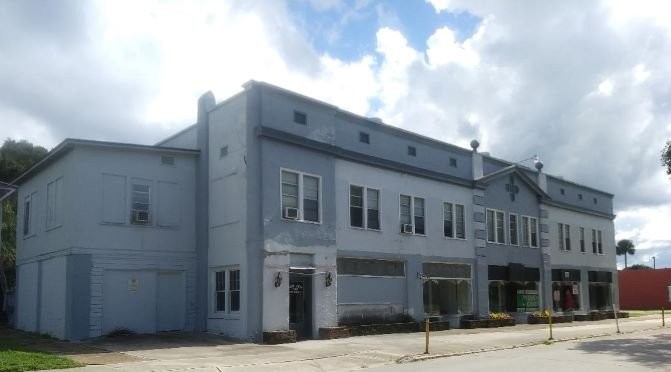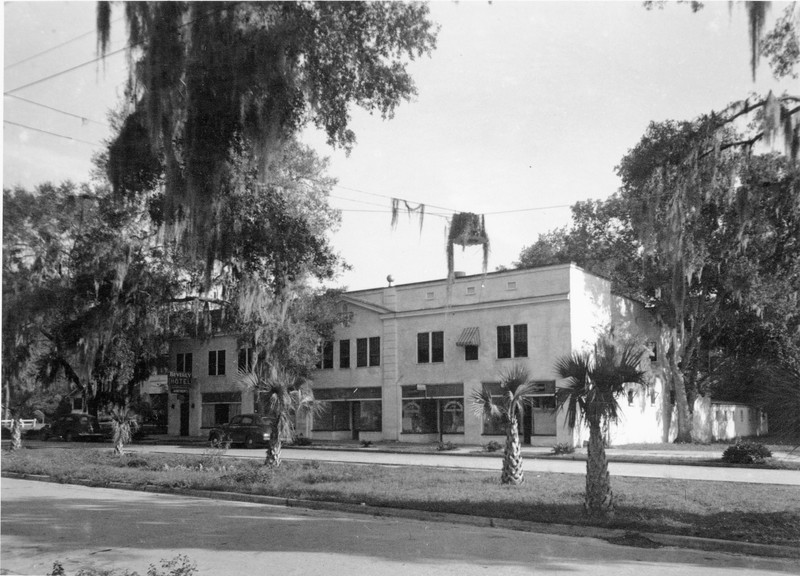 Backstory and Context
John W. Camac, a native of New Jersey, had a real estate office in Lansdowne, Philadelphia for 38 years before he ventured to Florida's burgeoning land boom in 1919. He opened a real estate office in Daytona Beach while maintaining his office in Philadelphia. He became very active in Daytona, serving as a director of the East Coast Bank and Trust Co. while investing in the development of the beach side community. In Daytona Beach, Camac developed the Fernwood Hotel and several business blocks on the peninsula's Main Street. Soon, his interests lead him to the west side of Volusia County.
The Miami News announced on July 14, 1925 that Camac had purchased the Orange City Mineral Springs Water Company. Having obtained a 50 year franchise of the company, Camac laid out plans to improve the water bottling operations and supply water to 12 new subdivisions in the area.
John and Sallie (Erwin) Camac moved to Orange City and quickly became an active participants in all things Orange City. John purchased a reported 200 acres of land in town for future development. Camac was soon busy with planning construction of a two story hotel on the city's main street. Under the supervision of J.P. Prettyman, construction of the Erwin Hotel began in 1926. The flat roofed hotel was built in a modest Italian Revival style. Two round roof elaborations above the quoins are original to the structure. The name of the hotel is presumed to be named for his wife's family. At one time, the structure had a series of enclosed garages attached to the south façade extending south.
The Italian Renaissance style began late in the nineteenth century peaking in the 1920s before declining in popularity by the 1930s. It was a common style for architect-designed landmarks in major metropolitan areas prior to World War I. Vernacular interpretations, like the Erwin Hotel, were prevalent in the 1920s with the perfection of masonry veneering skills. Prominent decorative details for this structure include parallel quoins, roof-line parapet, and belt courses. The flat roof subtype of Italian Revival architecture is similar to Spanish Revival architecture with stucco cladding and little or no eave overhangs.
The hotel manager, Edward Coffey, order 50,000 picture postcards of the hotel and scenes of Orange City to help advertise to northerners. Daily rates for the hotel ranged from $2 to $5 per day depending on the desired accommodations.
Local builder J.P. Prettyman drafted the plans and supervised all the construction on Camac's commercial buildings. He also built six dwelling in Orange City and renovated multiple properties in Orange City for the busy developer. In 1926, Camac's investments and construction projects in the city totaled over $300,000.
In an article published by the Deland Sun News on April 13, 1926, John W. Camac responds to questions about his substantial investment in Orange City. "I have spent the last eight winters and several summers in Florida, during which time I have been pretty well over the entire state. I have found no place in the whole state, throughout my travels that appealed to me in so many different ways as does Orange City. In the first place, I was attracted by the abundance of magnificent old shade trees, which not only form picturesque arches over all the street, but cover a lest 80 percent of all the property in town. These beautiful shade trees make it at once cool and delightful in Orange City. In the second place, I have found no place in all Florida were there were fewer flies, mosquitos, and insects. Another important fact that attracted me is the close proximity to the beautiful city of DeLand, only a ten minute drive from here, and a wonderful Daytona Beach, the finest one in the world, within an hour's drive of Orange City. All these things, compiled with the fact Orange City has the best and purest drinking water in the United States, assured me that this was the best place to live and the safest place to make a real estate investment. So I invested here and many of my friends have done likewise. Orange City, in my judgment, is as safe as government bonds for an investment. I am not offering anything for sale, I am still buying." – J.W. Camac
The Orange City Times Newspaper in 1927 reported that John W. Camac was having considerable improvements made to his properties keeping carpenters, painters and gardeners busy about the city. He was applauded in the newspapers for beautification projects he financed. Mr. Camac had planted 500 trees on his properties throughout the city and intended to plant more as trees became available.
Camac's involvement in the City extended to other public services. In 1926, Camac also help organize the Orange City Bank and served as Vice-President, participating in the dedication of the building at 211 North Volusia Avenue. He was reported to be the largest financial contributor toward the construction of a new Methodist church on East University Ave. He was appointed to a steering committee for the construction of the City's Town Hall in 1927. That same year, Camac was appointed to serve on the city's Tree Planting Commission alongside local landscape architect Miss Elizabeth Bootes Clark.
John and Sallie Camac resided at 401 East Graves Avenue, said to be one of the most beautiful residences in the city at the time. He died September 28, 1929 after a long illness. The Erwin Hotel continued in operation for many years under the direction of Mr. and Mrs. T.C. Beavers.
Sources
National Register of Historic Places, Orange City Historic District, Orange City, Volusia, Florida. National Register #04000265
Lee, Hal F. "Camac Convinced Future Greatness of Orange City." The Deland Daily News (DeLand) April 13th 1926. , Orange City Section sec, 4-4.
"John W. Camac is Dead; To Conduct funeral Monday." Deland Daily News (Deland) September 28th 1929. , 1-1.
LaFleur, Joan J. Our Story of Orange City, Florida. Edition 4. Orange City, FL. Village Improvement Association Orange City Woman's Club, 2000.
"Camac Reports $1,500,000 Plan, New Owner of Orange City's Mineral Springs Will Improve Property." The Miami News (Miami) July 14th 1925. , 12-12.
Image Sources
City of Orange City Archives

City of Orange City

City of Orange City Archives

Additional Information