Navy SEALs Monument
Introduction
The Navy SEALs were officially established in 1962 by President John F. Kennedy. The program dates back to special units of scouts and naval combat demolition units who trained all over the country in preparation for World War II. Camp Pendleton was one of the sites where these special warriors were trained as was Virginia Beach. In 1942, Virginia Beach was the training ground for specialized soldiers ahead of Operation TORCH in North Africa. This monument was dedicated in 2017 and preserves and shares Virginia Beach's connection to the origins of the Navy SEALs and recognizes current and past Navy SEALs for their service.
Images
A view from the ocean side of the monument showing the "Frogman" looking out to the shore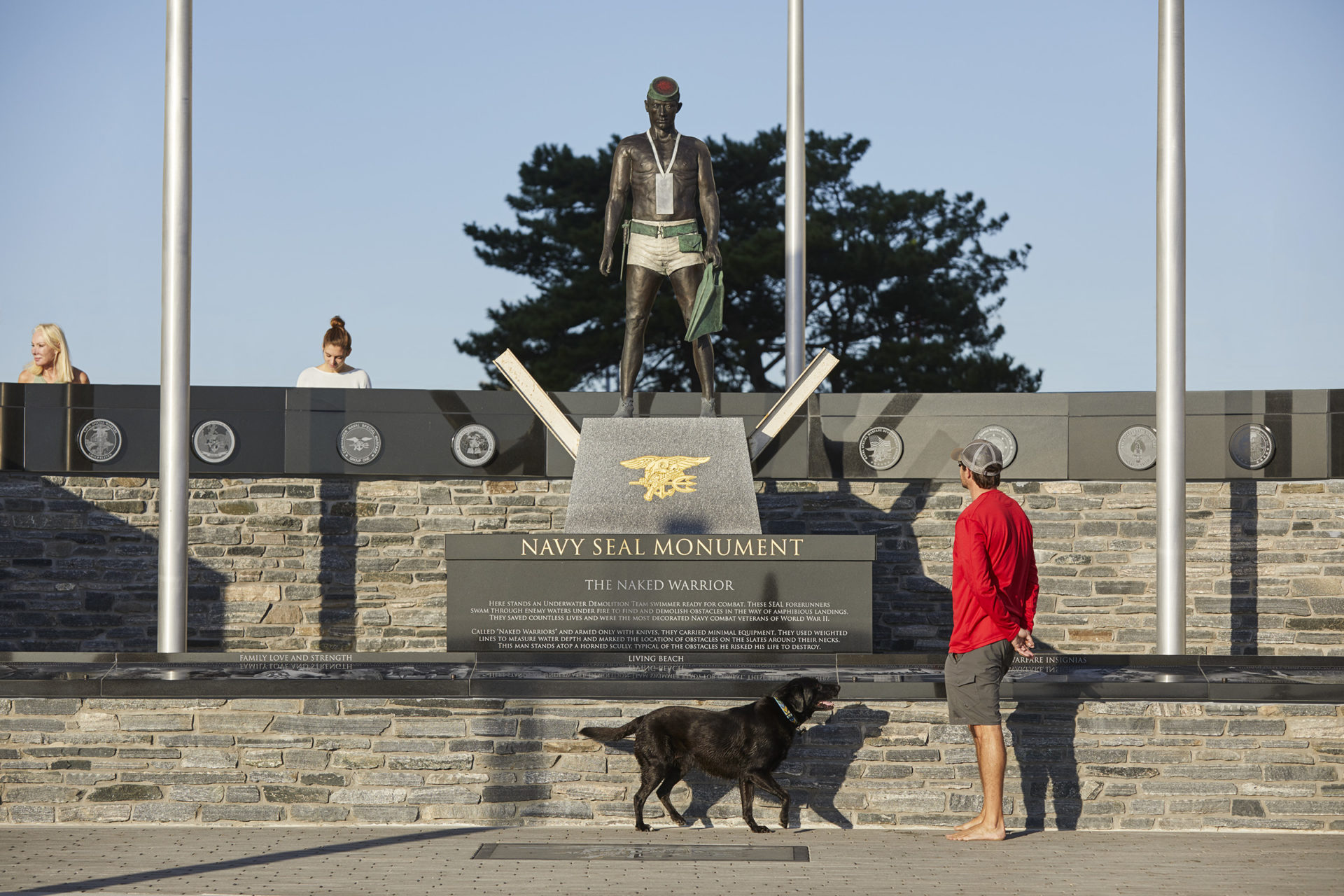 A short history about the Navy SEALs is written on the circle around the sculpture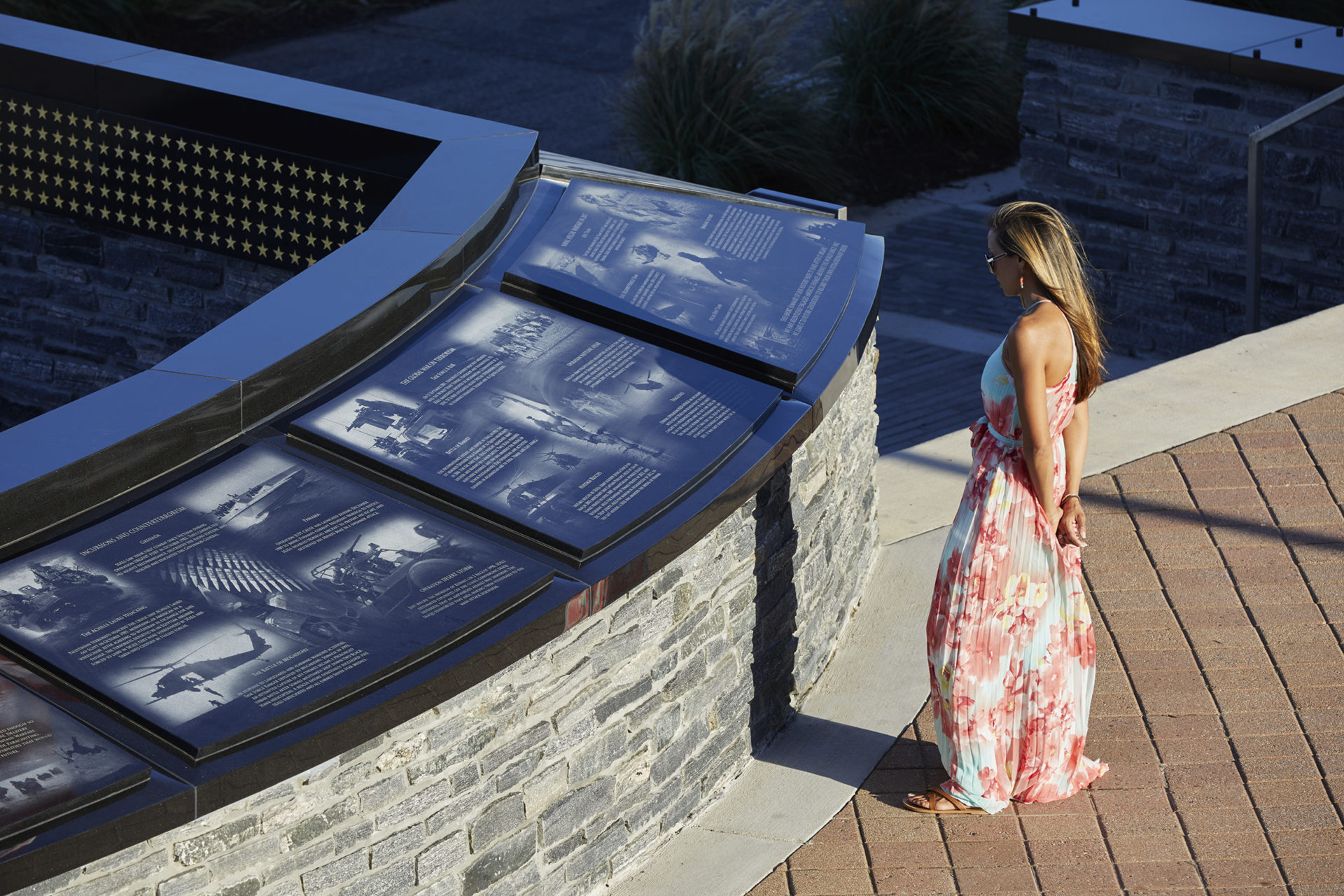 Dedication of the monument.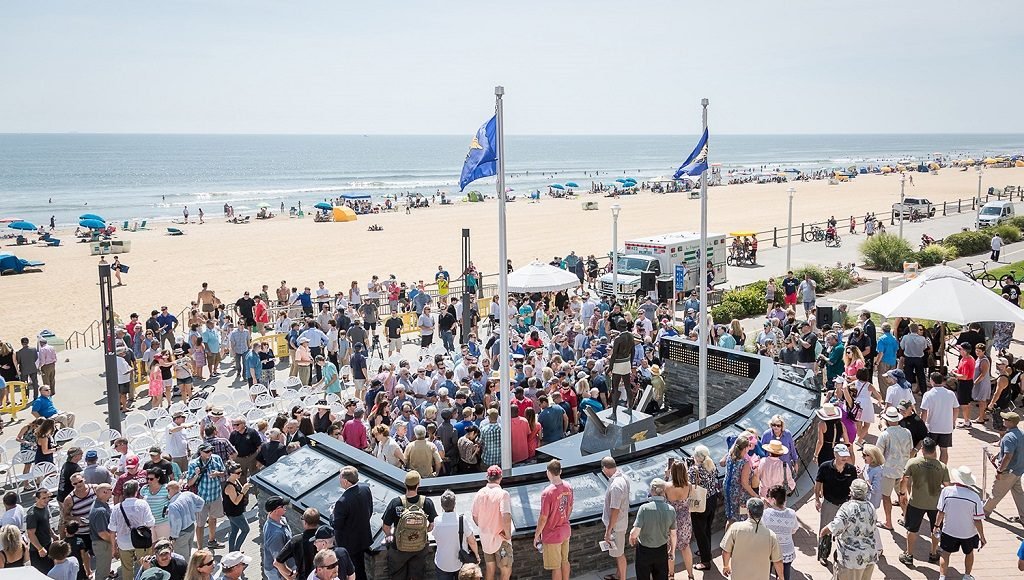 Backstory and Context
Acclaimed by many as the greatest warriors in modern history, the Navy SEALs are forged against a training regiment that includes many of the most challenging obstacles in preparation for a career of special operation missions in support of the U.S. military.
United States Navy retired Captain, and former SEAL, Rick Woolard brought up the idea of creating a SEAL monument. Wooland was able to gain support from the Mayor, the Fine Arts Commission, Navy SEAL foundation, as well as the community for starting the process. Prior to 2017 there was no public display of the heritage of the Navy SEALs in Vrginia Beach. Clark Nexson, an architecture and engineering firm, volunteered to build the monument for no cost. Much of the funding for the massive monument was from donations. When building this monument they wanted it to be spectacular seeing that it would be the first of its kind.
On July 20th of 2017 the Frogman statue was dedicated on the boardwalk at 38th street facing the ocean. The statue matches the ones at other heritage sites, Fort Pierce, Coronado California, and Waimanalo Beach, Hawaii. It displays a World War II Underwater Demolition Team Swimmer. Behind him a hundred photographs that illustrate the founding of the Navy SEALs is displayed as well as a memorial to fallen SEALs. The monument's walls include a star symbol for every SEAL killed in combat (293) and a paw print for every SEAL K-9 attached to a SEAL team who was killed during a mission (9). The monument also includes inscriptions about the history of the SEALs. At the feet of the Naked Warrior is a beach composed of sands from over 80 beaches that were critical to the SEALs. Above the warrior flies the American and SEAL flag. Deep beneath also lies a time capsule that is dated to be opened in 2067.
Sources
Monument Honors Navy SEALs in Virginia Beach. CLARKNEXSEN. August 01, 2017. Accessed June 20, 2018. https://www.clarknexsen.com/project/navy-seals-monument-Virginia-beach/.

Fulton, Lisa. Support the Virginia Beach SEAL Monument. Navy SEAL Museum. . Accessed June 20, 2018. https://www.navysealmuseum.org/support-us-navy-seals/navy-seal-museum-support-the-Virginia-beach-seal-monument.

Hart, Basil. Operation Torch. Encyclopedia Britannica. . Accessed June 20, 2018. https://www.britannica.com/event/North-Africa-campaigns/Operation-Torch.

Pearson, Matt. The Making of the Navy SEAL Monument. Same News. Accessed March 1, 2019.
https://samenews.org/the-making-of-the-navy-seal-monument/



Additional Information