Holy Name Cathedral
Introduction
Built in 1875, four years after the Great Chicago Fire, Holy Name Cathedral sits on Chicago's famous State Street amidst Chicago's towering skyscrapers. Holy Name operates as the seat for the Chicago Archdioceses, one of the largest and most influential Roman Catholic archdioceses in the United States. It also serves as a reminder of the influence of the church in Chicago and its neighborhoods, which increasingly grew Catholic as Germans, Irish, Polish and other immigrants from predominantly Catholic nations arrived in Chicago.
Images
Holy Name Cathedral, located on State Street in Chicago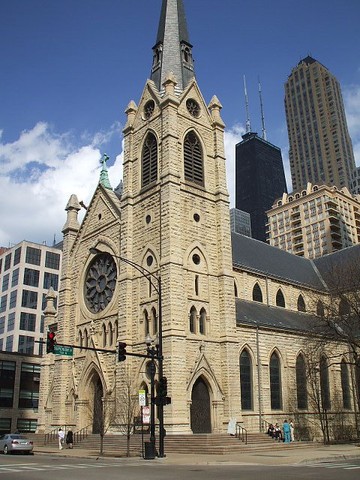 Holy Name Cathedral, looking towards the front of the church.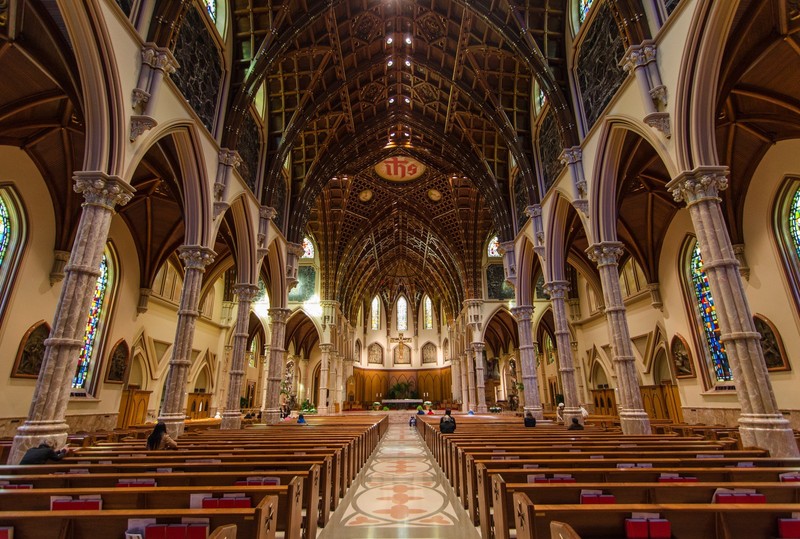 Interior - Post 2009 Fire. After a fire damaged the cathedral in 2009, it was restored fairly quickly. This picture was taken after that restoration.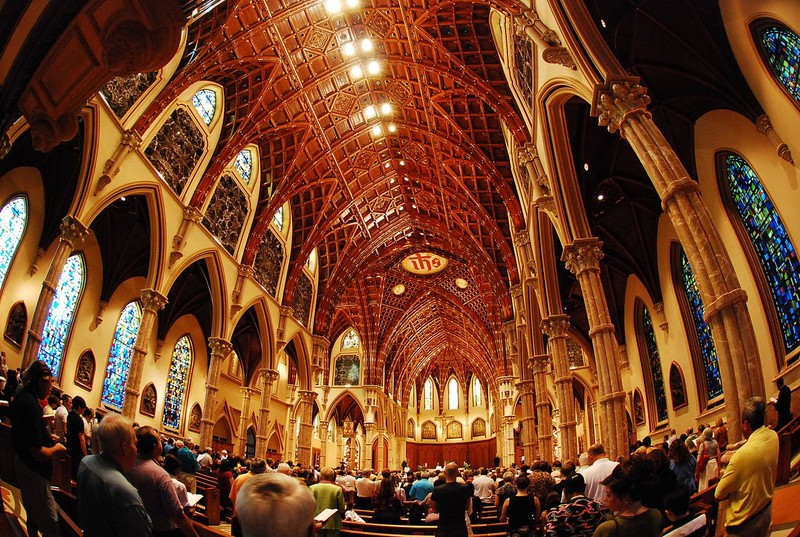 Backstory and Context
Holy Name Cathedral (built in 1874-75), has functioned as the seat of the Archdiocese of Chicago, one of the nation's largest Roman Catholic dioceses, since its opening. Its imposing Gothic Revival features and lavish decor speaks to its significance within the local Roman Catholic community, as well as the influence of the church, itself. Moreover, its presence also speaks to the influence of Poles, Germans, Irish, and other immigrants from Catholic-majority nations who came to Chicago during the 19th century. They not only fostered substantial population growth but also brought with it a robust Catholic culture that eventually supplanted Protestants as the city's majority regarding faith.
Political and economic turmoil present in Europe during the nineteenth-century, as well as the Great Irish Famine, resulted in large numbers of Irish, German, Polish and other predominantly Catholic immigrants coming to Chicago. Arriving in droves, they settled into new neighborhoods and quickly created ethnic enclaves within the city; the houses of worship often served as the community's most prominent feature. In fact, from 1844 to 1879, Irish and German immigrants established 31 territorial parishes, 22 of them created by Irish immigrants while another nine emerged in German areas.
Immigrants routinely took pride in the churches; they existed as community-wide statements of religious identity. As such, new immigrants of Catholic faith often built large churches as a means of differentiating themselves from what was then Chicago's Protestant majority during the late-nineteenth-century.

As well, churches served as community centers. Churches, notably through the work of its nuns, provided new-coming immigrants assistance as they attempted to adjust to America (and Chicago). Immigrants relied on the church for finding jobs, day care services, English classes, financial assistance, nursing, and a host of other "social services." Moreover, churches often operated or managed schools and hospitals.
Holy Name Cathedral, which today can seat 1,100 people, was designed by architect Patrick Keely, one of more than six hundred churches and sixteen cathedrals he developed. Holy Name exhibits classic, Gothic Revival features including towering verticality with steeply pitched roofs, lancet windows, pointed arches, bell tower and 210-foot-high spire.
Overall, the cathedral features motifs intended to represent an idea of physically dwelling within the biblical tree of life.
Some notable features include:
Colossal bronze doors that weigh 1,200 pounds each and feature a "Tree of Life" theme.
A bishop's throne, or cathedra.
An ornate altar adorned with artwork and tabletop comprised of nearly 12,000 pounds (six tons) of reddish-Black granite.
Large, suspended resurrection crucifix along with bronze and marble "Stations of the Cross" display adorning the walls.
Two pipe organs, one noticeably large and the other a smaller version.
Numerous bronze statues of Biblical figures, as well as bronze panels depicting the Holy Names of Jesus.
In 1979, Pope John Paul II visited Chicago and held a prayer service for Bishops at Holy Name Cathedral. As well, Luciano Pavarotti and the Chicago Symphony Orchestra played a concert in the cathedral in the Pope's honor.


Though Roman Catholicism is renowned globally for its massive cathedrals displaying opulent decor, its presence in Chicago and other (mostly Eastern and Midwestern U.S.) urban centers during the 19th century speak to the significance of immigration during the era. The need to establish a church, a large and imposing one, allowed for small "nations" to exist within the broader urban environment. As more Catholic immigrants arrived in Chicago, the Roman Catholic power grew - eventually allowing for Holy Name Cathedral to emerge as a home to a Bishop and serve as the seat of the Archdiocese of Chicago
Sources
Christopher, Caleb and James Guelcher. "Registration Form: Holy Name Cathedral." National Registration of Historic Places.
https://ia801608.us.archive.org/10/items/NationalRegisterNominationsForChicago/HolyNameCathedralNrNo...

"Holy Name Cathedral." Chicago Architecture Foundation. Accessed June 20, 2018. http://www.architecture.org/architecture-chicago/buildings-of-chicago/building/holy-name-cathedral/.

Holy Name Cathedral. holynamecathedral.com. Accessed June 20, 2018. http://holynamecathedral.org/.

Lane, George A., S.J. "Church Architecture" Newberry Library: Encyclopedia of Chicago. Accessed June 20, 2018. http://www.encyclopedia.chicagohistory.org/pages/1058.html

Rosswurm, Steve. "Roman Catholics." Newberry Library: Encyclopedia of Chicago. Accessed June 20, 2018. http://www.encyclopedia.chicagohistory.org/pages/1090.html

Photo Sources

Holy Name Cathedral on State.: By Gerald Farinas at English Wikipedia, CC BY 2.5, https://commons.wikimedia.org/w/index.php?curid=3591547

Holy Name Cathedral, looking towards the altar: Eric Alex Rogers, via Open House Chicago: https://openhousechicago.org/sites/site/holy-name-cathedral-a-roman-catholic-church/

Post-2009-Fire: By Eric Chan from Hollywood, United States - interior of the newly restored Holy Name Cathedral, CC BY 2.0, https://commons.wikimedia.org/w/index.php?curid=7829494



Additional Information