Bush Temple of Music
Introduction
At the turn of the century, pianos became the first luxury item to reach a mass market and Chicago was second only to New York in piano production. The Bush and Gerts Piano Company was one of the most prominent piano manufactures in the city, and the Bush Temple, which was built as a showroom for the company in 1902, reflects that status. The building served as a sales floor and provided office spaces, but it was best known for its auditorium, recital halls, banquet hall, restaurant, shops, and studio spaces. Prospective piano buyers from all across the country came to this space for the experience of buying a piano.
Images
Modern picture, prior to renovations.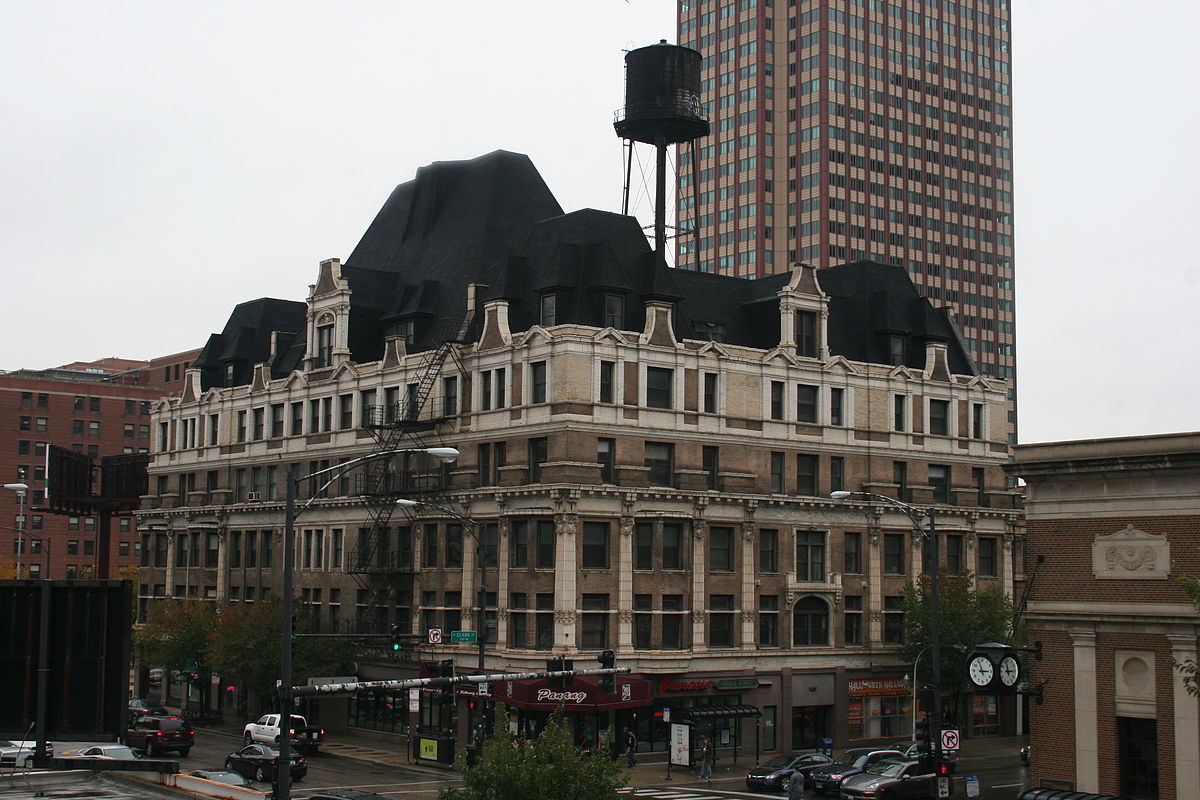 Screenshot of Google Images / Google Earth of its modern look, post renovations.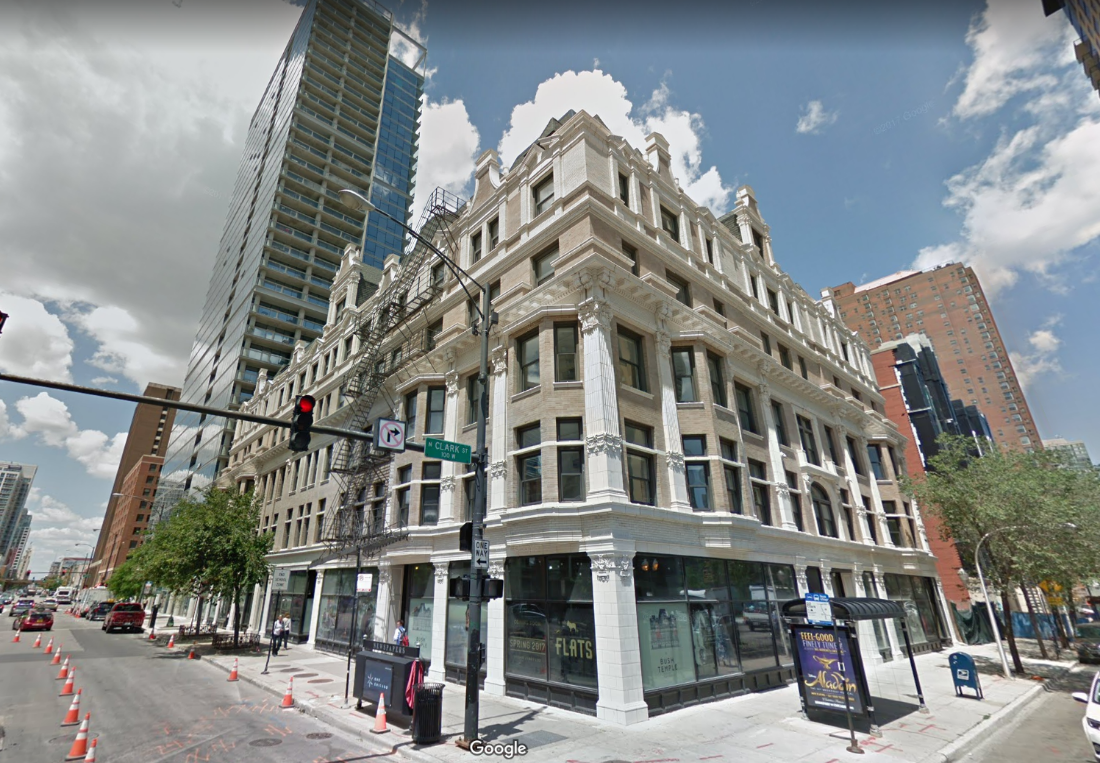 Early post card of the Bush Temple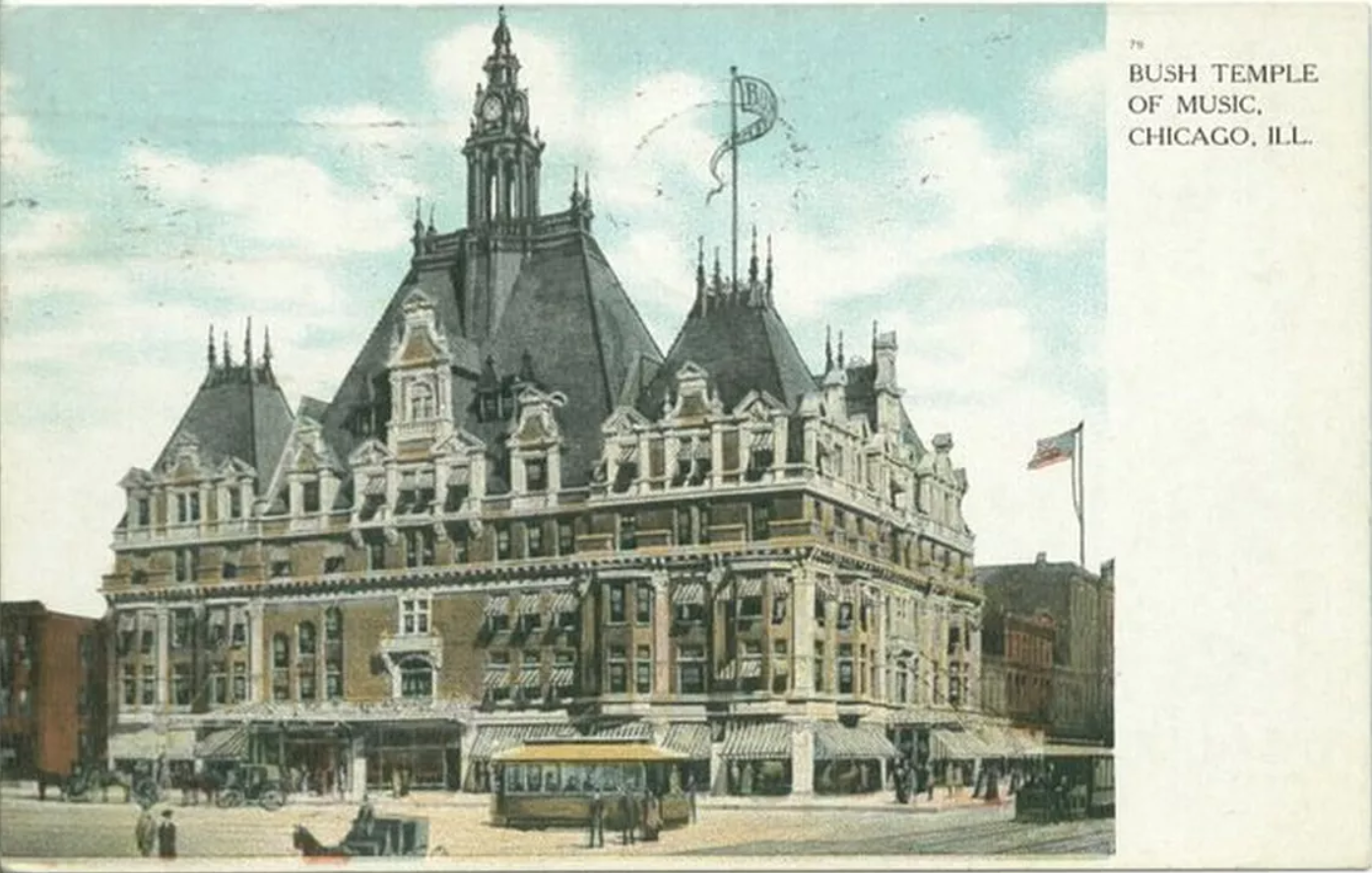 Backstory and Context
Built in 1902 and located on the prominent corner of Clark Street and Chicago Avenue in the city's Near North Side neighboorhood, the Bush Temple of Music's size, eye-catching roofline, and French-inspired elegance has allowed the structure to serve as a visual landmark for more than a century. The building served as the headquarters and showroom of the Bush and Gerts Piano Company, one of the city's largest and most renowned piano companies, at a time when Chicago was the second largest piano manufacturing center in the country. It stands as a reminder of the popularity of the piano among middle-class families during the turn-of-the-century era.
William H. Bush, a founder of the Bush and Gerts Piano Company in 1885, conceived The Bush Temple of Music. Bush, along with his son, William L, founded their piano company in 1885 along with John Gerts, a native German who emigrated to Chicago in 1870. Bush, a pioneer Chicagoan, cut his teeth in the fast-growing city's burgeoning lumber industry. However, he had also possessed an appreciation for beauty and subsequently channeled that love into the construction of the elaborate, elegant Bush Temple of Music.
The company and building reflect the prevalence of middle-class cultural and social appreciation of the piano in the U.S during the late nineteenth and early twentieth centuries. As middle-class economic fortunes expanded in the 1880s and 1990s during a time of prosperity (mostly), families often purchased a piano -- one of the first luxury items to reach the mass market. Numerous parents considered piano instruction a vital part of a child's education.
In fact, by 1900, 263 companies produced pianos resulting in more than one million pianos occupying American living rooms. Chicago became a major contributor to that cultural trend, helped in part by The World's Fair (Colombian Exposition) in 1893 which garnered substantial publicity for Chicago piano manufacturers, including Bush & Gerts who displayed nine pianos, two of which gained enormous praise due to its design (no surprise given Bush's eye for design). Indeed, in the wake of the World's Fair, by 1900, Chicago grew to become the second largest piano manufacturer center in the country, after New York.
The growing success realized by Bush and Gerts during the 1890s inspired Bush, company president, to build an expansive, larger, lavish headquarters that also worked functionally as a space for offices and studios, a showroom, and concert facility.
Bush gambled by hiring a young, unproven J.E.O. Pridmore as his architect in 1901 because he was well-traveled (notably in Europe) and possessed a knack for extravagant, sophisticated designs. Sadly, the elder Bush died that same year, but William L, his son, managed the project to its completion. When it was completed, the building not only served as the Bush and Gerts Piano Company headquarters and showroom but also existed as a leading cultural venue during the first decades; the building contained an auditorium, three recital halls, artist and music studios, a photography gallery, lodge room, banquet hall, restaurant, shops, and offices.
Today, the building has undergone a major renovation and now operates as an apartment complex. Under the umbrella of an apartment group known as "The Flats," the building still enjoys the name "Bush Temple."
Sources
Burian, Susan Baldwin. "Nomination Form: Bush Temple of Music." National Register of Historic Places. July 25, 2013. https://www.nps.gov/nr/feature/places/pdfs/13001001.pdf

LaTrace, AJ. "A Last Look Inside the Historic Bush Temple of Music Before Its Big Makeover." Curbed: Chicago. April 30, 2015. https://chicago.curbed.com/2015/4/30/9966528/bush-temple-of-music-tour

Roell, Craig H. "Musical Instrument Manufacturing." Newberry Library: Encyclopedia of Chicago. Accessed June 18, 2018. http://www.encyclopedia.chicagohistory.org/pages/864.html


Photo Sources

Early postcard: Photo via "Chicago History in Postcards," found at Curbed Chicago at https://chicago.curbed.com/2015/4/30/9966528/bush-temple-of-music-tour

Modern picture, prior to renovations: By Thshriver - Own work, CC BY-SA 3.0, https://commons.wikimedia.org/w/index.php?curid=26337592

Screenshot: https://www.google.com/maps/@41.896597,-87.6312082,3a,75y,313.97h,104.47t/data=!3m6!1e1!3m4!1srmSUds...
Additional Information