Banana Split Historical Marker and Strickler's Drug Store
Introduction
This historical marker and colorful sculpture commemorates the 1904 invention of the banana split by Dr. David Strickler, a 23-year-old apprentice pharmacist at Tassell Pharmacy. His creation was enjoyed and publicized by students from nearby Saint Vincent College and before long, his creation was served by ice cream parlors and restaurants around the world. Strickler later purchased the building and operated Strickler's Drug Store.
Images
Dr. Strickler's Drug Store where the first banana split was served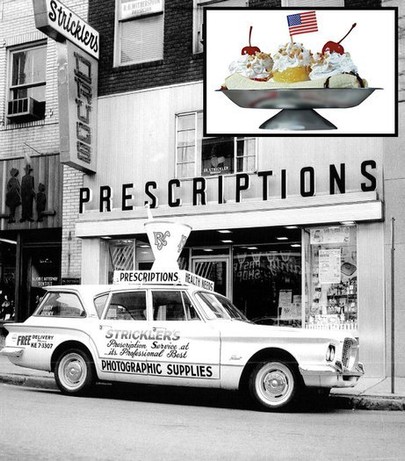 Banana Split Historical Marker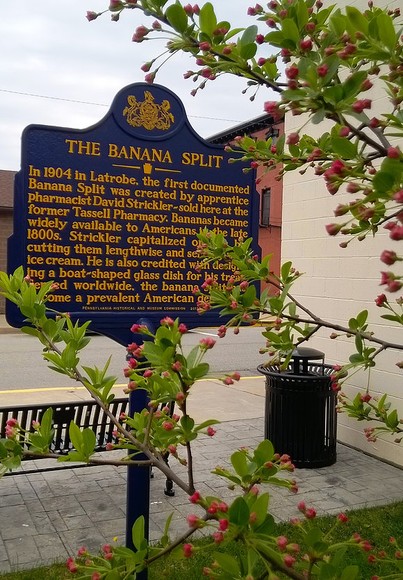 Backstory and Context
David Evan Strickler, a 23 year old apprentice pharmacist at Tassell Pharmacy, 805 Ligonier Street in Latrobe, Pennsylvania, created the first banana split in 1904. This unique creation soon became very popular within Latrobe, especially with the students from nearby Saint Vincent College, who helped to spread the popularity of the new ice cream treat.
After the success of his creation, Strickler became a pharmacist and optometrist and would purchase the pharmacy, naming it Strickler's Drug Store. Dr. Strickler was often described by family members as a "tinkerer." His creative instinct and his time observing "soda jerks" at the beach during the summer inspired him to construct his now famous "triple sundae" dessert. Since its creation in 1904, the banana split's fame has grown immensely gaining national and international popularity. In the 1900s, the banana split was a large part of US history; a staple at drugstore and soda-fountains throughout the country. These soda fountains were crucial social hubs, due to prohibition closing down former social gathering places such as bars.

In addition to the delicious banana split, Dr. Strickler also created an equally unique dish to hold the sundae. To best display his banana split, Strickler designed long, narrow "banana boat" dishes. He made these dishes to his specifications at Westmorland Glass Company in nearby Grapeville, PA.
Sources
Baggett, Nancy. "Late, But Great, Banana Split Centenary." npr (June 6, 2007).

Corris, Tracy. "The Banana Split: A Rich History." The Pennsylvania Center for the Book (2010).

Martin, Chuck. "The Great Banana Split." The Cincinnati Enquirer (June 3, 2011).

Stahl, Robin. "Banana Split." The Tribune Review (May 5, 1980).

Steele, Bruce. "With a Cherry on Top, Pitt fetes alum's creation of banana split." Pitt Chronicle (August 25, 2004).

Trager, James. The Food Chronology. New York: Henry Holt, 1995.

Turback, Michael. The Banana Split Book. Camino Books, 2004.