Original Site of San Francisco's Pioneer Monument
Introduction
Pioneer Monument by sculptor Frank Happersberger erected on this site in 1894 in front of San Francisco's new City Hall. It was moved in 1993 to make space for the new public library building. That move was protested by preservationists who wanted to keep it in its original location and by groups that opposed its depiction of Native Californians.
Images
[Moving Pioneer Monument at the site of the new Main Library, Hyde Street and Grove Street]. July 10, 1993. Photo ID #: AAZ-0389. SAN FRANCISCO HISTORY CENTER, SAN FRANCISCO PUBLIC LIBRARY.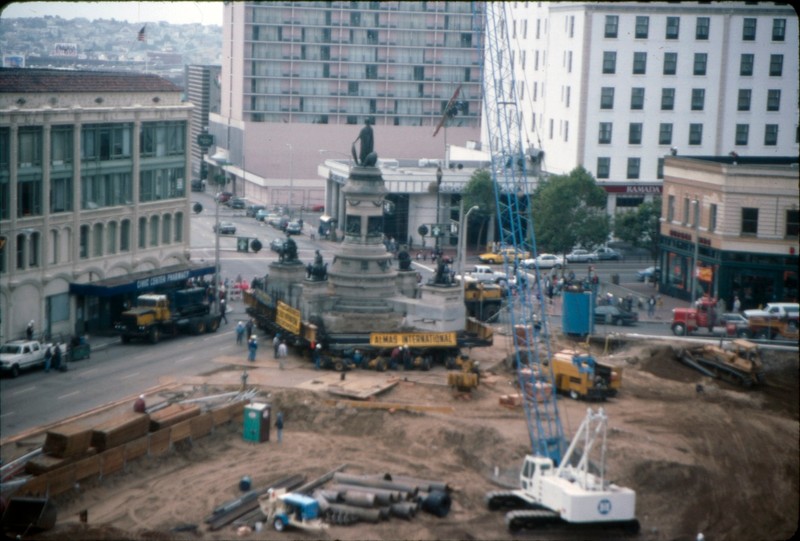 [Pioneer Monument and ruins of City Hall, 1906]. Photo ID# AAA-4776. SAN FRANCISCO HISTORY CENTER, SAN FRANCISCO PUBLIC LIBRARY.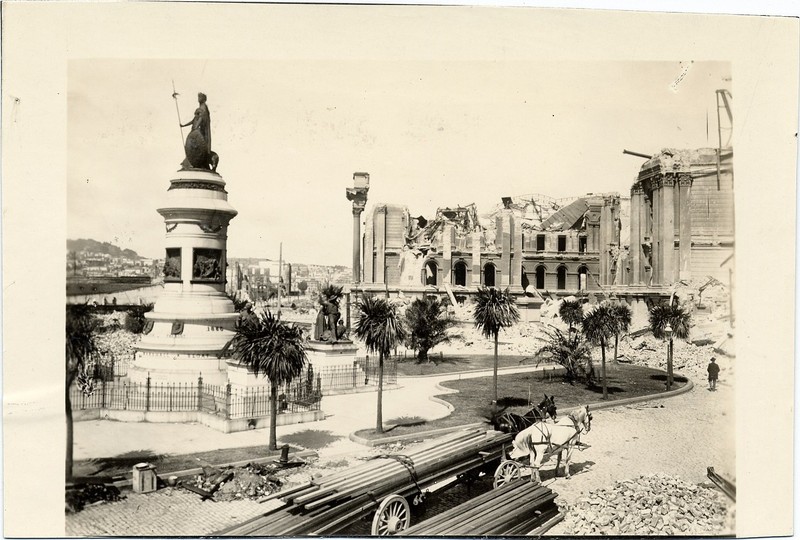 Backstory and Context
Thousands of San Franciscans celebrated the dedication of an 800-ton monument to white pioneers in front of their new City Hall in 1894. Donated by eccentric millionaire James Lick (1796-1876), the $100,000 ($2.8 million in 2015 dollars) monument depicted early California history from European explorers through the 1849 gold rush. City Hall was destroyed by the fire that followed San Francisco's 1906 earthquake, but the Pioneer Monument survived.
Design elements on the monument depicted white settlement of California from European exploration through the Spanish mission era, Mexican period and the 1849 gold rush. The center of the monument features a granite pedestal topped by a bronze statue depicting "Eureka," the spirit of California. Scenes from California history and portraits and names of famous Euro-Americans surround that pedestal. Four statues flanked the central pedestal. Allegorical female figures represented Commerce and Plenty. "Early Days" depicted a Native American on his knees in front of a Catholic friar (representing California's Spanish mission era, 1769-1821) and a Mexican vaquero swinging a lasso (representing the vast ranches of the Mexican era, 1821-1848). Another depicted white American miners during the 1849 gold rush.
Few white residents of the city perceived these images as offensive for the first half of the 20th century. However, in the early 1990s, the Library Commission sought to move the monument to make room for a new library. The proposed move, combined with increased awareness of the treatment of Native peoples, led residents to reconsider the monument. Native groups wanted to dump the monument in the San Francisco Bay. Martina O'Dea of the American Indian Movement Confederation argued that it "symbolizes the humiliation, degradation, genocide and sorrow inflicted upon this country's indigenous people by a foreign invader, through religious persecution and ethnic prejudice."1 But preservationists believed it should remain in its original location to represent historic views at the time it was erected.
The enormous statue was moved about 2 city blocks in July 1993. Rather than alter the statue, city leaders responded to growing concerns about the monument by adding an additional plaque in 1996 that discussed the often disturbing nature of conquest. The plaque informs readers that over half of the Native population perished as a result of the arrival of Europeans. Even that language was controversial. The Roman Catholic church and Spanish government both opposed proposed language describing the mistreatment of American Indians.
In 2017, as Americans debated the removal of Confederate monuments across the country, San Francisco's Art Commission voted to remove the controversial "Early Days" bronze grouping from the Pioneer Monument. A legal challenge to its removal was filed in early 2018.
Sources
1. Ybarra, Michael. "A Monument Caught in the Middle." New York Times, May 07, 1996. https://www.nytimes.com/1996/05/07/us/san-francisco-journal-a-monument-caught-in-the-middle.html

"Public Art: Whose Version of History?," http://www.albionmonitor.com/free/whosehistory.html

"It is Realized." San Francisco Call November 30, 1894.

Gaiser, Sara. "Process Begins to Remove San Francisco Statue." San Mateo (California) Daily Journal October 2, 2017.

Sabatini, Joshua. "SF Mayor 'Embarrassed' by Board of Appeals Vote to Block Removal of Offensive Statue." San Francisco Examiner May 11, 2018.

Additional Information