Fostoria Glass Museum
Introduction
This museum offers exhibits of the glassware produced by the Fostoria Glass Company during the factory's nearly 100 years of operation in Moundsville. The company began operations in Fostoria, Ohio, on December 15, 1887. In 1891, it moved its operations to Moundsville due to the abundance of natural gas and coal and the centrality of these resources to the production of glassware. The company first created a line of fine quality hand-blown stemware and later produced their first complete crystal dinner service. Fostoria remained one of the key businesses in Moundsville until the factory closed in 1986. At its height of production (late 1940s), Fostoria employed 1000 workers, mostly from Moundsville and nearby Glen Dale, and became the largest manufacturer of handmade glass in the United States.
Images
Exterior view of the Fostoria Glass Museum looking west across Tomlinson Avenue.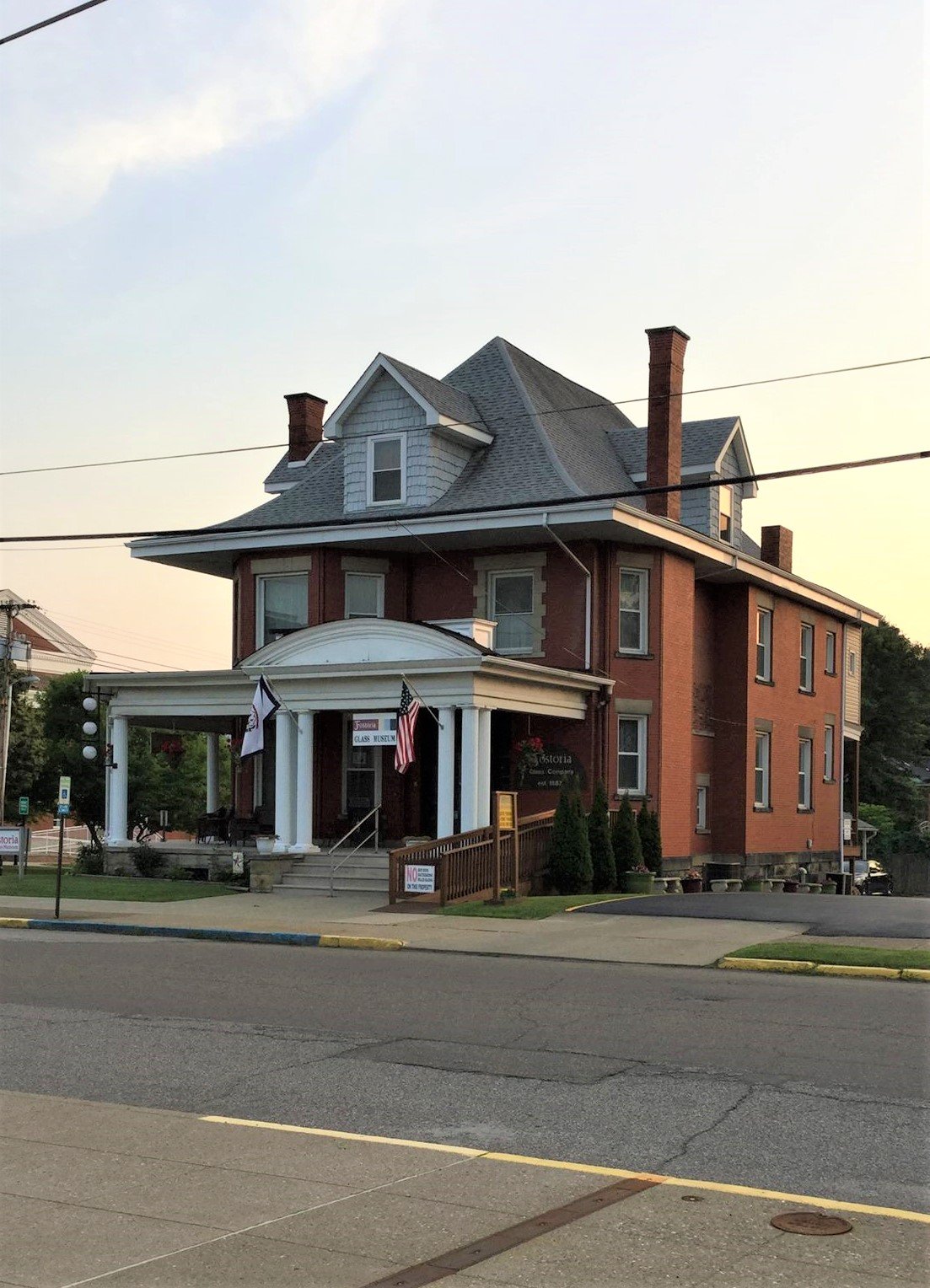 Fostoria Glass Museum Display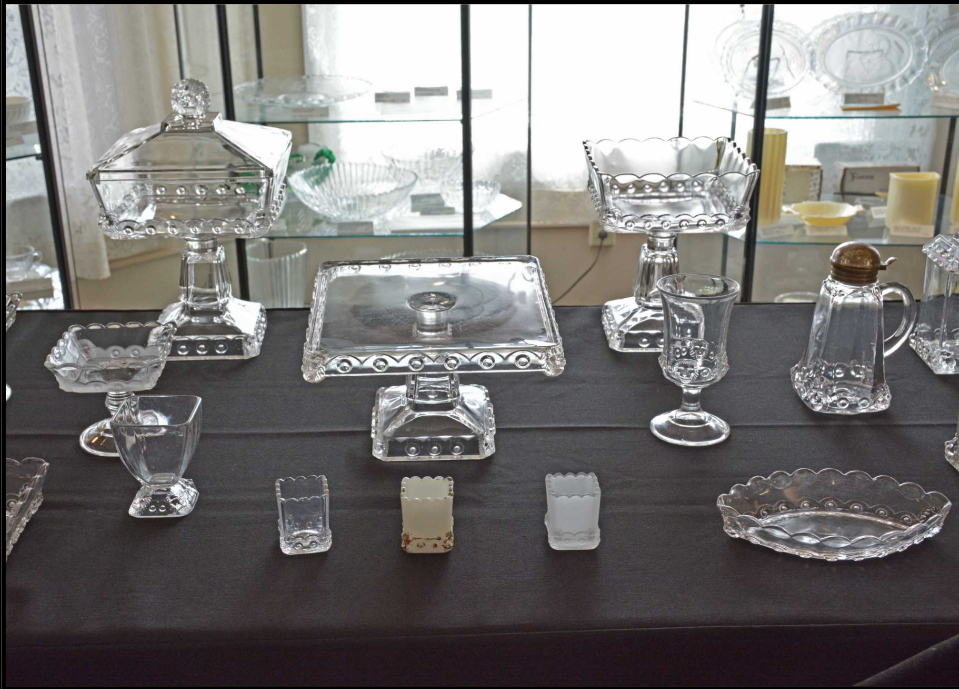 Local residents might recognize this picture that once hung in a local bank. It represents the many industries once present in Marshall County. Now the painting hangs in the main entrance to the Fostoria Glass Museum.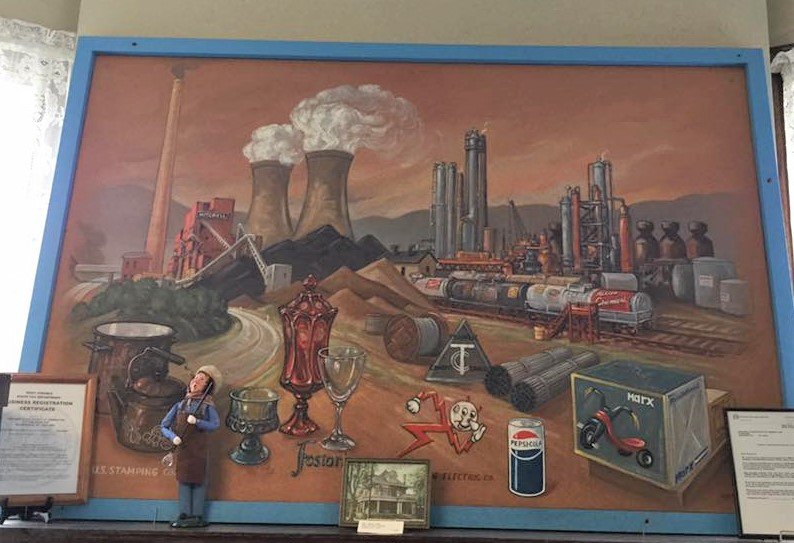 An old postcard showing the Fostoria Glassworks of Moundsville.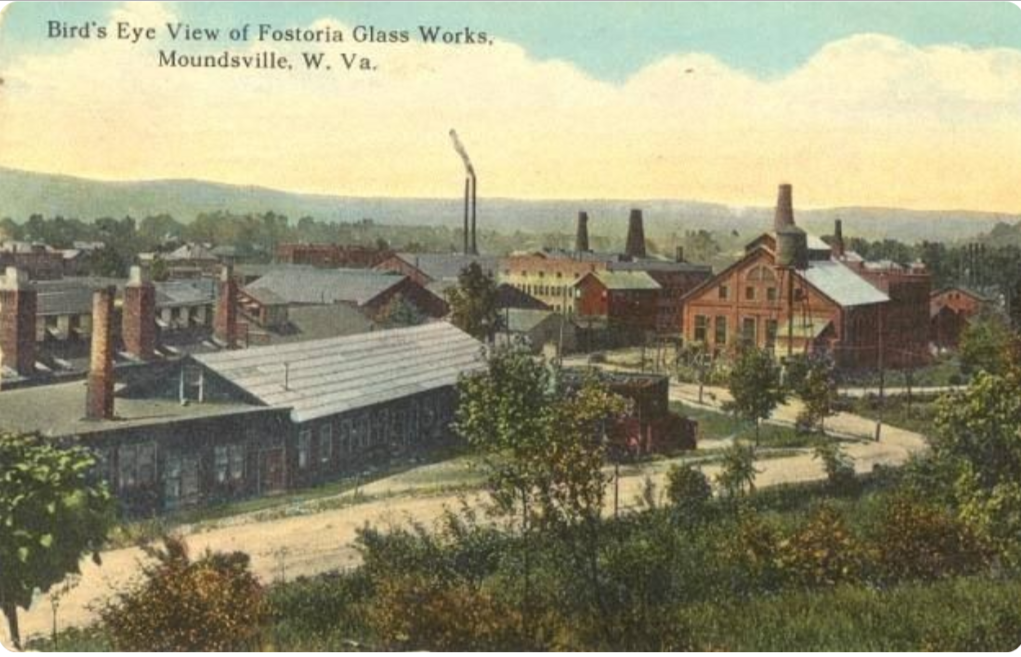 Examples of Fostoria's beautiful colored glass.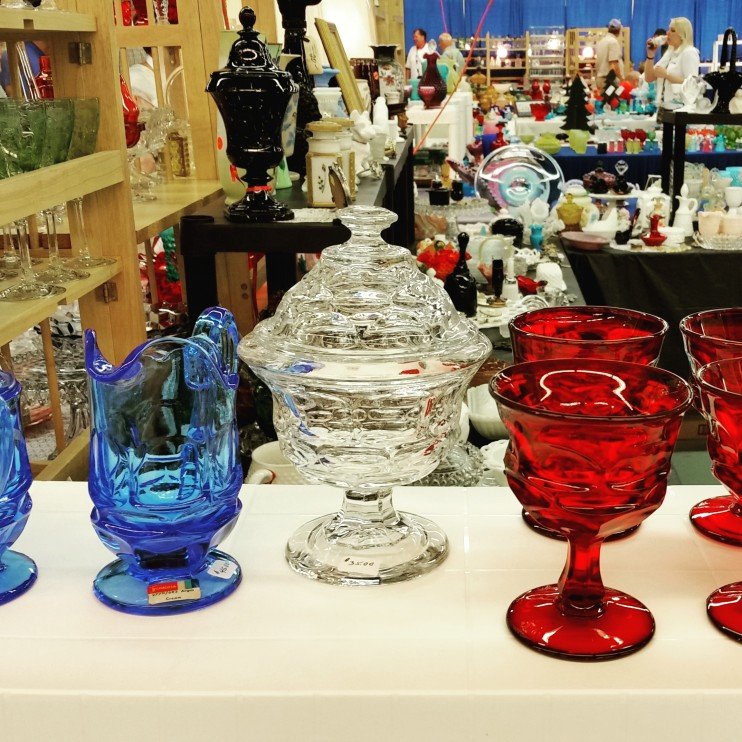 Backstory and Context
The house where the museum is located was a private residence from 1903 to 1942. Between 1942 and 1988 when it was purchased by Fostoria Glass Society of America, Inc. for a museum, it was used for offices, and the Masonic Lodge. The old Fostoria manufacturing site sat idle for decades and was finally demolished in 2010. The site took in several blocks, centered on the intersection of Grant Avenue and First Street in Moundsville. Today it serves as a parking lot for heavy equipment associated with the natural gas industry.

Fostoria was known for its hand-blown glass and fine crystal, and created glassware for Presidents Eisenhower, Kennedy, Nixon, Ford, and Reagan, as well as other world leaders. The growth of the company from regional production to a national reputation dates back to the decision of company leaders to market their products beyond the region. In 1924, the company became one of the first in the industry to dedicate resources to national advertising. At that time, the company made primarily colored glass dinner services. In the 1930s, the company produced crystal dinnerware to match changing consumer tastes. During the post-WWII era, "milk glass" was most popular.

Peak production for the company came during this post-war boom, with the company producing more than eight million pieces of glassware in 1950 alone. The most popular pattern was the American pattern. Lancaster Colony, the company that bought Fostoria, still produces the American pattern today although it is machine-made rather than handmade.

Sources
Schramm, Robert. Moundsville. Arcadia.

Six, Dean "Fostoria Glass." e-WV: The West Virginia Encyclopedia. 15 March 2013. Web. 29 June 2018.

Additional Information