Beulah Baptist Church
Introduction
Beulah Baptist was founded by the Thomas Gardner family in 1837. Twenty-four years later, it was moved to its present location. In 2013, a new facility was built for the main services while the original church is used for Sunday school.
Images
The Beulah Church and cemetery. From the Little White Church Blog.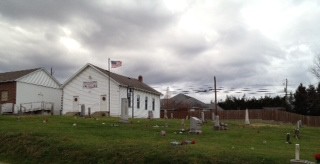 The bell in front of the church. From the Herald-Dispatch.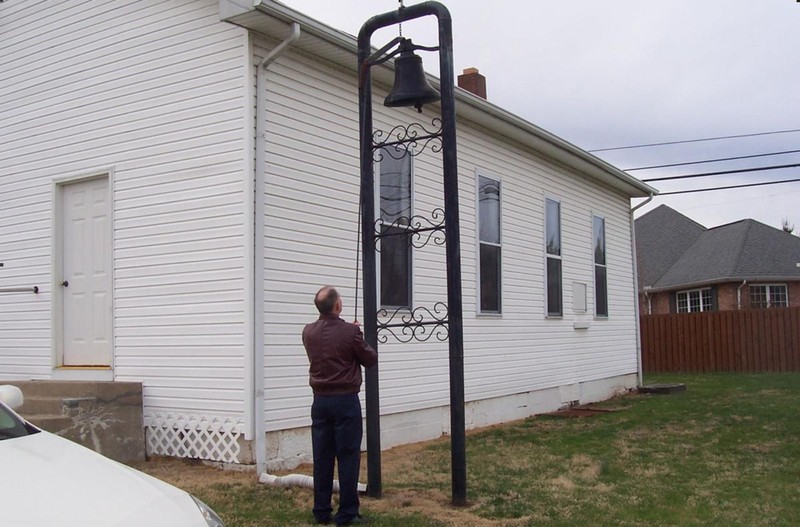 Backstory and Context
The Beulah Baptist Church was built in 1837 on land donated by founder Thomas Gardner. In 1861, the building was placed on oak skids and pulled by mules to move it from its original location along the riverbank to its present location. These logs, as well as the church's original doors, can be seen today store in the basement.
Next to the church, there is a small cemetery where Gardner, his family, and a few others have been buried. The front of the church has two main entrances because back in the 1800s, it was common practice for men to enter the right side of the church and women the left. It was also the norm for the bells from sunken riverboats to be gifted to a local church. In 1874, after a bad storm, the "Petrel" riverboat sunk in the Ohio River. Its bell still rings at the church on Sunday mornings.
Improvements on the church include a fellowship hall built in 1961 and air conditioning and heating installed in 2008. That same year, church members gave Beulah a paint job, a rewiring, and new lighting. On June 23, 2013, a groundbreaking ceremony was held for the Beulah Baptist Worship Center across the street. The new church is handicap accessible, can seat twice the original church's capacity, and features a restored piano that once belonged to the Gardner family. The old Beulah Baptist church is now used for Sunday school.
Sources
Wilson, Molly. Beulah Baptist Church remembers rich history; looks to bright future. Herald-Dispatch. March 21, 2009. Accessed June 14, 2018. http://www.herald-dispatch.com/news/ohio_news/beulah-baptist-church-remembers-rich-history-looks-to-.... Information and photo source.

Beulah Baptist to break ground on new building. Herald-Dispatch. June 06, 2014. Accessed June 14, 2018. http://www.herald-dispatch.com/no-headline/article_d99b2351-3923-5fb0-b094-d4f1b8295fa5.html.

Beal, Clyde. Little church in the heart of Rome, Ohio. Herald-Dispatch. July 15, 2012. Accessed June 14, 2018. http://www.herald-dispatch.com/news/recent_news/clyde-beal-little-church-in-the-heart-of-rome-ohio/article_b1a487b4-d291-5ca9-b516-b00945982db8.html.

Beulah Baptist Church. The Little White Church Blog. December 05, 2012. Accessed June 14, 2018. https://thelittlewhitechurchblog.wordpress.com/2012/12/05/beulah-baptist-church/. Photo source.


Additional Information