Johnston Hall
Introduction
Johnston Hall is one of Marquette University's most historic buildings. Built in 1906, when the school was still in its infancy, the building originally housed facilities for worship, academics, and living space. Johnston Hall is now home to the school of Communication and Journalism.
Images

View of the front of the building.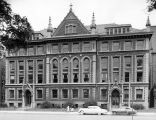 Backstory and Context
Johnston Hall is the oldest structures built by the University. Over the decades, it has housed Marquette's Liberal Arts, Economics and Journalism departments as well as a chapel, living quarters for members of the Society of Jesus, and a library. The chapel housed religious relics of significance to the Jesuit order—relics associated with figures such as St. Francis Xavier, St. Peter of Canisius, St. Aloysius, and more. (Now, the relics are housed at the Jesuit community chapel inside the Jesuit residence.) Although located adjacent to Church of the Gesu, a student chapel was considered important to have, since the Gesu was a diocesan, — not a University chapel. However, a bridge was built to connect the two buildings. It is worth noting that at this time, the College—not yet a full University—required students to attend religious exercises. The architect combined Gothic and Victorian styles and included stained glass from Germany. Primarily religious in nature, they heavily featured Jesuit Saints, especially those whose relics the Jesuits owned. Currently, the stained-glass windows are in storage in Memorial Library.

This multi-purposed facility was made possible by its namesake, Robert Johnston, who was president of the Robert Johnston Company, which specialized in cookies, biscuits, and chocolate. Johnston died shortly before the building could be finished.

Johnston Hall has had different purposes throughout the decades and has been a witness to the dynamic changes on campus and in America. One of the first buildings in Milwaukee to have air conditioning, and the first to be constructed of concrete, almost every department on campus has used its classrooms at one time or another. In 1973, the Jesuits residing in the Hall left and the Chapel was removed. As the University grew, the building came to be home to just the Journalism and Communication departments. Renovations undertaken in the early 1970s implemented technology and infrastructure to allow for studies in television and radio broadcasting.

Marquette has prioritized maintenance of the facility—while also accommodating renovations. The State Historical Society recognized Marquette's efforts in preserving Johnston Hall with a Historic Preservation Award in 1986. Today, Johnston Hall still serves the University as the home for the Diedrich College of Communication and Journalism.
Sources
Annemarie Sawkins, "The Old University Chapel at Marquette University and the Legacy of Its Stained Glass Windows" The Stained Glass Quarterly. Pages 108-110.
Jablonsky, Thomas J. Milwaukee's Jesuit University: Marquette, 1881-1981. Marquette University Press, 2007.

National Register of Historic Places Newsletter. "Wisconsin's 1986 Historic Preservation Awards presented to Ephraim Foundation and Portage's Frederica Kleist". May/June 1986.

Norman Couture. "Johnston Hall renovation Delayed". Marquette Tribune. October 2, 1974.
Peter Genovese. The Catholic Herald Citizen. Page 8. November 15, 1975