Battersea Interior: Central Block
Introduction
The five-part interior of the house is modeled after what was known as the "formal plan" of the 17th and 18th centuries. The formal plan was utilized as a layout for European palaces and grand homes in the colonies.
Images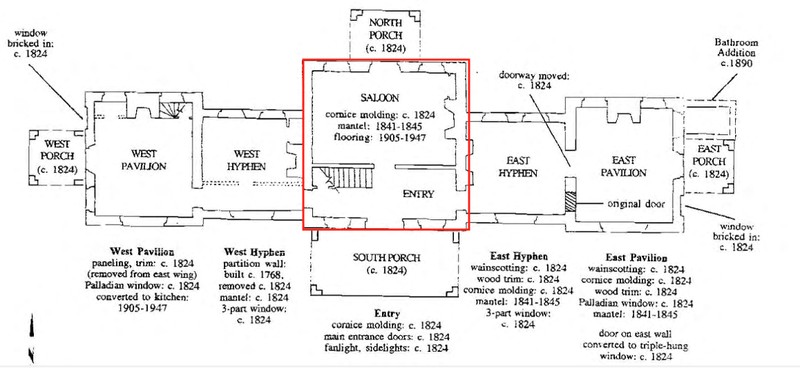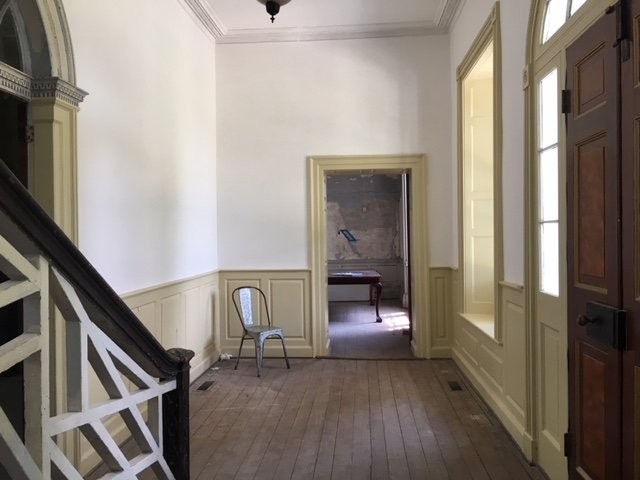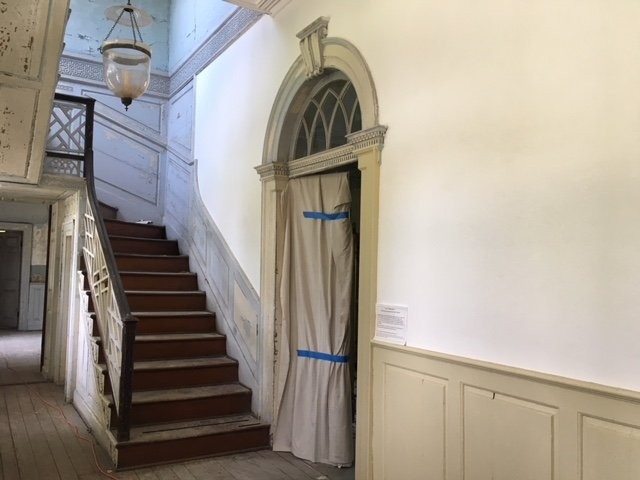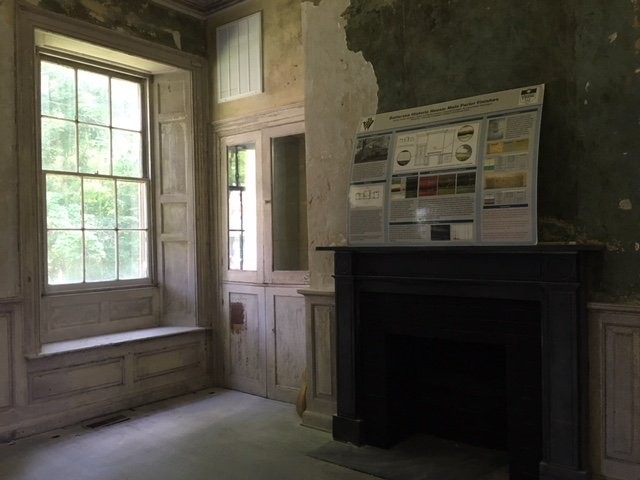 Backstory and Context
At the beginning of construction, the "central block" was planned as a large, central space, but before completion the single room was partitioned into an entry area and saloon, which fit more closely with one of Robert Morris' famous architectural plates[1]. Along the left side of the entry is a Chinese lattice staircase. These types of beautiful staircases signified status and dignified taste during the late 18th century. Battersea's Chinese lattice staircase is original and extremely well preserved. It is probably the best surviving example in Virginia today.
The saloon would have likely acted as an informal family room. Separating the entry, or waiting area from the saloon could direct visitors away from the informal family room to the most embellished part of the villa, the east hyphen and pavilion. As such, the saloon sports fewer stylistic touches, save for its plaster cornices along the ceiling. The Black marble mantel's simplistic Greek Revival style suggests it was installed in the 1840s, after the Federal movement of the 1820s. The doors to the north portico could be opened, along with the front doors in the summer months to allow a cool breeze through the home. DeAndre Friend of D.E. Friend Plastering, Drywall & Stucco [is or has recently] re-plastered the walls in this room and the walls in the entryway.
Sources
Graham, W., & Wegner, M. R. (1988). Battersea: A Historical and Architectural Study. Prepared for the Friends of Battersea Committee.
Battersea. Virginia Department of Historic Resources. September 14, 2006. Accessed May 30, 2018. http://www.dhr.Virginia.gov/registers/Cities/Petersburg/123-0059_Battersea_2006_NR_final.pdf.
Additional Information