Wesley United Methodist Church
Introduction
This church was built in 1879 with local brick from a brickyard which was located on the north side of Main Street, in the dip just below the post office.
Images
Front of building (view from north to south)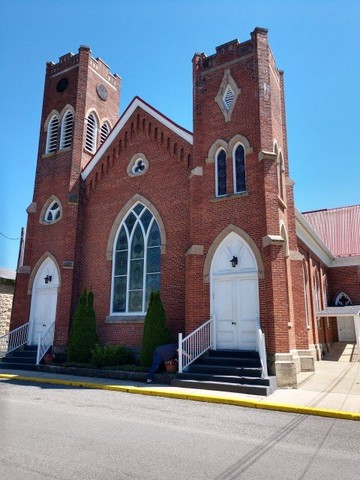 Side view from northwest to south east
Backstory and Context
The stone used was from the quarry at Zeverly (Pleasantdale). The cost was $9,571.67. This structure is a good example of the Victorian Gothic style. The Methodist parsonage sits just west of the church and was built in 1906 at a cost of $6,002.00, including landscaping and fence.
Sources
Ward, Bryan. Kingwood Preservation Plan. Morgantown, WV. West Virginia University, 1997. This book was produced by the Eberly College of Arts and Sciences, Institute for the History of Technology and Industrial Archaeology at West Virginia University for Main Street Kingwood. Printed in the United States of America Copyright 1997 Main Street Kingwood. All rights reserved. Cover illustration by Paul Boxley and cover photograph courtesy of W.G. (Bill) Williams. Main Street Kingwood, 101 East Main St., P.O. Box 357, Kingwood, WV 26537