Pudding Ridge Crossing Marker
Introduction
"While crossing Davie County on a rainy day, February 7, 1781, General Cornwallis' British Army crossed Dutchman Creek in pursuit of American General Nathanael Greene. This was the main crossing of Dutchman Creek toward Yadkin County until the early 1900's. The old roadbed and rock are still visible in the creek. Legend says that Cornwallis dubbed the area Pudding Ridge because the quantity and thickness of the mud his army had to travel through was like pudding. A sign marking the crossing is located on Pudding Ridge Golf Course."
Images
Credit: Michael C. Wilcox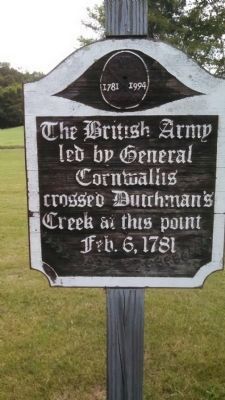 Sources
Historic Sites. Visit Davie County. . Accessed June 12, 2018. http://www.visitdaviecounty.com/historic-sites/.

Wilcox, Michael C. The British Army. Historical Marker Database. August 03, 2014. Accessed June 12, 2018. https://www.hmdb.org/marker.asp?marker=75950.