The Hale Homestead
Introduction
Constructed by the Hale family shortly after Revolutionary War hero Nathan Hale was executed by the British, the Hale Homestead has served as a museum and a monument to the state's most famous colonial hero for the past century. After graduating from Yale, Hale taught in local schools before joining the rebel cause and serving as a spy under General George Washington. Hale was executed by the British on September 22, 1776. British officers who observed Hale's execution recall that the captured rebel met his fate with stoic resolve, leading to reports that he stated that his only regret was that he had only "one life to lose for my country." Construction of the home was completed a month after Hale's execution. Several generations of the Hale family continued to live there for about 50 years, but eventually, the family sold the property and moved from the region. By the dawn of the 20th century, the old homestead had fallen on hard times, but it was rescued and restored by George Dudley Seymour who bequeathed the property to the foundation that now operates the homestead.
Images
The Hale Homestead, home to the whole Hale family except for Nathan.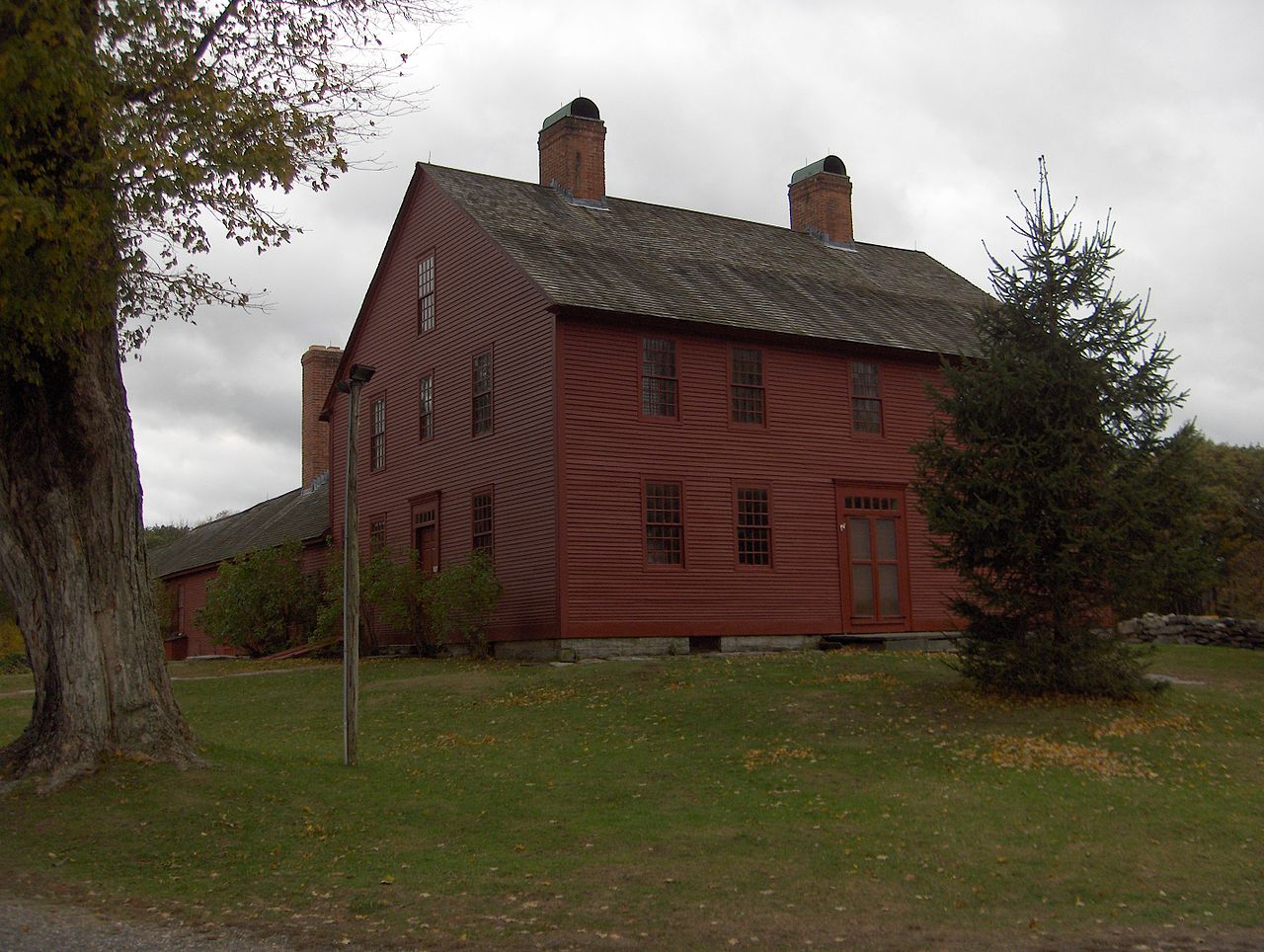 An interior view of the Hale Homestead, refurbished as a museum.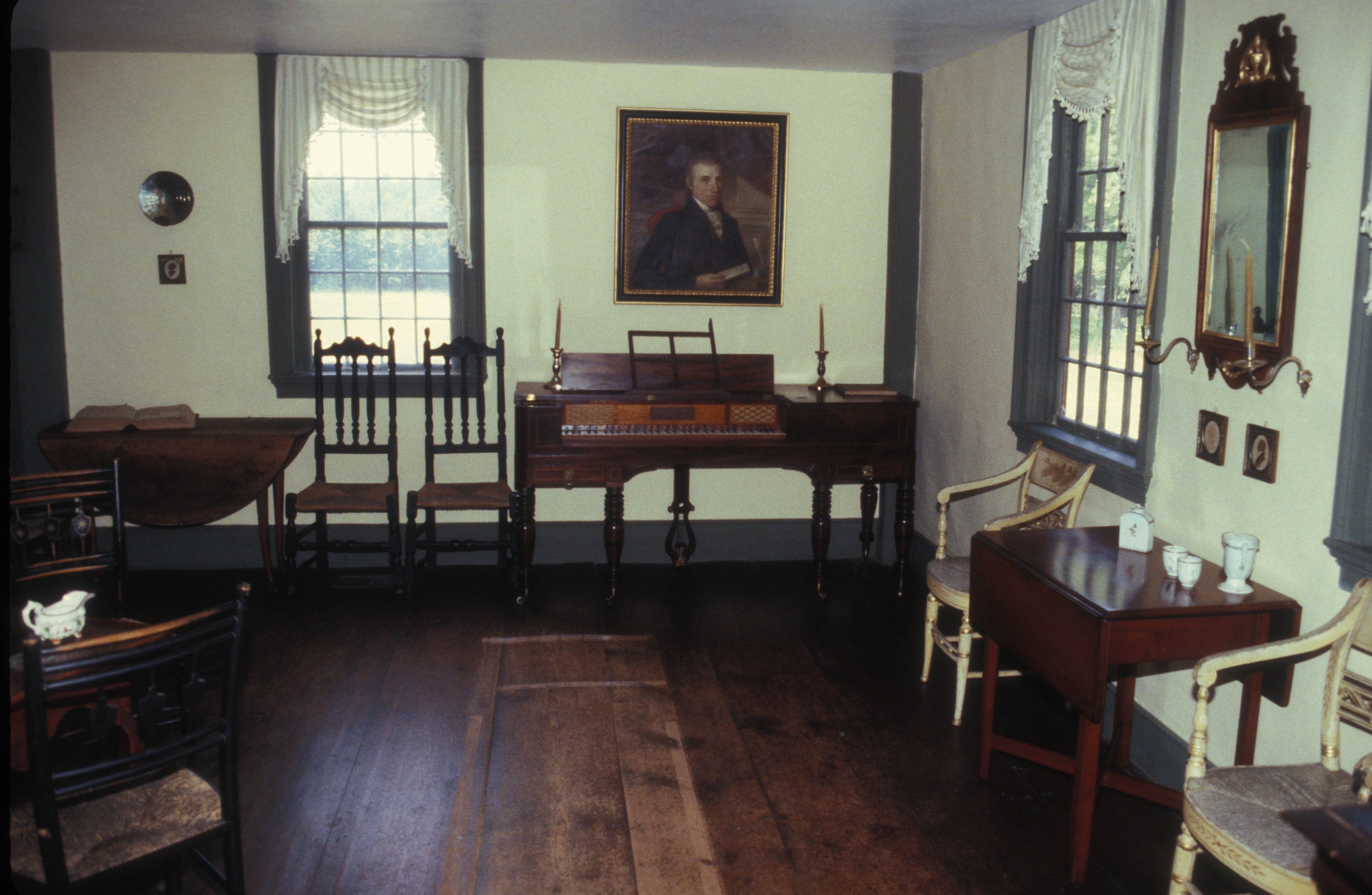 A marker commemorating the "Holy Grove" of sugar maples planted in 1812 by David Hale, nephew to Nathan.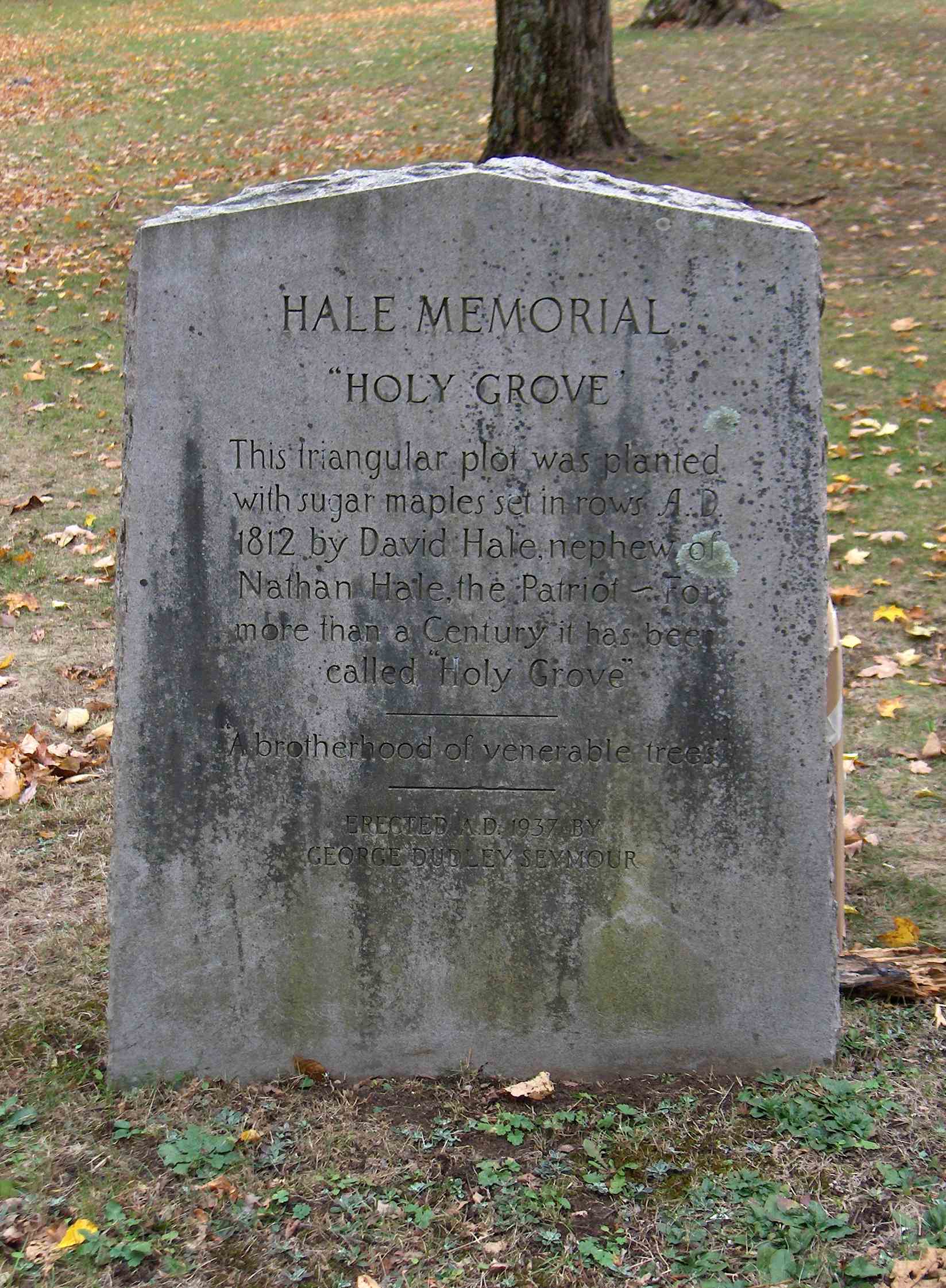 Statue of Captain Nathan Hale erected on the grounds of his alma mater Yale University thanks to the support of George Dudley Seymour.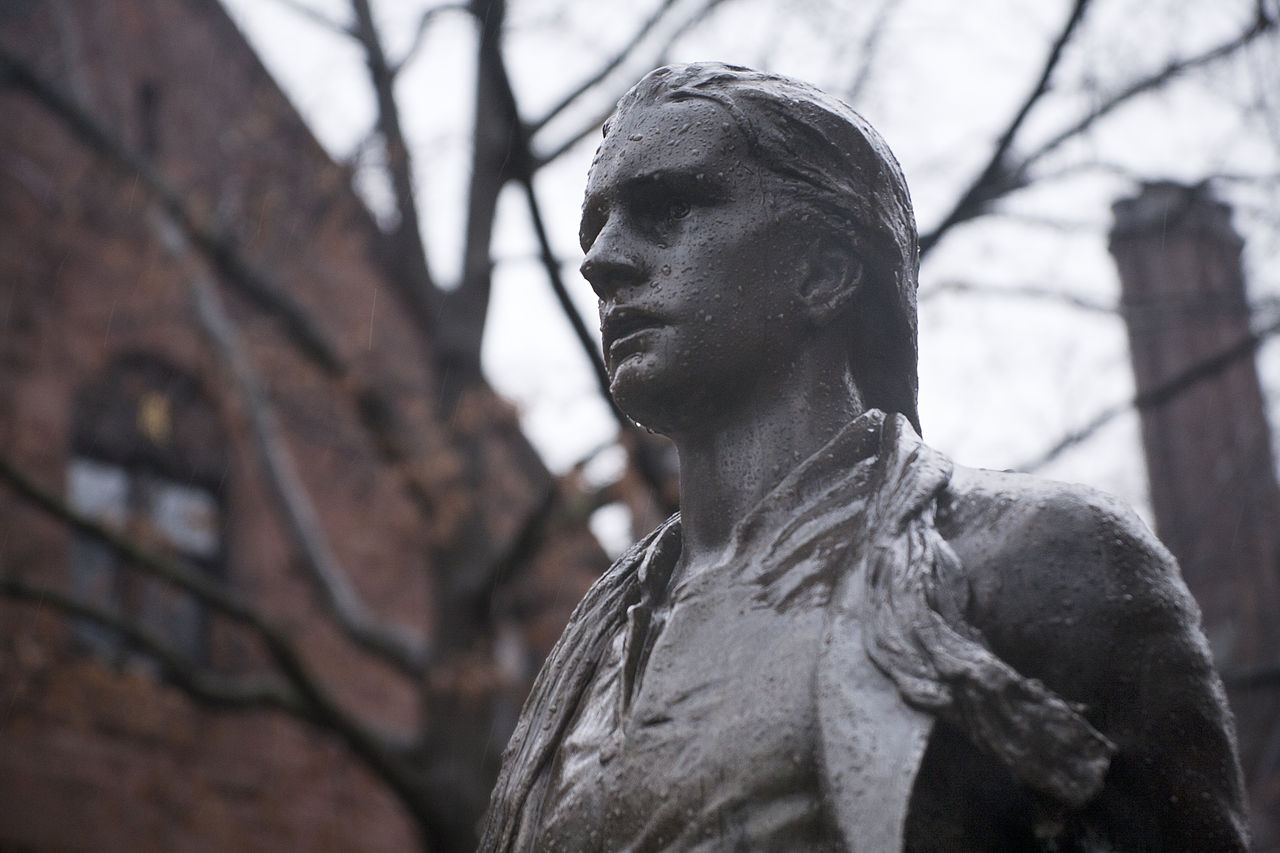 A stamp commemorating Nathan Hale, issued in 1925 also due to Mr. Seymour's efforts.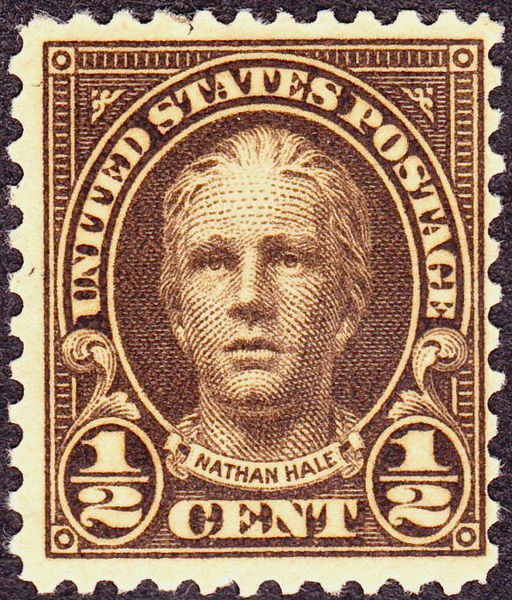 Backstory and Context
The Hale Homestead consists of a sizeable Georgian-style clapboard home surrounded by several outbuildings that include some of the state's oldest barns and stone walls. The homestead's seventeen acres are next to what is now the Nathan State Forest, 400 acres of woodlands that originally belonged to the Hale family. The property has been listed on the National Register of Historic Places since 1970. For over 100 years it has served as a museum and a monument to its most famous colonial hero, Captain Nathan Hale.

Although Captain Hale did not live in the homestead, he was born in a smaller home that occupied the same plot of land in Coventry. After Nathan's mother died giving birth to her 12th child, his father, Deacon Hale, remarried a widow who had seven daughters of her own. At this point, Papa Hale decided he needed a larger house. Construction of the home was delayed by the absence of six of his eight sons who served in the Continental Army. Construction on the new home began in 1769 and it was completed some seven years later. The family moved into their new home in October of 1776-one month after their son and brother had been executed.
After graduating from Yale, Nathan Hale worked for several years as a schoolmaster before joining the state militia in 1775. He was commissioned as a captain in January of 1776, and in September of that year, he answered George Washington's request for a volunteer for a dangerous spy mission to gather intelligence about British troop movements. Hale was recognized and subsequently arrested by the British. At his execution on the morning of September 22nd, he may not have spoken those legendary words "I only regret that I have but one life to give for my country," but by all accounts, he met his death with great stoicism and did offer a short speech in which he indicated that he had no regrets about his fate owing to his support of the larger mission of American independence.
One of Hale's greatest admirers was an early 20th-century patent attorney named George Dudley Seymour. In 1914, Mr. Seymour purchased the old homestead which had been owned by a variety of families after the Hale family sold the property in the 1820s. As one might expect, the property had deteriorated and Seymour spent considerable time, effort and money restoring the homestead to its original state. He also furnished the home with as many of the Hale family's original possessions as he could acquire. Chief among these was a trunk full of Nathan's that had been retrieved by his brother after his death. When Seymour died in 1945, he bequeathed the property to the Antiquarian & Landmarks Society, which still operates it today under the name Connecticut Landmarks.
In addition to restoring and furnishing the Hale Homestead, Seymour also promoted the installation of a Nathan Hale statue at Yale, lobbied the Post Office to issue a Nathan Hale stamp, and collected numerous stories and anecdotes about Hale and his family. Among these tales are accounts of hauntings at the Homestead, the earliest being a visitation from a man whom Seymour later identified as Deacon Hale, Nathan's father.
Other permanent residents are said to include family servant Lydia Carpenter, still conscientiously sweeping the upper hall, Nathan's brother John and his wife Sarah, and brother Joseph, who reportedly rattles chains in memory of the ones that bound him when he was imprisoned on a British ship during the war.
In addition to serving as a museum, the Hale Homestead today plays host to numerous events throughout the year, including the annual "Haunted Hale" corn maze and Halloween attraction. The homestead is also a popular site for weddings and also boasts the state's largest farmer's market from June through October. Other seasonal events include a summertime Revolutionary War encampment, vintage baseball games, landscape tours, colonial cooking lessons and 18th-century tea parties.
Sources
Nathan Hale Homestead. Connecticut Landmarks. . Accessed June 11, 2018. https://www.ctlandmarks.org/nathan-hale.

Nathan Hale Homestead [CT]. Teachinghistory.org. . Accessed June 11, 2018. http://teachinghistory.org/history-content/historical-site/7735.

Nathan Hale Homestead (1776). Connecticut: Still Revolutionary. . Accessed June 11, 2018. http://www.ctvisit.com/listings/nathan-hale-homestead-1776.

Picerno, Alisa. From the Community: Haunted Hale Corn Maze At The Nathan Hale Homestead. Hartford Courant. September 11, 2017. Accessed June 11, 2018. www.courant.com/community/coventry/hc-ugc-article-haunted-hale-corn-maze-at-the-nathan-hale-hom-2017-09-12-story.html.

Nathan Hale Homestead. The Last Green Valley. . Accessed June 11, 2018. http://thelastgreenvalley.org/venue/nathan-hale-homestead-museum/.

Nathan Hale Homestead. The Connecticut Society of the Sons of the American Revolution. . Accessed June 11, 2018. https://www.connecticutsar.org/nathan_hale_homestead/.

Nobile, Marissa. Nathan Hale Homestead Hosts Revolutionary War Weekend. News 8 wtnh.com. July 23, 2017. Accessed June 11, 2018. http://www.wtnh.com/on-air/good-morning-ct-weekend/nathan-hale-homestead-hosts-revolutionary-war-weekend/1068849681.

Bendici, Ray. Nathan Hale Homestead, Coventry. Damned Connecticut. July, 2009. Accessed June 11, 2018. http://www.damnedct.com/nathan-hale-homestead-coventry.

Nathan Hale Biography. Biography.com. January 06, 2017. Accessed June 11, 2018. https://www.biography.com/people/nathan-hale-9325477.

Nathan Hale Homestead Barns. Historic Barns of Connecticut. . Accessed June 11, 2018. https://connecticutbarns.org/find/details/id-8176.

Student, Diane. Nathan Hale's Spooky Homestead. History Goes Bump in the Night. August 05, 2014. Accessed June 11, 2018. http://historygoesbump.blogspot.com/2014/08/nathan-hales-spooky-homestead.html.

The State Hero. Connecticut: Still Revolutionary. . Accessed June 11, 2018. http://portal.ct.gov/About/State-Symbols/The-State-Hero.

Hale House. HauntedHouses.com. . Accessed June 11, 2018. http://www.hauntedhouses.com/states/ct/hale_house.htm.


Additional Information