Chasen's Restaurant (1936-1995)
Introduction
Author-Uploaded Audio
Chasen's Restaurant, now the location of a Bristol Farms grocery store, was a premiere restaurant located on the border of Beverly Hills and West Hollywood. In 1936, Dave Chasen, a vaudevillian trying to survive in a dying art, decided to go into the restaurant industry and opened a new joint on Beverly Boulevard. The first item on the menu would become Chasen's trademark recipe: the chili. Over the next 60 years, well-known figures and celebrities frequented Chasen's. After Dave Chasen's death in 1973, his wife Maude operated the restaurant for another 22 years until the restaurant closed its doors in 1995. Now operated by Bristol Farms, there are a few remnants of the old Chasen's Restaurant including some of the booths and the original dark wood wall paneling. The cafe in Bristol Farms continues to offer the most famous chili recipe in America. If walls could talk the wood panels of Chasen's would have a thousand tales to tell of Hollywood's Golden Age.
Images
Chasen's Restaurant, located on the corner of Beverly Boulevard, as it appeared in the 1980s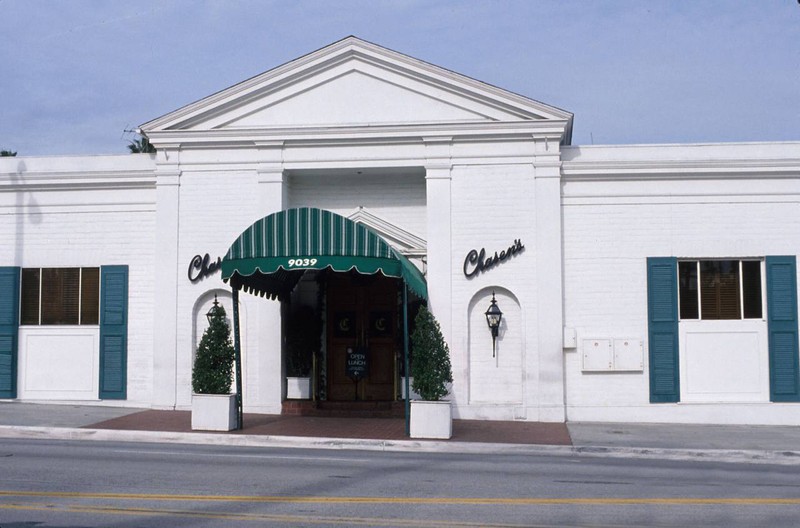 "Through its doors on Beverly Boulevard walked movie stars and moguls, dignitaries and presidents. They came to see and be seen, and to enjoy Dave Chasen's world famous chili. The main dining room and street facade of the original restaurant remain"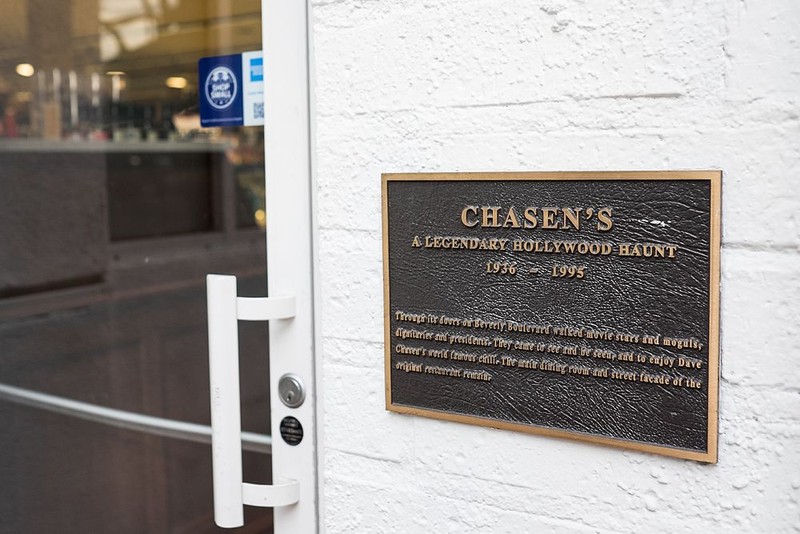 Chasen's dining room now operates as a cafe in Bristol Farms, where Chasen's chili is still available to customers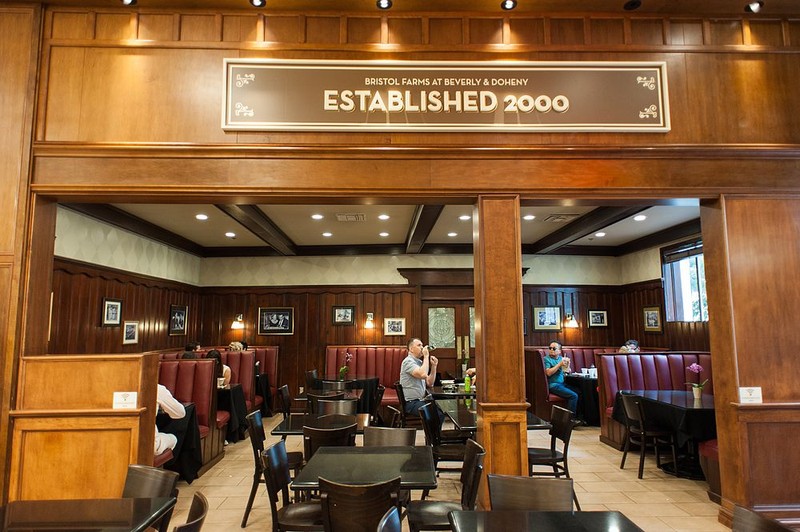 A Chasen's menu from the early 1960s. Chasen's catered Trans World Airlines, explaining the TWA logo in the top left-hand corner.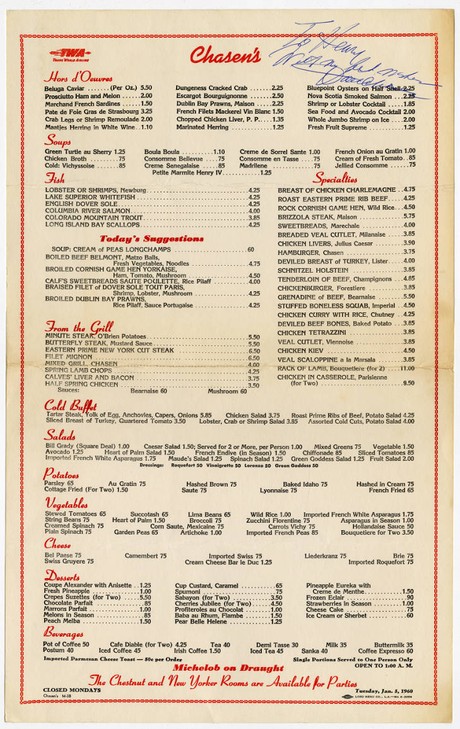 Don De Fore, Brenda Marshall (Mrs. William Holden), William Holden, and Nancy and Ronald Reagan at Chasen's Restaurant. Ronald Reagan proposed to Nancy Davis in Booth 2 at Chasen's in 1952.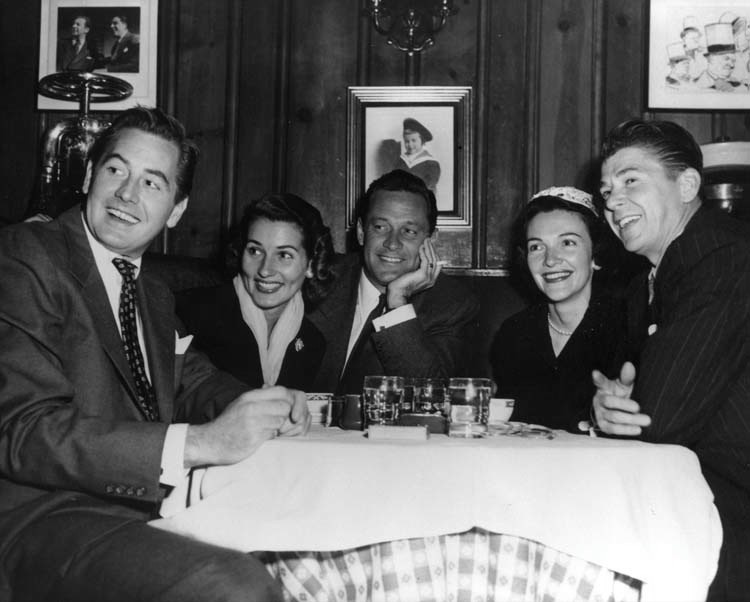 Marilyn Monroe and Joe DiMaggio dining at Chasen's in 1953, a few months before their marriage in January 1954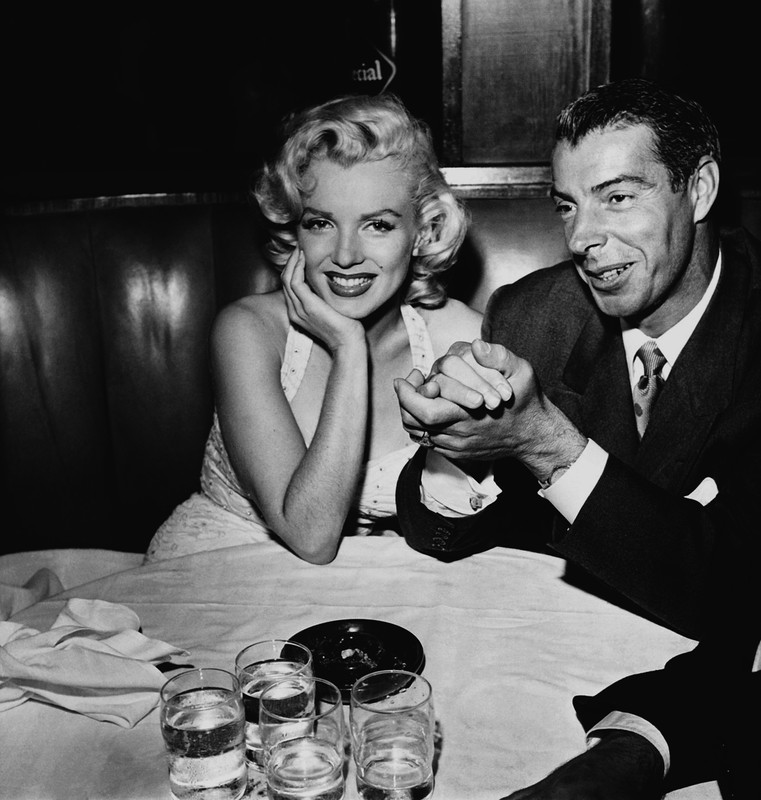 Dave Chasen, on the right, with Vincent Flaherty, a speechwriter for John F. Kennedy, Michael Romanoff, owner of Romanoff's Restaurant, and Charlie Morrison, owner of The Mocambo nightclub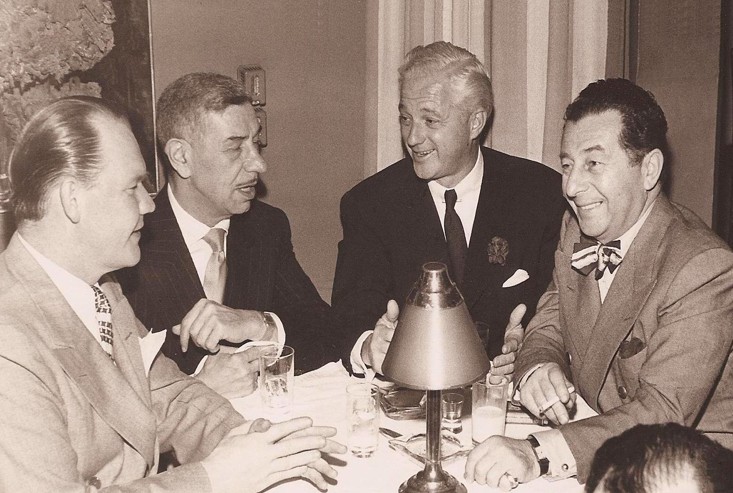 The interior of Chasen's, designed by Paul R. Williams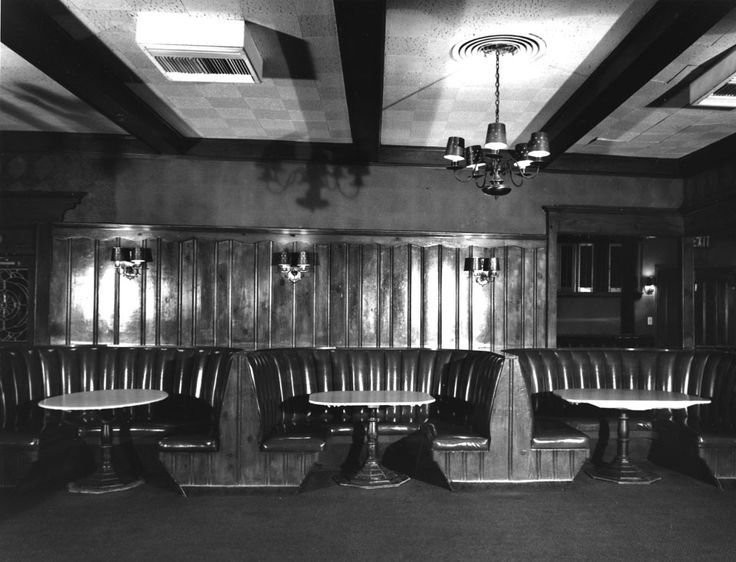 Chasen's owner Maude Chasen with President and Mrs. Reagan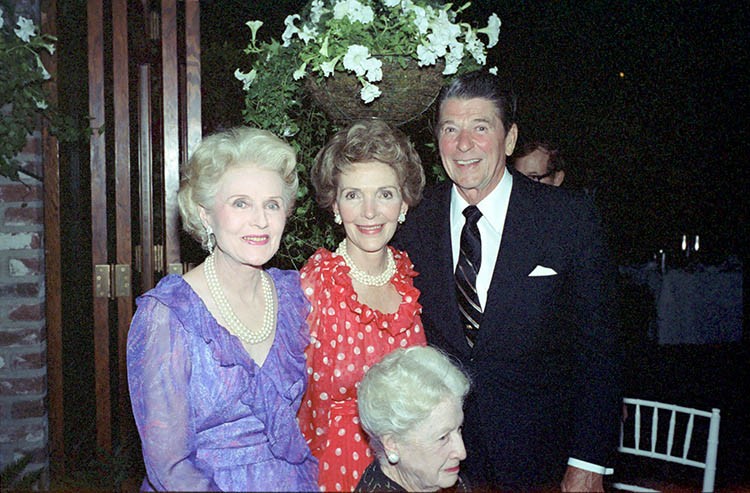 Backstory and Context
Author-Uploaded Audio
It was the mid-1930s and vaudeville was a dying art, usurped by the bright lights of Broadway and the booming movie industry in Hollywood. Vaudeville stars were turning their attentions to different ventures. One of those names was Dave Chasen, an immigrant from the Ukraine who landed on the shores of America when he was 8 years-old. Chasen asked his friend from the New Yorker, Harold Ross, for a $3,000 loan to open his own Hollywood restaurant with his wife Maude. Ross loaned Chasen the money, never imagining this quaint restaurant would become the biggest hit in town.
The first item listed on the menu when Chasen's opened in 1936 was Dave Chasen's own secret chili recipe. Elizabeth Taylor would come to so love Chasen's chili that when she was in Rome filming Cleopatra she had it shipped to Italy. For many years Chasen kept the chili recipe a top-secret, spending time in the kitchen every Sunday preparing for the week ahead. A few short years after it opened, Chasen's American/Continental cuisine was the hottest restaurant in Hollywood.
Some of Chasen's earliest frequenters included Charles Lindbergh and Howard Hughes. Chasen's became known for a strict-dress code, which included no open-back shoes for men or women, only Hughes could get away with breaking that rule. Chasen had another strict policy that was adhered to in its nearly 60 years of business: no credits cards, please. The options were cash or sign the tab and have it mailed to your address.  
Many of Hollywood's elite would waltz through the giant wood doors bearing a "C", including: Clark Gable, Carole Lombard, Ava Gardner, Jimmy Stewart, Lucille Ball, and many more. Frank Sinatra was known to rent-out the whole back room for parties, including his and Barbara Sinatra's anniversary party in 1988. Politicians such as Henry Kissinger and Richard Nixon were regulars at Chasen's, the latter preferring the "hobo steak," a New York strip lathered in butter and broiled in salt. When Ronald Reagan was president he brought British prime minister Margaret Thatcher to Chasen's with him as his guest. Into the late 80s and early 90s old timers like George Burns and Dean Martin were still regulars, but a younger crowd had joined them, such as Quentin Tarantino and Sharon Stone. Donna Summers wrote the song She Works Hard for the Money on bathroom toilet paper.
As Chasen's health began to fail, he turned over the operations of Chasen's to his wife Maude. Dave Chasen passed away in 1973 at the age of 74. After operating under her guidance for another 22 years, the aging clientele and her own declining health caused Maude to close Chasen's. In 1997, Grady Sanders purchased the Chasen's name from the Chasen family and re-opened a Chasen's on Canon Drive in Beverly Hills. The restaurant thrived at first, bringing back nostalgic customers, but its success soon fizzled out and Sanders closed the doors in 2000.
Now a Bristol Farms grocery store, a few of the high-back leather booths from the original Chasen's sits in the cafe, and the famous chili can still be purchased by customers. If curious tourists and visitors look hard enough they will find a small marker outside the cafe explaining the historical restaurant that graced the corner of Beverly and Doheny for 60 years.Though the restaurant is gone and few reminders of the glittery past that once took place there remain, the legendary tales live on...and so does the chili. 
Sources
Saxon, Wolfgang. DAVE CHASEN DIES; RESTAURATEUR, 74. The New York Times. June 18, 1973. Accessed June 10, 2018. https://www.nytimes.com/1973/06/18/archives/dave-chasen-dies-restaurateur-74-exvaudevillian-was-host....
Martino, Alison. Vintage Los Angeles: The Hidden Remains of Chasen's Restaurant. Los Angeles Magazine. December 04, 2013. Accessed June 10, 2018. http://www.lamag.com/citythinkblog/vintage-los-angeles-the-hidden-remains-of-chasens-restaurant/.  
Grace, Michael L. CHASEN'S – Dave Chasen's legendary Hollywood restaurant to the stars didn't allow credit cards or "celebrity chefs"!. Cruising the Past. October 25, 2011. Accessed June 10, 2018. https://www.cruiselinehistory.com/chasens-dave-chasens-legendary-hollywood-restaurant-to-the-stars-d....  
Pattera, Angela. Chasen's in Beverly Hills Closes Its Doors. Los Angeles Times. April 20, 2000. Accessed June 10, 2018. http://articles.latimes.com/2000/apr/20/entertainment/ca-21449.  
Image Sources
Alison Martino's "Vintage Los Angeles"

Eater L.A.

Eater L.A.

Culinary Institute of America

Cruising The Past

Pinterest

Cruising The Past

Martin Turnbull

Wikipedia

Additional Information