1934 Kerns Hotel Historical Marker
Introduction
This historical marker shares the history of the worst fire in Lansing's history and the 6th-deadliest hotel fire of the 20th century. At this location in the early morning hours of December 11, 1934, a fire destroyed the four-story Kerns Hotel on a night that it was nearly at capacity with 215 guests owing to the hotel's popularity with lawmakers and its proximity to the state capitol. Despite the actions of firefighters who saved eight people who jumped into their life nets and many more through four ladders, thirty four hotel guests perished that morning.
Images
The fire claimed the lives of thirty-four hotel guests, including seven lawmakers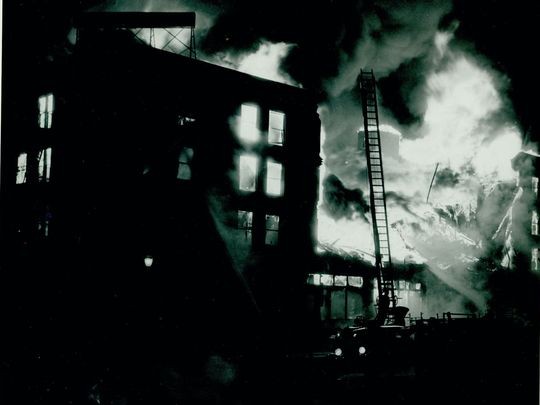 This historical marker offers a concise history of Lansing's deadliest fire.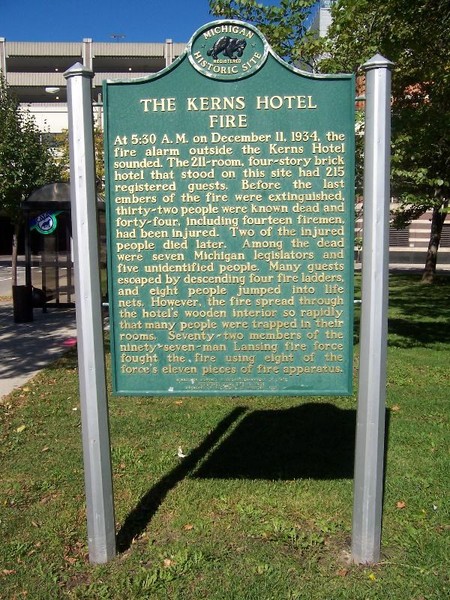 Backstory and Context
The hotel was built in the early 1900s and located at Ottawa and Grand. The hotel had a brick exterior but a wooden entire that led to the fire spreading rapidly and trapping many of the guests while they were still asleep. An additional thirty were seriously injured along with fourteen firefighters who also sustained injuries as they risked their lives to save others. Seven of the deceased were members of the state legislature. The disaster would have been even worse had it not been for a local resident who noticed flames coming from the building and triggered the newly-installed fire alarm box near the hotel.
Additional Information