Bulkeley Stadium (1921-1955)
Introduction
The Morgan G. Bulkeley Stadium, which occupied a 4 acre plot at the intersection of Hamner and George Streets from 1921 to 1955, was home to several minor league baseball teams. The stadium was also the site of circuses, automobile and motorcycle racing, prizefights, political rallies and even – briefly – an NFL team. The stadium saw some of the early at-bats of future Hall of Famers, as well as the very last swing from the Sultan of Swat himself, the great Babe Ruth. The former ballpark is now home to Ellis Manor, but thanks to local resident Norm Hausmann, there is now a small marker with a plaque that commemorates the former ballpark as well as a marker designating the location of home plate.
Images
The emonymous Mr. Bulkeley, first president of the National League and 54th Governor of Connecticut.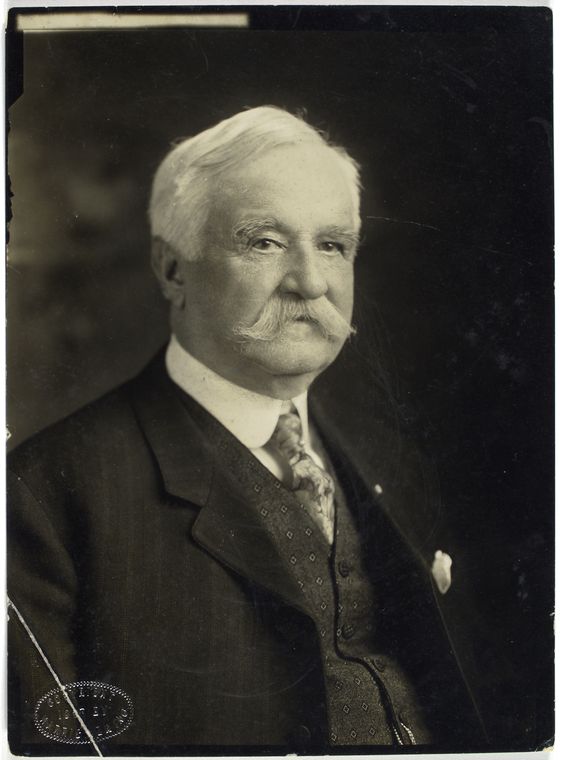 The 1926 Hartford Blues, after joining the NFL and leaving Bulkeley Stadium.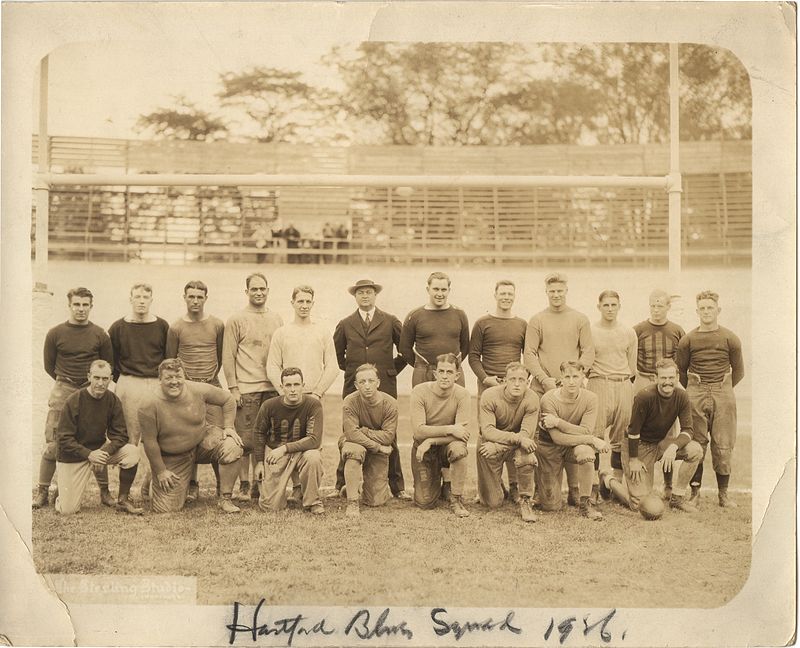 Babe Ruth as a Savitt Gem in his last-ever plate appearance.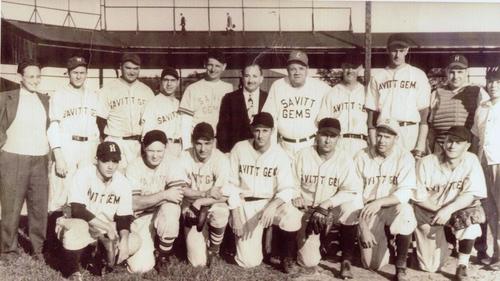 The plaque that marks the spot where home plate once lay.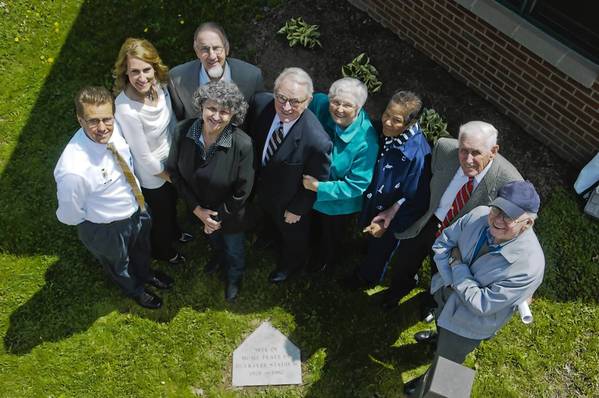 The Yard Goats' homage to the 1922 Eastern League Champion Senators.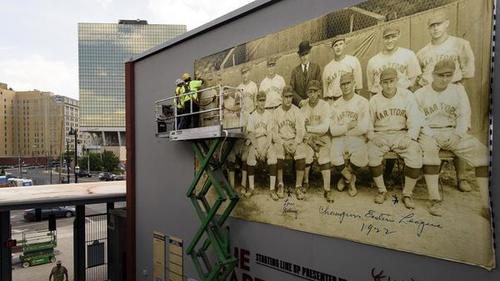 Local resident Norm Hausmann led the effort to commemorate the former ballpark with this plaque and a marker where home plate was located.
Backstory and Context
Bulkeley Stadium began as Clarkin Field, a venue for James H. Clarkin's Hartford Senators ball club. The stadium, which was pretty state-of-the-art for its time, was constructed in 1927. Shortly thereafter it was renamed for the first National League President, one Morgan Gardner Bulkeley. When he could tear himself away from the ballpark, Mr. Buckley also managed to serve as Hartford mayor, Connecticut governor and state senator, and long-term president of Aetna.
The first team to play at Bulkeley Stadium was the Senators, a team that had been around since 1902 and enjoyed their new digs up until 1934. While they were affiliated with the Brooklyn Dodgers, their most famous alumni, Lou Gehrig, went on to achieve legendary status in Yankee pinstripes. Other notable former Senators include Hank Greenberg, Leo Durocher and Olympian Jim Thorpe.
The Senators were succeeded by the Hartford Laurels, Hartford Bees, and Hartford Chiefs, all of whom were affiliated with the Boston Braves. Another notable team that called Bulkeley home was the integrated semi-pro Savitt Gems. In fact, a little-known moment in baseball history took place at Bulkeley on Sept. 30, 1945 when Babe Ruth, in a Gems uniform, pinch hit in his very last at-bat. Sadly, instead of hitting one out of the park, the Great Bambino grounded out to the pitcher.
Bulkeley's very brief interlude as a football stadium came in November 1925, when sports promoter George Mulligan relocated his independent Waterbury Blues to Hartford mid-season. The team was quite successful at Bulkeley, prompting the NFL to pick them up for the 1926 season. During 1926, however, the team relocated to the newly-constructed Velodome in East Hartford, where they went 3-7 on the season. The NFL promptly dropped them again, though they weren't quite one and done since they stayed on at the Velodrome for another year as the Hartford Giants. While they did post a 7-1 record in 1927, the Blues-turned-Giants never again recaptured that old Bulkeley Stadium magic and disbanded after their second year at the Velodrome.
Baseball, too, departed Bulkeley in 1952, when the big league Braves moved to Milwaukee and relocated the Chiefs franchise to Jacksonville, Florida. The stadium fell into disrepair, and was demolished in 1955. In 1961, a nursing home called Ellis Manor was constructed on the site where the stadium once stood. In a nod to its storied past, the nursing home lobby came to house a small collection of Bulkeley memorabilia.
Although the nursing home itself closed down this year, its grounds still hold a granite plaque commemorating the spot where home plate once stood. Stadium artifacts are also on display at the Connecticut Historical Society. Perhaps the most fitting tribute of all, however, can be found in the giant photo mural of a bygone Hartford Senators team installed at Dunkin' Donuts Park, where the Hartford Yard Goats brought baseball back to town in 2017.
Sources
Hausmann, Norman. Bulkeley Stadium: Hartford's last home to pro baseball. Society for American Baseball Research. January, 2016. Accessed June 05, 2018. https://sabr.org/latest/bulkeley-stadium-hartford-s-last-home-pro-baseball.

Bennett, Byron. Hartford's Bulkeley Stadium – Now A Nursing Home With A Home Plate. Deadball Baseball. September 11, 2014. Accessed June 05, 2018. https://www.deadballbaseball.com/?p=5056.

Bulkeley Stadium, Hartford, Connecticut. Ballpark Reviews. . Accessed June 05, 2018. http://ballparkreviews.com/template2.php?in_name=Bulkeley%20Stadium&in_city=Hartford&in_state=Connecticut.

Duffy, Joe. Bulkeley Stadium Was A Special Spot. Hartford Courant. September 28, 1997. Accessed June 05, 2018. http://articles.courant.com/1997-09-28/news/9709260181_1_stadium-site-flag-pole-foul-lines.

Messina, Mike. Diamonds of the Past: Hartford's Lost Ball Parks. Connecticut History. . Accessed June 05, 2018. https://connecticuthistory.org/diamonds-of-the-past-hartfords-lost-ball-parks/.

Pro Baseball In Hartford: A History Of Highlights, Lengthy Gaps, Quirky Incidents And Passionate Fans. Hartford Courant. March 26, 2017. Accessed June 05, 2018. http://www.courant.com/hartford-magazine/features/hc-hm-yard-goats-hartford-baseball-history-20170325-story.html.

Goode, Steven. You Can Go Home Again: Bulkeley Stadium Gone, But Home Plate Is Back. Hartford Courier. June 03, 2013. Accessed June 05, 2018. http://articles.courant.com/2013-06-03/community/hc-hartford-bulkeley-stadium-20130602_1_hausmann-home-plate-vintage-base-ball.

Pilon, Matt. State to shutter two Greater Hartford nursing homes. Hartford Business. November 21, 2017. Accessed June 05, 2018. http://www.hartfordbusiness.com/article/20171121/NEWS01/171129970/state-to-shutter-two-greater-hartford-nursing-homes.

Yost, Earl. Babe Ruth Pinch Hit For Local Batter In His Last Game. Hartford Courant. October 10, 1998. Accessed June 05, 2018. http://articles.courant.com/1998-10-01/news/9809300125_1_babe-ruth-ruth-bat-second-game.

Piascik, Andy. When the NFL Played in Connecticut: The Hartford Blues. Connecticut History. . Accessed June 05, 2018. https://connecticuthistory.org/when-the-nfl-played-in-connecticut-the-hartford-blues/.

Connecticut State Library. Morgan Gardner Bulkeley. . Accessed June 05, 2018. https://ctstatelibrary.org/wp-content/uploads/2015/05/Morgan-Bulkely.pdf.

Yantz, Tom. Now Batting...Babe Ruth. Hartford Courant. September 28, 2005. Accessed June 05, 2018. http://articles.courant.com/2005-09-28/sports/0509280046_1_babe-ruth-bat-hit.