Pioneer Family Group
Introduction
This monument honoring early settlers of the American West was sculpted by Avard Fairbanks. Unveiled on the North Dakota State Capitol grounds in 1947. Donated by Harry F. McLean in honor of his father, John A. McLean, the first mayor of Bismarck, North Dakota. It closely resembles other pioneer family monuments erected in the American West after World War II.
Images
Avard Fairbanks, Pioneer Family Group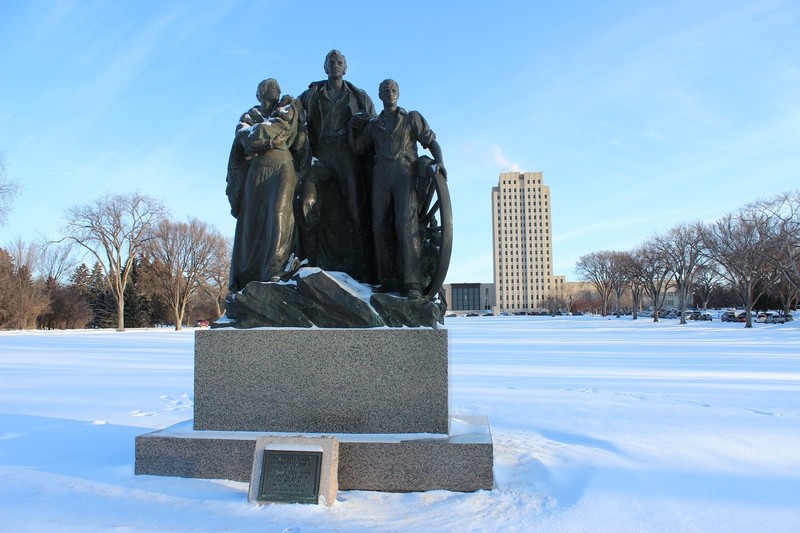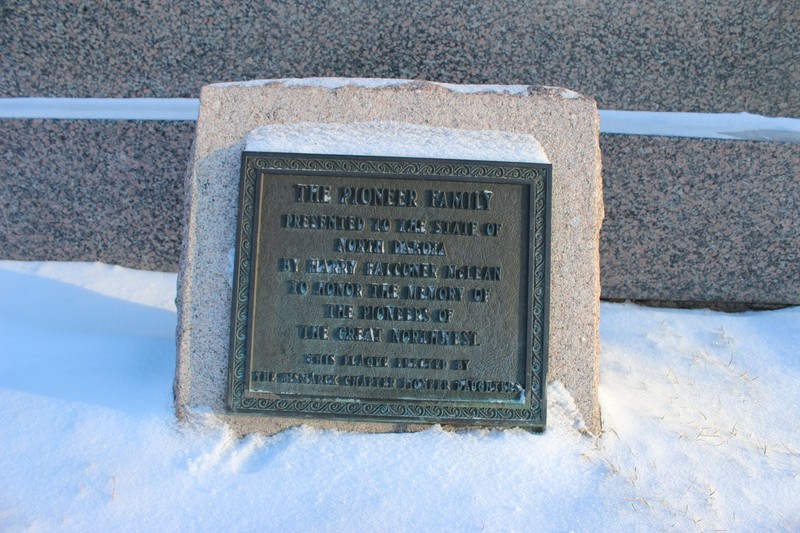 Reverse of statue with engraved inscription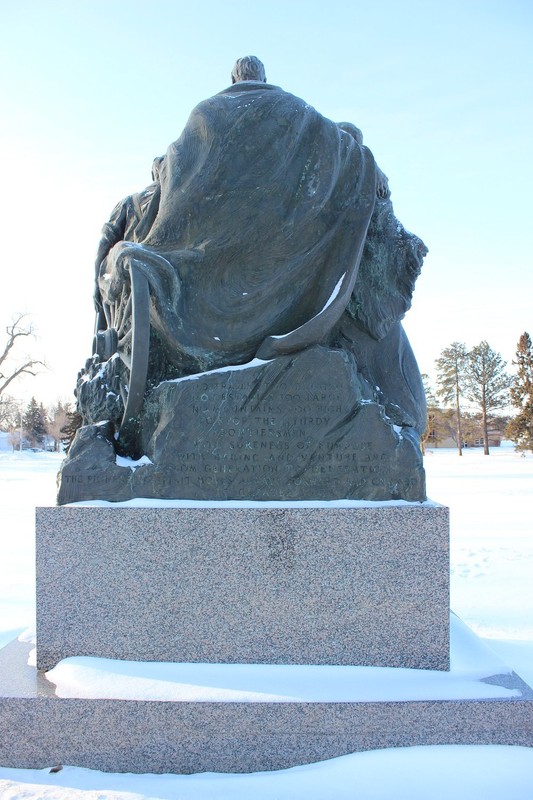 Historic photograph of monument by L. W. Naegle (circa 1946-1960). Alexander G. Burr Papers, Mss 10121, State Historical Society of North Dakota.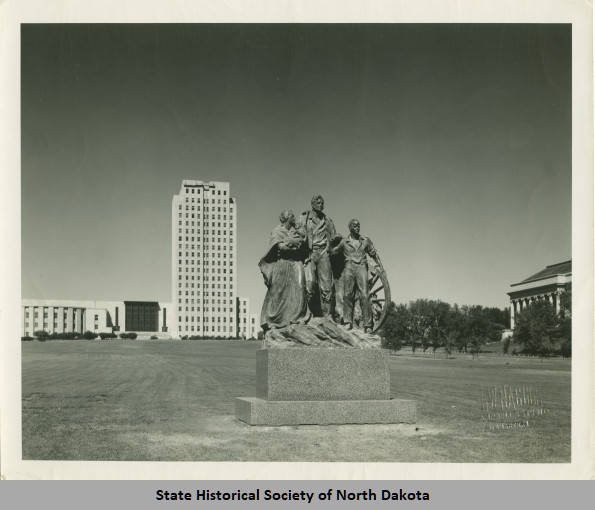 Backstory and Context
On September 25, 1929, the North Dakota Federation of Women's Clubs (NDFWC) voted to erect a "statue to the Pioneer Mother on the grounds of the State House at Bismarck."1 Similar efforts by women's clubs and other private donors produced statues depicting iconic Pioneer Mother statues throughout the United States in the late 1920s and early 1930s. To raise funds for the North Dakota project, the NDFWC collected biographical sketches of early female settlers in the state. The Pioneer Mother Project committee collected a number of biographical sketches, which were deposited at the State Historical Society of North Dakota, but the statue project was interrupted by the Great Depression.
About a decade later, Canadian millionaire Harry F. McLean decided to donate a pioneer monument to honor his father and mother. He proposed to erect it near Washburn, North Dakota, the county seat of McLean County, which was named for his father, John McLean. Perhaps because of the NDFWC's earlier interest in a similar monument, Harry McLean was persuaded to instead place his proposed statue in his hometown of Bismarck, where his father had served as that city's first mayor.
The $50,000 statue was dedicated in 1947 as part of Bismarck's 75th anniversary celebration. Sculpted by Avard Tennyson Fairbanks, the bronze Pioneer Family Group consists of eight-foot-tall figures of father, son, and mother holding an infant child. The figures represent a pioneer family and the "spirit of the west."2 The wagon wheel behind them represents progress. They stand on a four-foot granite base across a large lawn from the state capitol office building.
An inscription composed by the artist appears on the rear of the statue:
"No trail too rugged, no obstacle too large, no mountain too high to stop the sturdy frontiersman, with sureness of purpose, with daring adventure, and from generation to generation the pioneering spirit moves always forward and onward to greater goals."
The Bismarck monument depicts a pioneer woman, but it differs from the Pioneer Mother statue that the NDFWC envisioned in the late 1920s. Working during World War II, Fairbanks sculpted a nuclear family. The father holds his son's hand to depict freedom from fear. Freedom from fear was one of the "four freedoms" promised by U.S. President Franklin Delano Roosevelt during that war. Those "four freedoms" served as foundational principles for the establishment of the United Nations. Similar depictions of pioneer families—strong father, angelic mother, bold son, and baby in the mother's arms—appeared in public monuments sculpted by Fairbanks and other artists throughout the Cold War era.
Sources
1
. Minutes of the Thirty-Third Annual Convention of the N.D.S.F.W.C., Dickinson, N.D., September 1929. North Dakota Federation of Women's Clubs papers, North Dakota State Archives Mss #10202, Series I, subseries 1, Box 1, Folder 6.
2
. "Utahn Sculptures Shrine To Pioneers at Bismarck,"
Salt Lake Tribune
, September 24, 1948
"Statue Unveiling Set for Jubilee."
Bismarck Tribune
(Bismarck, ND) April 26, 1947.
"Artists Inspiration." Bismarck Tribune April 15, 1948.
"New Monument is Completed." Bismarck Capitol (Bismarck, North Dakota) August 22, 1947.
Additional Information