South Point High School
Introduction
South Point Delta High School was the first high school in Lawrence County, Ohio outside of the city of Ironton. The first class met in 1913 or 1914 (sources differ) and had less than forty students. The first building specifically constructed for the school was completed in 1916, with a large addition done in 1936. Since then, three more schools have been built to accommodate the high school student population as it grew.
Images
The South Point Delta High School after the 1936 addition. From "the History of the Village of South Point"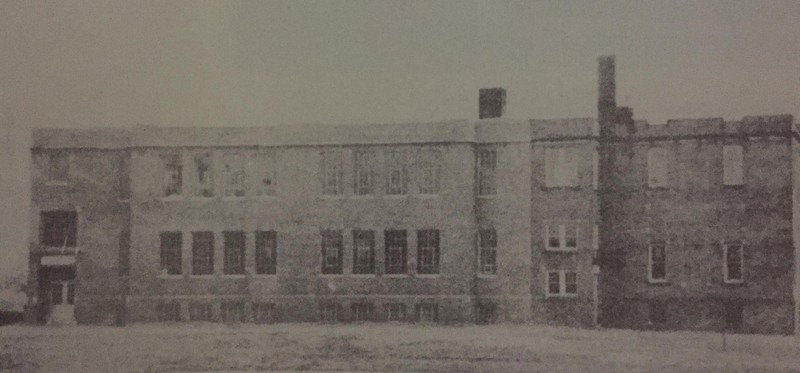 Backstory and Context
South Point Delta High School was originally located in the Odd Fellows Hall on Ferry Street. A year after opening its doors in 1913 or 1914 (sources differ), the school moved across the street into the Masonic Temple. Fred Kelly took over as teacher from Fred Brammer. He had forty students divided into three classes with a curtain separating the freshmen from the upperclassman. Kelly later reflected on the zeal his students had for studying the subjects of algebra, English, biology, history, and Latin. In 1916, the South Point and Delta school system merged together completely, and a new high school, costing $12,000 was built. V. F. Dillon, a former superintendent, acted as principal. In 1918, the school graduated its first class.
Even the new school would be considered small and primitive by today's standards. There were only two classrooms upstairs and two downstairs as well as a basement. The upstairs classrooms could double as a basketball court by folding back the doors that partitioned the rooms. In 1936, a $90,000 addition consisting of four classrooms, an office, locker rooms, and a gymnasium with a stage was completed to cater to the growing school population.
World War II slowed down the growth of the high school as many boys enlisted in the military. The class of 1945, for example, had only twelve male students. In the late 1940s, post-war prosperity spurned the construction of another new high school, completed in 1949 and costing around $650,000. The old high school was used as the junior high school until it was demolished in 1983. The new high school could fit more students and included an auditorium separate from the gymnasium.
By 1960, however, students were again squeezing into the school "wall-to-wall." Financing for a new school was turned down by voters twice, and it was not until after a strike by teachers in the 1970s that work on a new building began. Starting in 1983, students attended the $3.7 million high school built where the football field had been in the 1930s. After this came the modern South Point High School.
Sources
School History. Village of South Point. Accessed June 04, 2018. http://villageofsouthpoint.com/SchoolHist.pdf.

Ferguson, Art. The History of South Point Village. South Point, Ohio. The South Point Centennial Committee, 1988.