Ottawa Street Power Station
Introduction
Now headquarters of the Accident Fund Insurance Company, the former Ottawa Street Power Station is one of Lansing's architectural landmarks. The station generated electric power and steam for the city until the late 1980s. The southern part of the building was completed in 1939 and the northern in 1946. It was designed in the Art Deco style and features a "step-back" appearance. The design allowed it to disguise the machines and many of the smokestacks and to include windows. In this way, the building was architecturally appealing to look at. Inside, the steam and electric machines were state-of-the-art at the time; they were more efficient and more reliable and were completely automated. The building's architecture and machinery attracted national attention and generated wide praise. In all, the station could process 300 tons of coal per day. It was added to the National Register of Historic Places in 2008.
Images
The former power station as it appears today. It was built in two phases, in 1939 and 1946. Photo: JC Kibbey, via Union of Concerned Scientists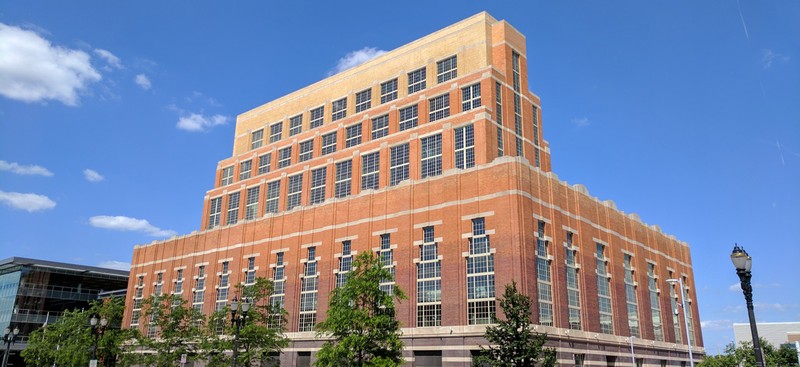 The plant as it appeared before conversion to the Accident Fund's headquarters. Photo: Wikimedia Commons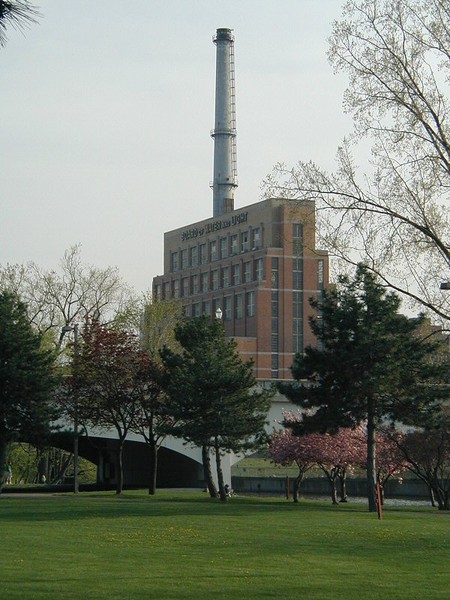 Backstory and Context
By the time the station was built, Lansing was in need of more electric power and steam. The city had grown to 57,000 people by 1920 after being established as the state capital in the late 1840s (Detroit was the first capital but the state decided to move it to Lansing). Before the station was built, private entities had provided power to the city but this finally came to an end when studies from other cities demonstrated that public utilities could provide cheaper power. The station's construction was built using funds from ratepayers; no bonds or government funds were needed.

The machinery became obsolete in the late 1980s and early 1990s. Water chilling equipment was installed in 2001 in part of the building. They operated for several years before the building was bought by Accident Insurance in 2007. The company proceeded to renovate the entire building, converting it into offices. The process took two years.
Sources
Cosentino, Lawrence. "The greatest show in town: Grand Avenue parking deck demolition brings Ottawa Power Plant makeover to a new stage." Citypulse. September 9, 2009. http://lansingcitypulse.com/article-3418-the-greatest-show-in-town.html.

"Ottawa Street Power Station." National Park Service - National Register of Historic Places Nomination Form. November 26, 2008. https://www.nps.gov/nr/feature/weekly_features/OttawaStPowerStation.pdf.

Richardson, Jeremy. "How A Coal Plant in Michigan Became an Insurance HQ." Union of Concerned Scientists. October 10, 2017. https://blog.ucsusa.org/jeremy-richardson/lansing-coal-plant-closure.

Additional Information