Mark Twain Hotel
Introduction
Built in 1930, the U-Shaped, Art-Deco style Mark Twain Hotel operated as a rooming-hotel, where most of its residents lived there permanently. The building arrived at the tail end of Chicago's prolific rooming-hotel construction occurring roughly between 1910 and 1930 and almost exclusively catered to laborers, artists, entertainers and lower-paid service workers.
Images
1940 Postcard, Front View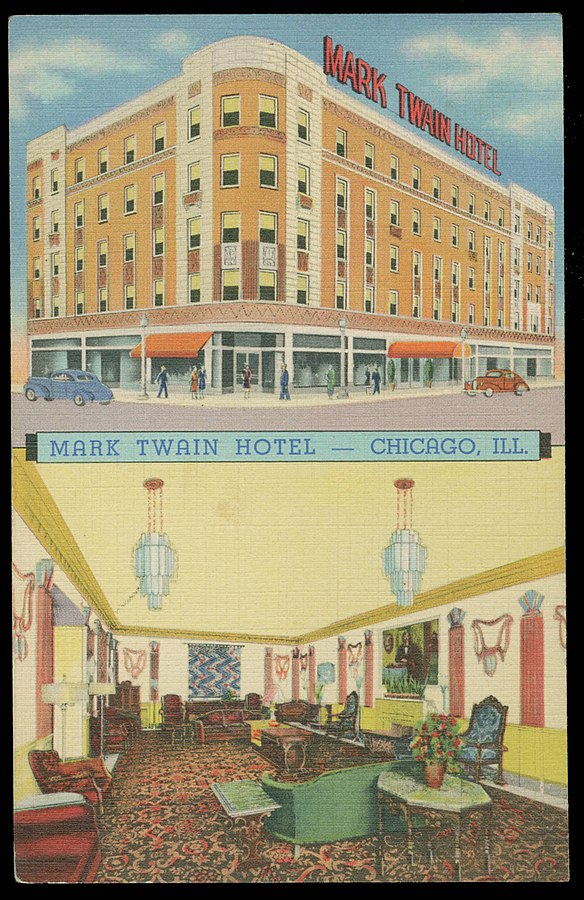 1941 Postcard written by guest to his or her sister. Notice the amenities include private bathrooms, free radio and affordable rates.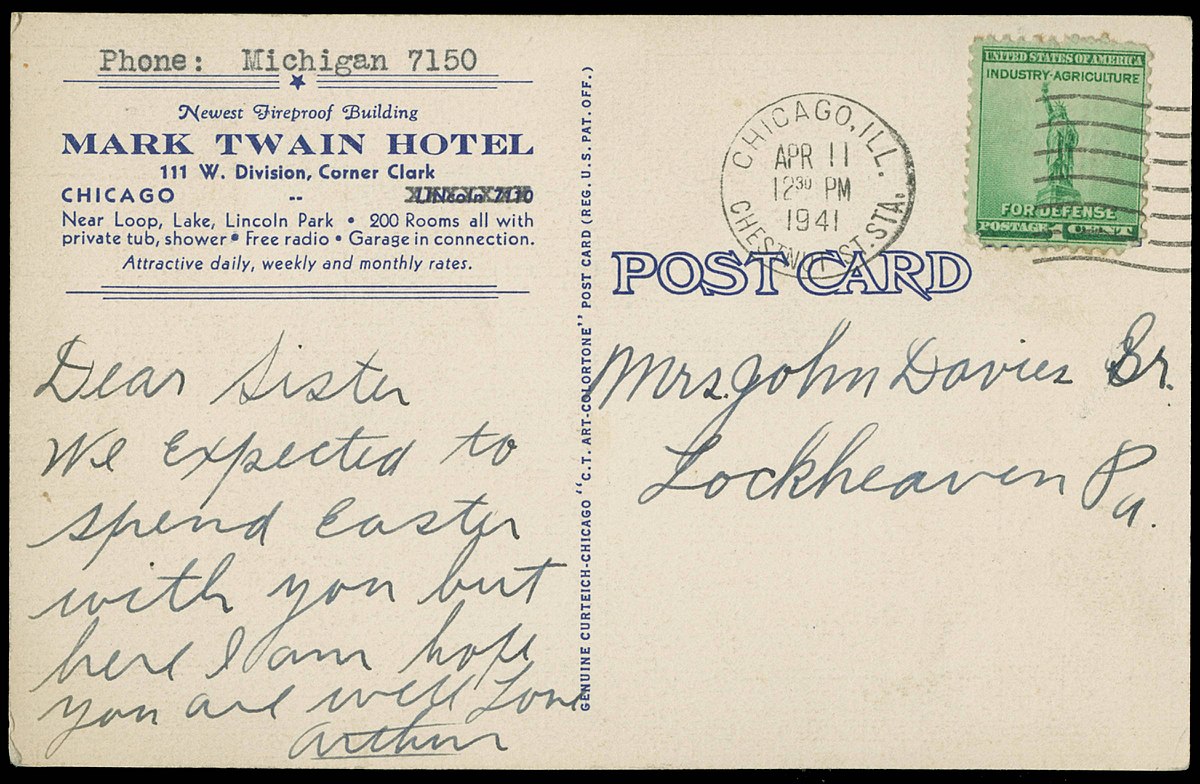 Modern Image of the Mark Twain Hotel (possibly 2017).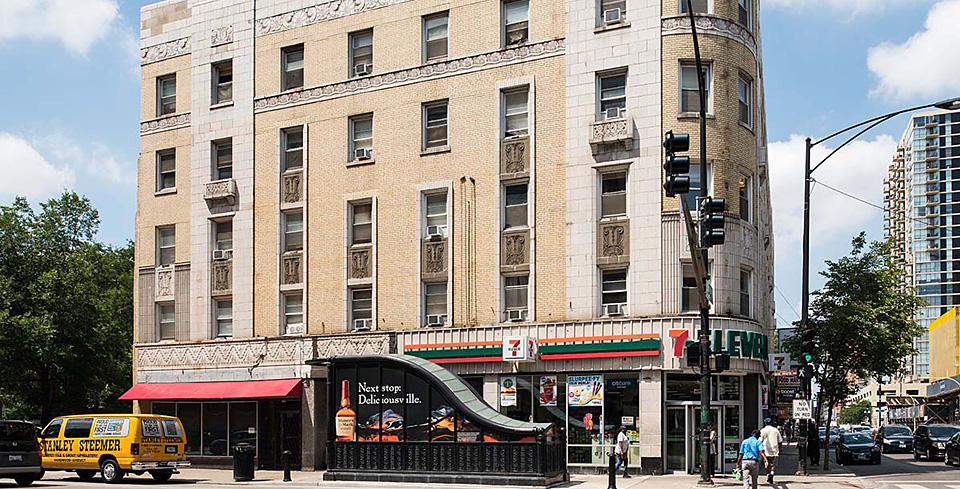 Backstory and Context
The U-shaped, Art-Deco style Mark Twain Hotel (built 1930) serves as an example of a residential "rooming" hotel, a type of residential hotel constructed in Chicago primarily between 1910 and 1930, built primarily to house the abundance of skilled (low paid) workers arriving in the city during that era. Although a hotel, most of the guests lived in the building permanently; they could not afford to live in multi-room apartments.
Most residential rooming hotels provided guests with single rooms, some of which included private baths but mostly offered shared toilets, sinks, and showers to its residents. Many also had maid services, but the lower-tier versions did not provide guest with meals. Instead, restaurants operated in the building.
The Mark Twain Hotel emerged at the tail end of the period of Chicago's prolific residential rooming-hotel construction. Typical of many buildings erected around the time of the 1929 stock market crash, the Mark Twain Hotel fell into foreclosure just a few years after its 1930 opening. However, new owners saved the building in 1932. Compared to other rooming hotels and low-income housing, the Mark Twain Hotel offered luxuries and creature comforts including furnished rooms, private baths and, according to a 1932 ad, a free radio in every room.
The Mark Twain arose at a time when Chicago's north side, not far removed from downtown, was in a state of transition. In fact, one can describe it as the areas third phase. The area began as nothing more than undeveloped land until the 1871 Great Chicago Fire. However, after the fire, both Germans and Irish immigrants flooded into that north part of the city, many of which grew to become quite affluent. Finally, during the interwar period, many of the wealthiest moved to the suburbs, or to distinct portions of the city such as the Gold Coast along Lake Michigan. As a result, transients and laborers filled the void of vacancies and empty lots that resulted. Hence, buildings such as the Mark Twain appeared.
A U.S. Census report in 1940 showed that the vast majority of its residents lived there permanently. Residents during the Great Depression and throughout the 1950s included married, single, and divorced people, both male and female, working a variety of blue- and white-collar jobs including clerks, waitresses, salesmen, nurses, and teachers, as well as writers, artists, entertainers, and architects.
The north side went through another transition during the 1960s and 1970s when the idea of urban renewal grew popular. Numerous construction projects left only a few blocks to retain its late nineteenth and early twentieth-century appearance, most of which are intertwined with modern structures.
Sources
Ramsey, Emily. "Nomination Form: Mark Twain Hotel." National Register of Historic Places. March 24, 2017. https://www.nps.gov/nr/feature/places/pdfs/MP100000961.pdf

Roth, Paul. "Residential Hotels." Newberry Library: Encyclopedia of Chicago. Accessed June 1, 2018. http://www.encyclopedia.chicagohistory.org/pages/1065.html

Seligman, Amanda. "Near North Side." Newberry Library: Encyclopedia of Chicago. Accessed June 1, 2018. http://www.encyclopedia.chicagohistory.org/pages/876.html

Photo Sources

1940 and 1941 Postcards: Found at the Newberry Library. https://collections.carli.illinois.edu/cdm/compoundobject/collection/nby_chicago/id/8514

Modern Image found at the NHP Foundation: http://www.nhpfoundation.org/mark-twain-hotel/financial.php



Additional Information