Edward B. Alling House - 215 East French Avenue
Introduction
This residence, turned Bed and Breakfast, was constructed in 1908. It represents the Florida Frame Vernacular architecture, which boasts characteristic wood frame construction with clapboard siding, two full stories with a pyramidal roof punctuated by gable dormers. The property was owned by Edward B. Alling, a prominent member of the community and most notably known as Mayor of Orange City. Alling was instrumental in establishing the Orange City Chapter of the Red Cross and donated the plot of land for Orange City's new Town Hall in 1928. The property is now known as The Alling House Bed and Breakfast, which has three rooms and five cottages, owned and operated by Gerald and Nan Hill. It began services as a Bed and Breakfast in 2004.
Images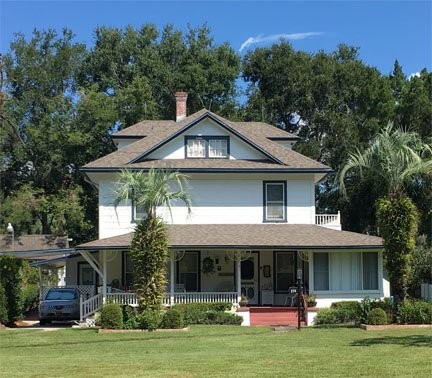 Backstory and Context
The Alling house was built in 1908. The original owner was Samuel C. Hood, a local biologist who was involved in Orange City's camphor gum government experimental station on South Carpenter Avenue. Edward and Lillian Alling purchased the house in 1919. He was metal pattern manufacturer from New Britain, Connecticut. Edward set up a foundry on his property where he designed and cast memorial tablets, wall plaques and house markers for friends and neighbors. He also repaired the Town Hall bell.
Mr. Alling was a member of the Masons and reached the rank of Illustrious Sovereign St. Honore Conclave, Red Cross of Constantine in 1911. He served as the former president of the Orange City Library Association, and over 30 years as a trustee. In 1926, Mr. Alling and four other men, incorporated the Orange City Bank where he served several terms as the president. He was proud that the bank did not fail in the crash of 1929.
Edward served as mayor of Orange City for four terms (1923,1927,1928 and 1929). During his service, he was instrumental in forming the projected to build a new unified town hall. He donated the land for the building and also helped in selecting the Sanford architect, Elton J. Moughton, to design the building
Edward Alling helped establish the Orange City Chapter of the Red Cross through correspondence and travel to Washington D.C. to describe the need for the organization in the city.
He was the local chairman for Orange City's Chapter of the Red Cross for two years and then was elected to the Board of Directors. Edward would later donate a building for the city's chapter of the Red Cross in 1941. During the Great Depression, he made several trips to Washing D.C. to procure flour for those in need when others had failed. He also helped to distribute the flour.
Sources
https://lakehelen.com/Gateway/Frame%20Vernacular%20-%20Style%20Guide.pdf
LaFleur, J.(Ed.). (2000). Our Story of Orange City, Florida. Florida: Village Improvement Association, Inc.
Robb, E. (Ed.). (1966) Our Story of Orange City Florida. Florida: Village Improvement Association, Inc.
Orange City (2012).Tour of Historic Homes and Buildings Saturday, December 8,2012 [Brochure]. Orange City, FL
Additional Information