Top of the Rock Observation Deck
Introduction
The GE Building in Rockefeller Center, formerly known as the RCA Building, has three observation decks on the 67th, 69th, and 70th floors. Together, this allows for a 360 degree view of New York. The entrance to the observation deck is on 50th Street between 5th & 6th Avenue. Rockefeller Center date back to a massive demolition and construction project that began in the late 1920s. By 1937, eleven of the fourteen original buildings had been completed in the Art Deco style of architecture. These buildings have held the offices of some of the largest corporations and are now located alongside five newer structures.
Images
The view of Central Park from the observation deck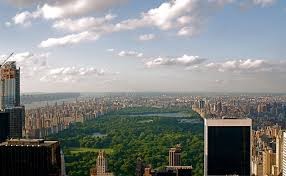 For their safety, visitors on the observation deck are surrounded by clear plexiglass.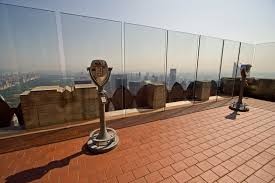 Backstory and Context
The complex is located at the site of the nation's first botanical garden which dates back to the early 1800s. Columbia University later acquired this land and leased it to John D. Rockefller Jr. who began demolition of hundreds of apartments and small buildings and the construction of the buildings in the late 1920s. The complex is most famous for its retail outlets, outdoor ice skating rink, and its decorations for Christmas which have included a massive Christmas tree each year starting in 1933.
Additional Information