Hackley & Hume Historic Site
Introduction
This site includes two historic houses and a carriage barn, each featuring the Queen Anne style of design that was so popular in the late nineteenth century. The homes were built by Muskegon's famous lumber baron, Charles H. Hackley, and his business partner, Thomas Hume. The two homes and carriage house are open to the public and allow visitors to see 19th century craftsmanship through the home design and its furnishings.
Images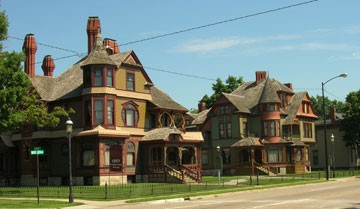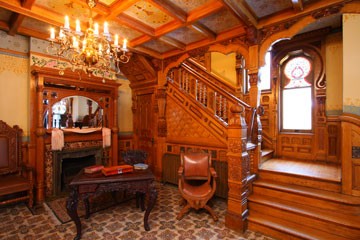 Backstory and Context
From the official website: "In 1887, Charles H. Hackley purchased the lots on which the Hackley & Hume Historic Site now stands. He immediately sold one and one-half of these lots to Thomas Hume. Charles H. Hackley hired David S. Hopkins of Grand Rapids to design and build the magnificent houses and City Barn. Construction took place between 1887 and 1889. Erie Caughell Hackley Smith inherited the Hackley House after the deaths of Charles and Julia in 1905. Erie and her family lived in the house for a time and then rented it out to boarders. In 1943, she donated the house to the Muskegon chapter of the American Red Cross in memory of Charles H. Hackley. The house served as the local Red Cross Headquarters until 1971 when the Hackley Heritage Association, a volunteer organization, purchased it and began to restore the structure.
Members of the Hume family lived in their home until 1952, when daughter Con Hume sold the house to a not-for-profit children's day care center. In 1971, the Hackley Heritage Association purchased the Hume house and began restoration work.
The Muskegon County Museum obtained ownership of the Site in 1986. The residents of Muskegon County approved a millage to restore and preserve the Hackley & Hume Historic Site and the Museum."
Sources
Entry on Hackley House found on the Muskegon History Wesbsite at http://www.muskegonmuseum.org/hackley_hume.html
Additional Information