Southwest Museum
Introduction
The Southwest Museum was founded in 1907 as the Southwest Museum of the American Indian by Charles Lummis. In 2003, it merged with the Autry Museum of the American West so that its collections could be better preserved and shared with the public. As such, the museum's collection is now housed at the Resources Center of the Autry in Burbank, which is undergoing construction and will be completed in 2019 (phase one of the construction was to build the storage areas in the facility). The Center will serve as a preservation and educational facility where the collections of the Autry Museum and Southwest Museum will be available to the public through research and exhibitions. The Southwest Museum's Native American collection is considered one of the best in the world. Artifacts in the collection date from prehistoric times to today. The collection is particularly strong in archaeological artifacts and ceramics. There are a few exhibits at the museum that can be seen when the museum is open on Saturdays.
Images
The Southwest Museum was built in 1914. Since merging the Autry Museum in 2003, its collections have been moved to a larger storage and research facility called the Resources Center.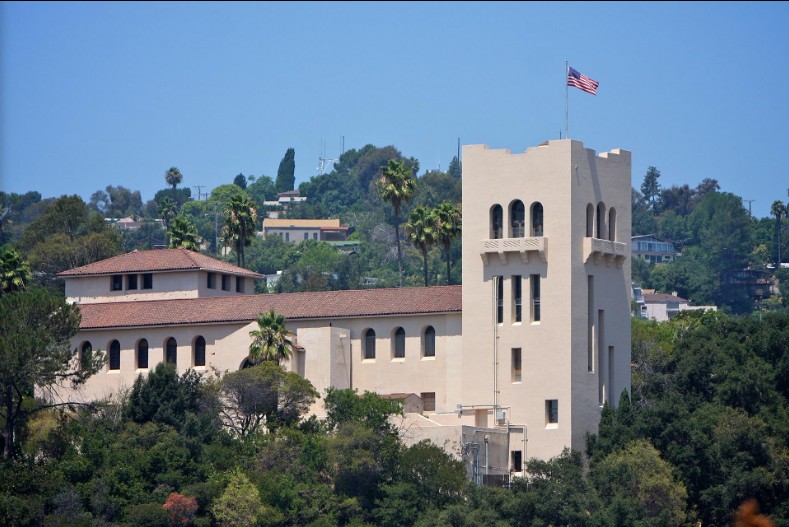 Backstory and Context
The Southwest Museum was established during the period of the late 19th and early 20th centuries when museums and educational institutions were founded to begin the study of natural and cultural history. Charles Lummis recognized that Southwestern artifacts and historical material were being excavated by these institutions, which were mostly located on the East Coast, and wanted to establish a museum to help keep these items in their region of origin. The building itself was constructed in 1914 and was designed to reflect Spanish culture and the architecture of the Alhambra, which is a historic palace and fortress located in Granda in Spain.
Sources
Burton, David. "Southwest Museum (Amendment)." March 11, 2004.
National Park Service - National Register of Historic Places Nomination Form.
https://npgallery.nps.gov/GetAsset/34bc3788-cb5d-4b93-ae79-261870314e57.
"Historic Southwest Museum Mt. Washington Campus." Autry Museum. Accessed May 18, 2018. https://theautry.org/visit/mt-washington-campus.
Photo: Autry Museum
Additional Information