Emil Bach House
Introduction
Built in 1915, the Emil Bach House is a Prairie style house in the Rogers Park neighborhood of Chicago designed by Frank Lloyd Wright. The world-famous architect designed the home in the Prairie-School style and this was one of his last Prairie School projects before transitioning to a more Japanese aesthetic. Emil Bach and his five brothers ran the Bach Brick Company in Chicago. Emil lived in the house with his wife until 1934. Today the house serves as a wedding venue and vacation rental that celebrates the work of the famous architect who designed the home.
Images
Emil Bach House (1915), Rogers Park neighborhood in Chicago, IL.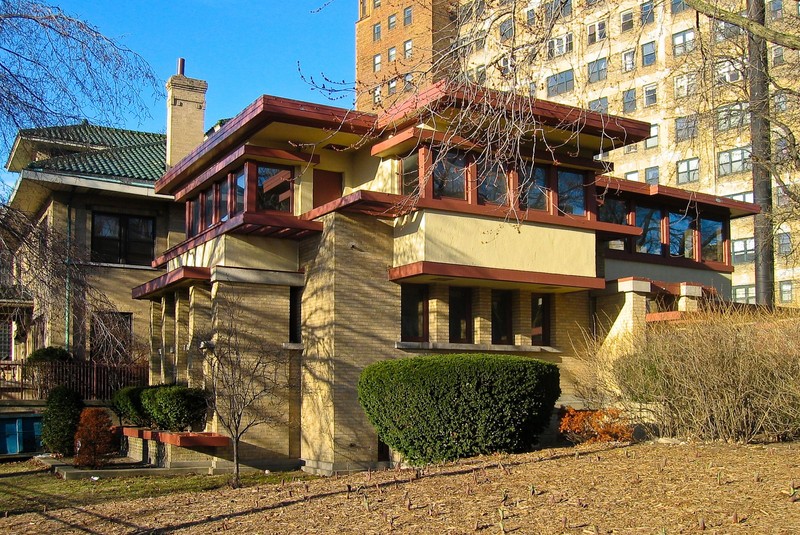 Backstory and Context
The Emil Bach House (1915) is a Prairie style house in Chicago's Rogers Park neighborhood. Frank Lloyd Wright designed the house for Bach, co-owner of the Bach Brick Company and a great admirer of Wright's work. This home was one of Wrights last works prior to his transition to a more expressionist, Japanese-influenced style of architecture. In fact, only months after this hoe was completed, the Japanese Emperor commissioned Wright to design the Imperial Hotel in Tokyo.
Emil Bach and his wife Anna purchased the site of the Bach House in 1914 and commissioned Frank Lloyd Wright to design the house which was completed the following year. The home stands as part of a series of geometric, cubic homes consisting of overhanging, flat roofs common found in Wright homes designed during the early 20th century, notably after his return from Europe in 1911, however it is also the last one remaining of that style in Chicago.
Bach, along with his five brothers and parents, immigrated to Chicago from Germany in 1883. Bach's father opened the Bach Pottery that same year, which became Bach & Sons in 1893. By 1905, the company name transitioned to the Back Brick Company, producing 200,000 bricks in a day and patenting the closed top kiln burner.

Their success coincided with the rapid growth of Chicago, which included brick production. Following the infamous 1871 Chicago Fire, brick replaced wood as a construction material. Concurrently, a farm in what is now the northern suburbs of Chicago was discovered to possess excellent clay soil for brick making. As a result, numerous brickmakers established businesses in the region and in 1872, several rail lines were constructed to connect the brickmakers to the city. Brick production peaked between 1915 and 1920, when as many as 300,000 bricks were manufactured a day.
The Bach family resided in the house until 1934 when they sold it to Joseph Peacock, who lived there until 1947. The property changed hands several times in the 1950s and now exists as a historical landmark which functions as a vacation rental, wedding venue, and other related activities.
Sources
Brooks, H. Allen. "Architecture: The Prairie School." Newberry Library: Encyclopedia of Chicago. Accessed May 17, 2018. http://www.encyclopedia.chicagohistory.org/pages/63.html

"Frank Lloyd Wright Biography." Biography.com. May 17, 2018, https://www.biography.com/people/frank-lloyd-wright-9537511

Gregory, Caroline C."Nomination Form: Emil Bach House." National Register of Historic Places. May 28, 1976. http://gis.hpa.state.il.us/PDFs/200128.pdf.

"Our History: A 100-year Journey from Private Home to Peerless Treasure." Emil Bach House. Accessed May 17, 2018. https://www.emilbachhouse.com.

Perry, Marilyn Elizabeth. "Northbrook, IL." Newberry Library: Encyclopedia of Chicago." Accessed May 17, 2008. http://www.encyclopedia.chicagohistory.org/pages/905.html.

Photo Source

Emil Bach House: By User:JeremyA - Own work, CC BY-SA 2.5, https://commons.wikimedia.org/w/index.php?curid=645906


Additional Information