Town Hall for the City of Orange City, Florida - 205 East Graves Avenue
Introduction
Constructed in 1928, this Neo-Classical Revival architecture stands out as one of the city's most significant historic resources. Town Hall was designed to house all offices of the City of Orange City, FL during the boom era of Florida development. The structure remains in use today for Orange City administration offices. The basement level, although now offices, still boasts two early jail cells.
Images
"TOWN HALL: One of the fastest growing communities in Central Florida. The Home of PURE WATER. A perfect retirement Paradise located on Scenic 17. (Routes 17 & 92)" Ektachrome Post Card published by Kent's Photo Shop and Studio, Deland FL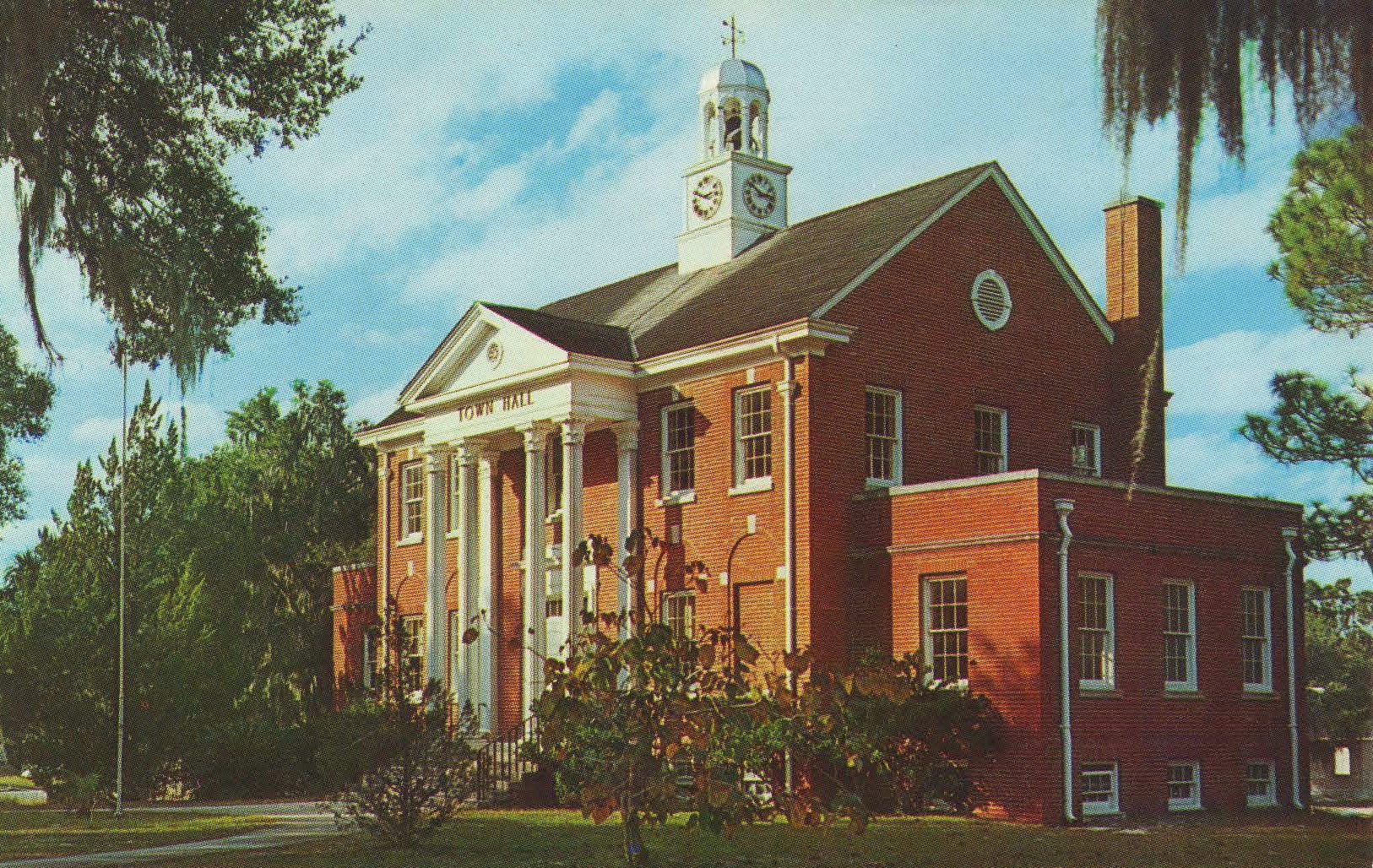 Town Hall - Orange City, FL 2-F 100 c.1940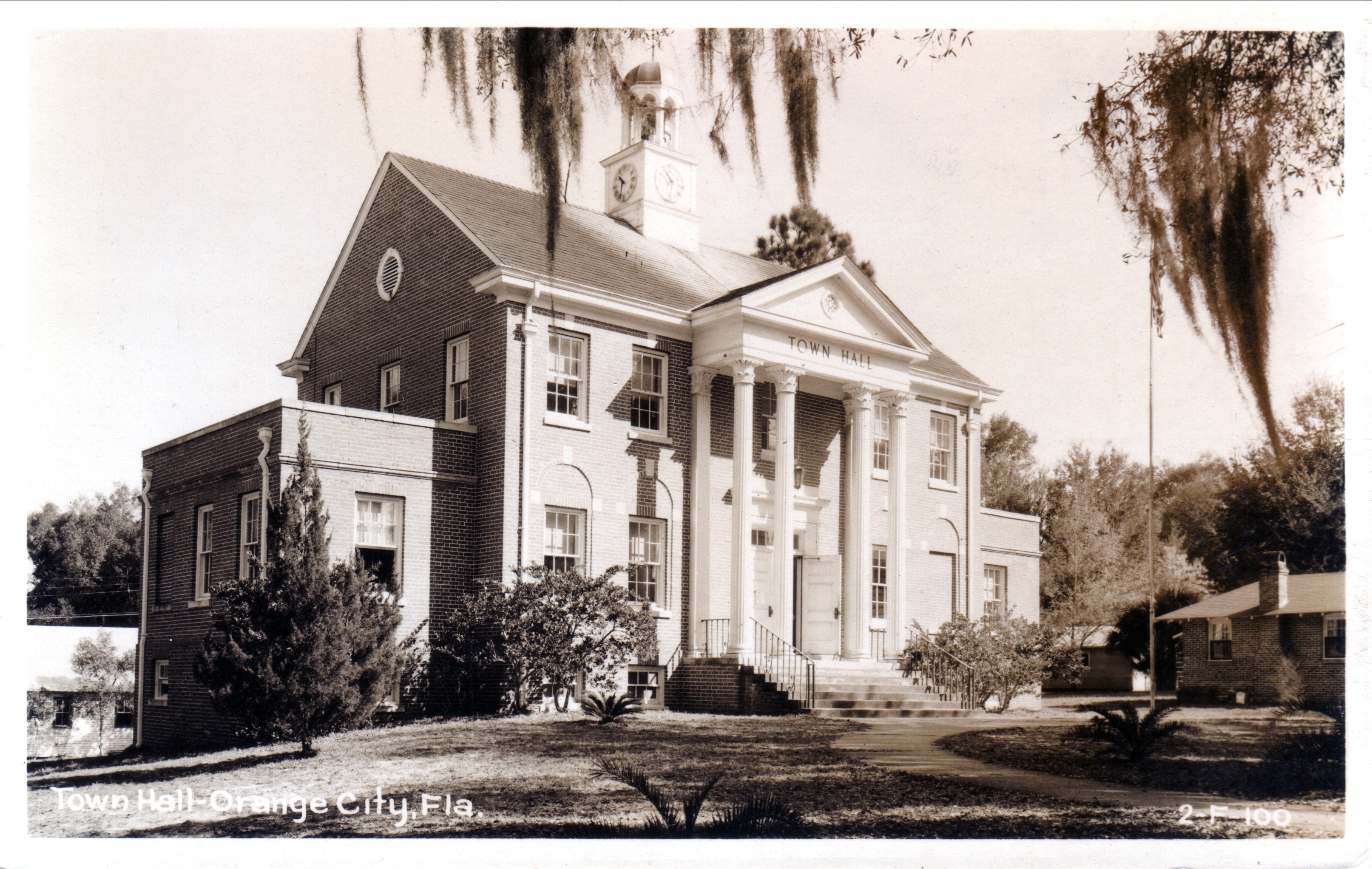 Orange City Town Hall - South elevation, taken Sept 11, 2018 by Kim Reading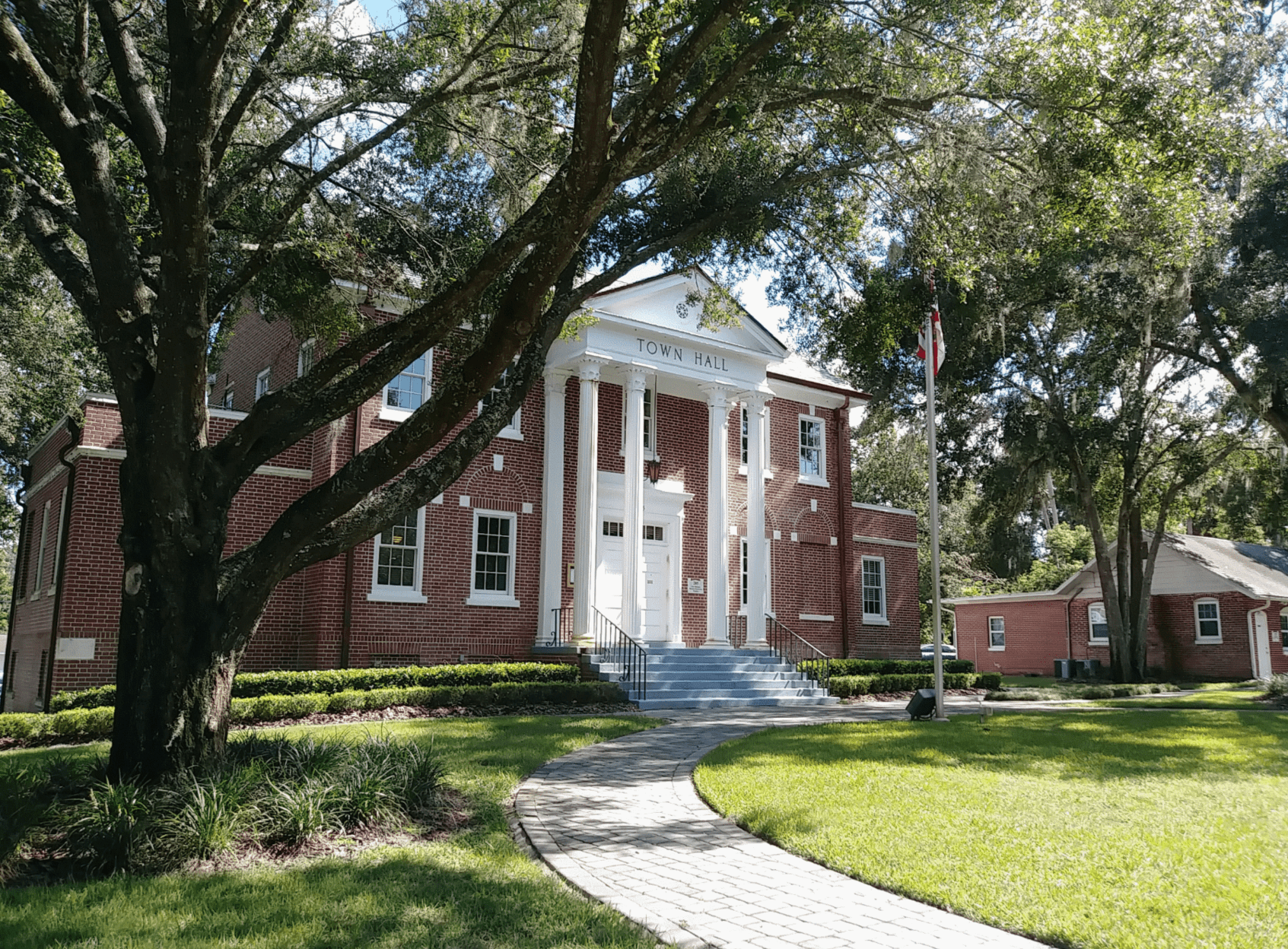 Backstory and Context
Orange City experienced a period of rapid development and population growth in the late 1920s. As a result, the City sought a unified structure for conducting city business. Land was donated by Edward and Lillian Alling and a special bond election was held to ensure financing of the construction. A Classical Revival architectural style was selected by then Mayor E. B. Alling to reflect a New England town hall. Architect Elton J. Moughton of Sanford, FL was commissioned to design a building to include offices for the City Clerk, City Council, Town Marshall and the Fire Department. Deland's R. Knight was awarded the building contract. The cornerstone of the institutional structure was laid on October 6, 1928. The building was completed in December 1928, followed by a dedication ceremony on March 13, 1929. The structure retains its original use for city administrative offices. 
Mayor Alling was a prominent member of the community. He is credited as establishing the Orange City Chapter of the American Red Cross. In 1940, Alling donated the one story brick building located just east of Town Hall, which he had used for his real estate office, for use as the local Red Cross Chapter house. The City purchased the Red Cross building in 2002, which is used as offices of the Mayor and City Clerk today.
The grounds maintain its historic landscape including a manicured lawn and looming water oaks, making this structure and site an excellent example of Orange City's historic resources.  
Sources
Town Hall Blue Prints. Elton J. Moughton, 1927.
City Council Minutes of meetings dated June 8, 1927, August 10, 1927, March 26, 1928, April 2, 1928, October 1, 1928, November 5, 1928, and December 31, 1928.
"Our Story of Orange City, Florida", Village Improvement Association Orange City Woman's Club, Editor Joan J. LaFleur. 2000, pp. 135-140
Orange City Town Hall National Historic Register Nomination, Sidney Johnston. 2003.
Additional Information