Körner's Folly
Introduction
In 1878, interior designer and artist Jule Gilmer Körner purchased a lot in Kernersville, North Carolina with the vision of building "a combination of studio, office, reception halls, ballroom, carriage house, and stables." The eccentric twenty-two room building, arranged over seven different levels, is decorated with elaborate moldings and lavish art. Even the furniture, set to Mr. Körner's specifications, imitated the eccentricity of the interior, and many pieces of furniture are too large to remove. The house was renowned for its unique appearance, and both Körner's relatives as well as passersby referred to it as "Körner's Folly," a name which sticks today.
Images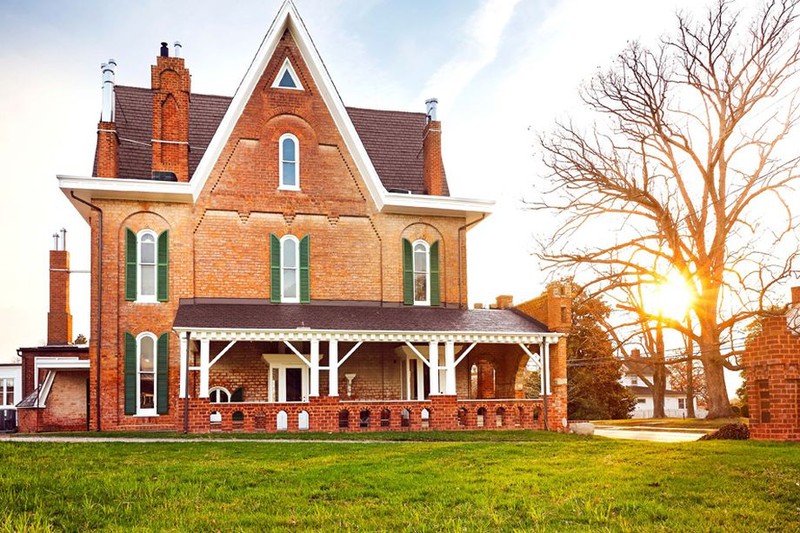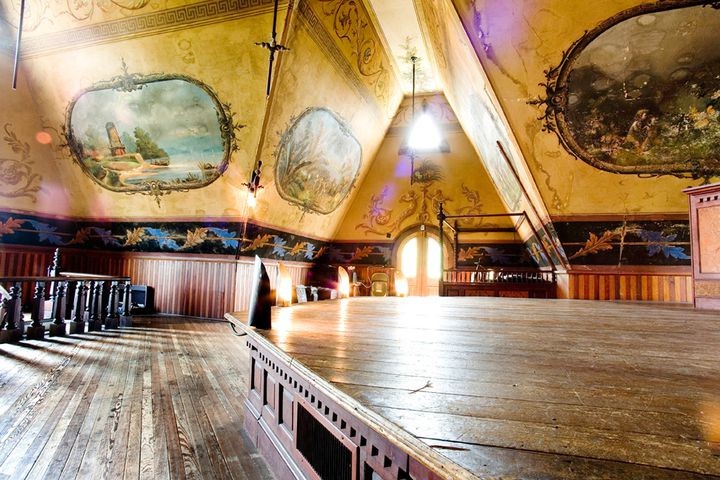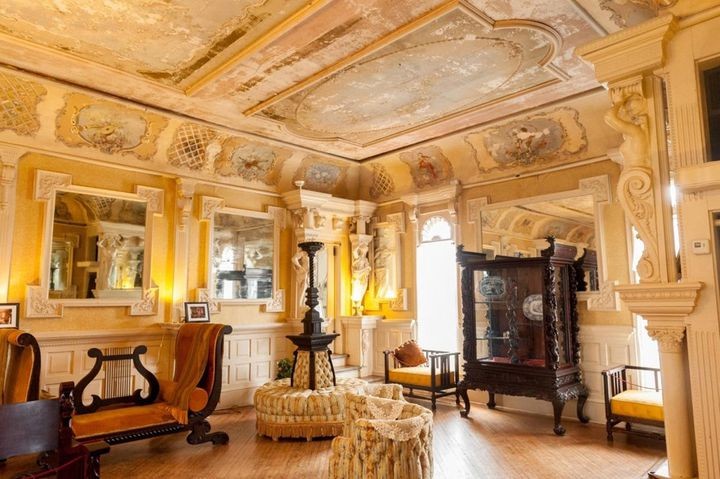 Backstory and Context
The youngest son of an immigrant German father and businessman, Jules Körner attended school in Indiana, where he developed an interest in art. After attending school in Philadelphia, he focused his art interest on decorative art and interior design. He purchased a lot on the main street of Kernersville, North Carolina in 1878 with the intent of building a "combination of studio, office, reception halls, ballroom, carriage house, and stables."
His unique tastes in art showed in the design of both the construction of his house and in the interior design. The building stands a hundred feet tall and has seven levels, each with a different height ranging from under six feet to twenty-five feet. Each doorway and window were different, and so were each of the fifteen different fireplaces. The molding and murals reflected Körner's lavish taste; he employed an Italian artist named Quintini to paint most of the murals in the main rooms of the house, though some of the art, including that along the main staircase, was his own work.
The house, nicknamed "Körner's Folly" by a cousin and by neighbors, became a "social gathering place for entertainment, music, dramatics, house parties, dancing, and gaiety in general." Körner loved making adjustments to the décor of the house. He became famous across the eastern United States for his work and made a comfortable living decorating churches, theaters, and residencies as far west as Indiana. When he died in 1921, his wife Polly turned the upper level of the house into a theater, where she taught music, theater, etiquette, and performing arts.
Körner's daughter Dore Körner Donnell owned the home after her mother's death in 1931. She used it as a summer home, and it was used also as a funeral home and antique shop, but eventually fell into disrepair. In 1970, a group of local citizens banded together to preserve it. Due to the years of neglect, it needed some structural reconstruction to restore the house to its historic golden years, but much of the interior remains intact and showcases Körner's vivid imagination and artistic ingenuity as originally intended.

Sources
History. Korner's Folly. . . https://www.kornersfolly.org/.

Creating Korner's Folly, 'The Strangest Home in the World'. Curbed. . . https://www.curbed.com/2015/4/2/9974768/the-creation-of-korners-folly-the-strangest-home-in-the-world.


Additional Information