Walt Disney Post Office, Marceline
Introduction
In recognition of Marceline's status as the hometown of Walt Disney, this postal building was renamed to the Walt Disney Post Office by order of Congress on November 11, 2003. A ceremony held the following year celebrated Marceline as the home of Walt Disney. The post office is also notable for its historic mural by Joseph Meert that are similar to those by the more famous mural-maker of the 1930s, Thomas Hart Benton. These works were funded by the Treasury Department's Section of Painting and Sculpture (later known as The Section of Fine Arts) and are similar to works that were created in this same area part of the Works Progress Administration's program that employed artists and produced thousands of important cultural works.
Images
After Congress approved the designation of this federal building, Marceline's Post Office was renamed the Walt Disney Post Office on August 23, 2004.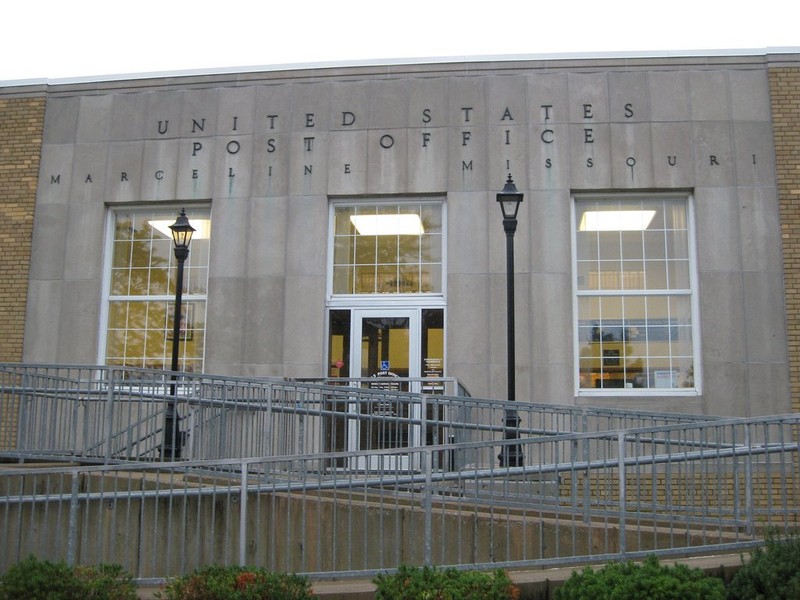 The post office features Great Depression ere murals including this piece, "Contemporary Life in Missouri" by Joseph Meert (1938)

Backstory and Context
Walt Disney was born in Chicago, but Marceline would be the place that the future cartoonist would call home as his father, Elias Disney, acquired a farm near Marceline in 1905. Disney's first drawing and his first cartoon features people and animals from Marceline and even after achieving stardom he credited his success to the experiences of growing up in this small community. In 1938, Disney wrote to the local newspaper and claimed that "more things of importance happened to me in Marceline than have happened since – or are likely to in the future." This post office, along with a nearby museum dedicated to Walt Disney, are among several places in Marceline that share the story of Disney's early years.

Walt Disney passed away in December of 1966. In response, the people of Marceline joined others around the country and lobbied the United States Postal Service to have a commencement stamp made of Walt Disney to honor him. The Department approved and Marceline was one of the first to offer the stamp along with other cities where Disney had lived and worked such as Chicago, Burbank, Kansas City, and Anaheim. The Disney family was made as the guests of honor along with other honored guests at the ceremony. The Santa Fe Railway Super Chief was also renamed as well to the "Walt Disney Special." Originally 120,000 stamps were ordered however as demand rocketed for the stamps and the amount of stamps ordered went from a small 120,000 to 153,015,000.
Sources
Fischer, Jr., William. Walt Disney Post Office. The Historical Marker Database. June 16, 2016. Accessed May 04, 2018. https://www.hmdb.org/marker.asp?marker=67165.


Additional Information