Cordell Carnegie Public Library
Introduction
Cordell's Commercial Club formed a Library Committee and opened a reading room in 1910. They then set their sights on a $10,000 Carnegie grant for the construction of a designated library. They secured the grant in 1911 and commissioned D.C. Bass company of Enid, Oklahoma to build the library, designed by architect A.A. Crowell. In 1912, the Cordell Carnegie Public Library opened to the public.The building's low roof and exposed rafters are indicative of its Mission Revival style; the library is the only surviving Mission Revival building in Cordell. Until the 1960s, the Cordell library was the only public library in Washita County. It remained open as a library until 1982 and is now home to the Washita County Historical Museum.
Images
This building was added to the National Register of Historic Places in 1989.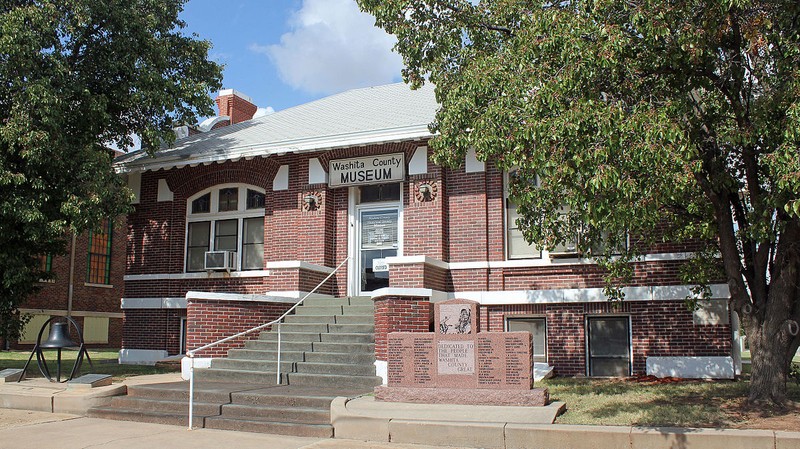 Backstory and Context
The library building was designed in 1911 primarily in the Mission Revival style, which developed in California in the 1890s and influenced southwestern design over the following decades. Mission Revival elements of the Cordell Carnegie Library include its low roof (which once had red tiles) with a wide overhang, roof parapets on the west and east sides (similar to the parapets on California's San Juan Capistrano Mission), and exposed rafters. The structure also features elements reminiscent of Spanish Colonial Revival style, popular from 1915 to 1940, such as the ironwork on the parapets and the brick sunbursts by the entryway.

The Cordell Carnegie Public Library is quite distinctive among other Carnegie libraries. Between 1901 and 1922, 25 Carnegie libraries were built in Oklahoma, but only three (Cordell, Elk City, and Miami) displayed any elements of either Mission Revival or Spanish Colonial Revival style.

The construction of this library in brick reflects broader building trends in Cordell. While most of the older buildings in town were wood frame structures, between 1900 and 1911, buildings were increasingly made from brick and stone. In addition to the new library, Cordell also gained schools, a city hall, a jail, and the Washita County Court House during this time, all built in brick or stone. Today, only the court house and library survive.



Sources
Everett, Dianna. Oklahoma Historical Society. National Register of Historic Places Registration Form: Cordell Carnegie Public Library. U.S. Dept. of the Interior. May 02, 1989. Accessed May 03, 2018. https://npgallery.nps.gov/NRHP/GetAsset/NRHP/89001966_text.

Image credit: Jeffrey Beall, https://commons.wikimedia.org/wiki/File:Cordell_Carnegie_Public_Library.JPG.


Additional Information