El Nido (The Gibbs House)
Introduction
El Nido, better known as the Gibbs House is a unique home that is located at 520 West Warren Street in Shelby North Carolina. The Gibbs House is considered unique because of its style and location. The Gibbs House was built in 1921 for the family of Dr. Emmett Wyattman Gibbs.
Images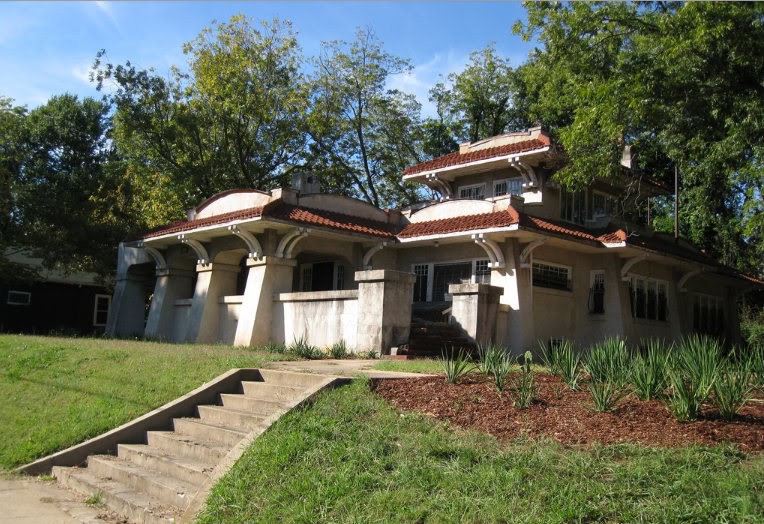 Backstory and Context
The plans for the home came from the Aurelius Swanson Company which was in Oklahoma. The style of the home was requested by Maude Gibbs, Dr. Gibbs wife. Mrs. Gibbs desired to live in California but due to her husbands practice, they could not move. This Spanish style home was built by Mrs. Gibbs request. The homes style was a popular style in 1920's California. The Gibbs House is divided into two parts. The main part is the house itself and the second part is the garage with a spare bedroom situated above. The walls inside the home are hollow and are made of ceramic tiles. The outer walls of the home are made of stucco. The stucco walls give the house a rough but unique look on the exterior of the home. An additional unique feature of the outside of the home are the gutters and roof tiles which emphasize the Spanish look. The floors of the home are handmade tiles from Mexico. A few changes have been made to the house from its original state, but it still has the original windows, furniture, and doors. The only major change to the home was the kitchen due to Dr. Gibbs's poor health. Dr. Gibbs had the kitchen of the home changed into a first-floor doctor's office. A new kitchen was built on the backside of the house for Dr. Gibbs's convenience. After the death of Dr. Gibbs and his wife, their daughter Evelyn remained in the home until her death in 2007. The Gibbs House is now owned by Preservation North Carolina
Sources
El Nido (Gibbs House). National Park Service. . Accessed April 02, 2018. https://www.nps.gov/nr/travel/shelby/eln.htm.

Interior detail, El Nido, Shelby, Cleveland County, North Carolina. NCSU Libraries. October 10, 2005. Accessed April 26, 2018. https://d.lib.ncsu.edu/collections/catalog/bh1103pnc002#?c=0&m=0&s=0&cv=0&z=-481.5008%2C0%2C6191.0016%2C3509.