Martin Luther King Jr. Birthplace
Introduction
Built in 1895, this Queen-Anne style home in Atlanta became the birth home of Dr. Martin Luther King Jr. in January 1929. King was born in his parent's bedroom and lived in this home until age twelve. The property was acquired by the National Park Service and is part of Atlanta's Martin Luther King, Jr. National Historical Park. NPS rangers provide interpretive tours of the home.
Images
Martin Luther King Jr. Birth Home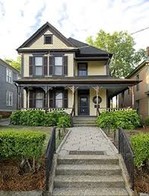 Backstory and Context
Built in 1895, this home was later purchased by Martin Luther King's grandfather Adam Daniel Williams in 1909. Williams was a pastor at the Ebenezer Baptist Church, the same congregation that would later by led by Dr. King. Adam Daniel Williams and his wife Jennie Williams purchased the house for around $3,500. It was not until 1929 when King's father Martin Luther King married Alberta Williams and moved into the home. Martin Luther King Jr. was born along with his siblings inside of the home in their parent's bedroom.
The house is a two-story Queen Anne style home. It has a one-story partial front and side porch. There is a scroll cut woodwork trim, a shingled gable end, two porthole windows, and a side bay. The porch is on an enclosed brick foundation. After the Kings departed the house in 1941, the home was divided for several years into two rental units. The house has since been restored to its original plan and is now a popular tourist location.
The home is located in the Sweet Auburn Historic District in Atlanta, Georgia. The district is known as one of the biggest concentration points for African American businesses along with having significant historic value. Today, Martin Luther King Jr.'s home is a part of the Martin Luther King Jr Historic Site.
Martin Luther King Jr. was thrust into the national spotlight as he led the successful 381- day Montgomery Bus Boycott of 1955-56. Initially somewhat reluctant to take on the mantle of civil rights leader, he responded to the needs of his congregants at a time when some Black clergy feared that being associated with civil rights activism might lead to dire consequences. King followed the lead of African American women such as Rosa Parks in the Montgomery Bus Boycott, and increasingly came to respect the talent and wisdom of other Black leaders such as Ella Baker who pushed him to support students and others who used civil disobedience as a strategy.
King organized and presided over the Southern Christian Leadership Conference (SCLC) in 1957 and was a co-pastor with his father at Ebenezer Baptist Church. Dr. King's speeches and letters came to form a critical part of the spiritual and intellectual foundation of the Civil Rights Movement, and his leadership and call to action led tens of thousands to push for equal rights through non-violent actions. His methods paved the way to the passing of the Civil Rights Act of 1964, which banned public segregation and hiring discrimination in schools, public transportation, and other public activities. Turning his attention to disfranchisement, King also successfully pushed Congress to approve the Voting Rights Act of 1965. That law was weakened by the Republican majority in the 21st century, but during the late 20th century it gave the Justice Department wide powers to prevent voter discrimination and other actions such as gerrymandering.
Martin Luther King was arrested around thirty times throughout his life for his participation in the Civil Rights Movement. Today, he is best known for his many inspiring speeches including his address to participants in the March on Washington. That speech called for an end to police brutality, employment and housing discrimination, segregation, disfranchisement, and other actions that prevented American from achieving his dream of racial equality
Sources
History.com Editors. "Civil Rights Act of 1964." History.com. A&E Television Networks, January 4, 2010. https://www.history.com/topics/Black-history/civil-rights-act.
History.com Editors. "Voting Rights Act of 1965." History.com. A&E Television Networks, February 8, 2017. https://www.history.com/topics/Black-history/voting-rights-act-video.
Lee, Conor. "The Martin Luther King, Jr. Birth Home." History Atlanta, July 16, 2014. http://historyatlanta.com/martin-luther-king-jr-birth-home/
"Martin Luther King, Jr., National Historic Site--Atlanta: A National Register of Historic Places Travel Itinerary." National Parks Service. U.S. Department of the Interior. Accessed February 29, 2020. https://www.nps.gov/nr/travel/atlanta/kin.htm.
Additional Information