Camp Crittenden (1867-1873)
Introduction
This historical marker commemorates the short history of Camp Crittenden, and army post established on September 30, 1867. The camp was created to protect the settlements of Sonoita, Babocomari, and Santa Cruz Valleys against powerful Apache warriors under Chief Cochise who still vied for control of the area long after most of Native American tribes in the Southwest had accepted the reservation system. The camp was named in honor of Colonel Thomas S. Crittenden. The camp was abandoned in 1873.
Images
This historical marker commemorating Camp Crittenden (1867-1873) was dedicated in 1968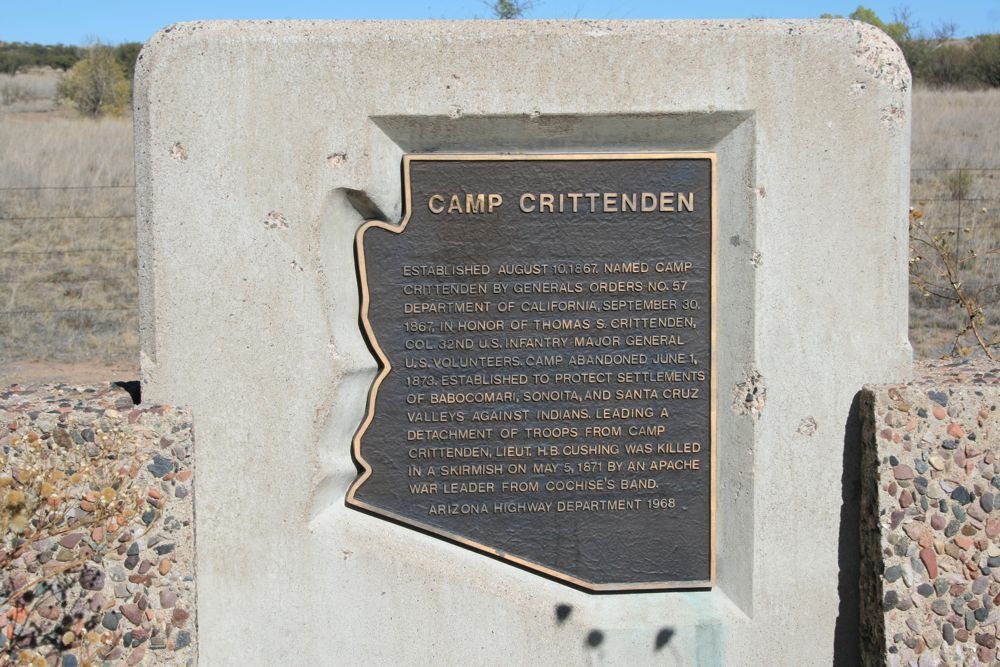 Backstory and Context
Thomas Crittenden had commanded the 32nd Infantry at the battles of Shiloh, Stone River, and Chickamauga during the Civil War. After many successful campaigns, Crittenden resigned from the army. Following his military career, Crittenden served as the state treasurer of Kentucky before passing away in 1893.

This short-lived fort in Arizona was named in Crittenden's honor was created to fight the growing threat of Apache attacks on nearby settlements. Soldiers at the fort participated in numerous campaigns during the Apache Wars from 1870 to 1871. For example, Lieutenant H. B. Cushing was tasked with leading a detail of men from Camp Crittenden and attacking the near by Chiricahua Apache Indians in 1871. The influential Native American leader Cochise did challenged the validity of a treaty signed by other tribes. Cochise led his band of Apache on several raids and attacked settlers and area troops. Cushing and his twenty two soldiers pursued the Apaches south towards the Mexican border. Cushing made contact with the Apache which led to a battle where Cushing and several of his men were killed.

The fort was abandoned on June 1, 1873. Little evidence of the fort remains beyond discrete mounds of grass and brick and are located on private property.
Sources
Camp Crittenden Historical Marker, Established August 10, 1867. Named Camp Crittenden by Generals Orders No. (A historical marker located near Sonoita in Santa Cruz County, Arizona.) accessed 5/6/2018 Historical Marker Database

Additional Information