Woman's Club of Evanston
Introduction
Built more than a century ago (1913), the building emerged during the height of the Progressive Era when women throughout the country were joining national organizations in droves. And from Mary "Mother Jones" Harris to Jane Addams and temperance to suffrage movements, women were also increasingly engaging in social and political activism. The Evanston house stands as reminder to that era, but it also speaks to its local significance; it remains pivotal to Evanston Women and the community at large.
Images
2015 Photo of the Women's Club building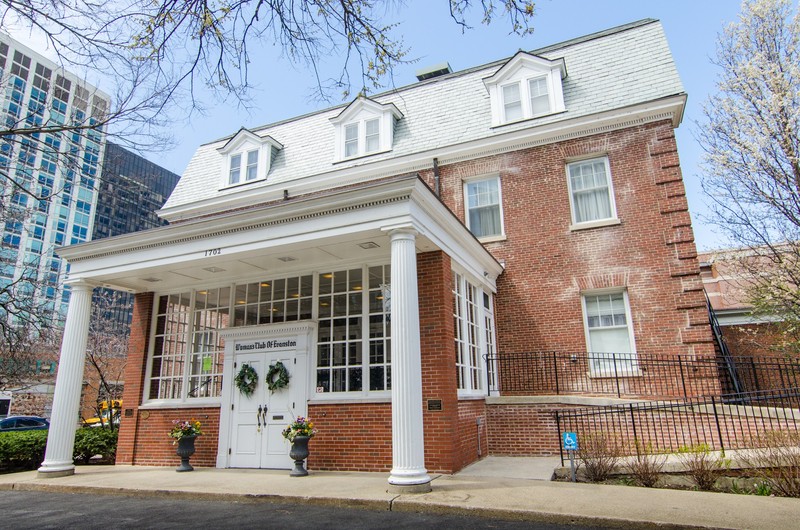 Backstory and Context
The Women's Club of Evanston emerged during the Progressive Era, dominated by reformers who wanted to end political corruption and improve the lives of individuals through social and policial reforms. Included were the multitudes of women who joined organizations such as the National American Woman Suffrage Association and the Women's Christian Temperance Movement, who played a pivotal role in moving the country towards Prohibition (1919 - 1933). 
Along with the Women's Club building, Evanston was home to its Women's College and the Woman's Temple, built specifically for use by the Woman's Christian Temperance Union. In total, the buildings existed as a visual demonstration of how women were increasingly pushing aside the notion that "their place was in the home," and instead were growing more active in community affairs. 
Indeed, for a thirty period, roughly 1890-1920, women increasingly engaged in activism. Jane Addams established Chicago's Hull-House and helped Chicago clean up its alleys. Ida B. Wells-Barnett led a campaign against the lynching of African Americans. Mary "Mother Jones" Harris was heavily active in promoting labor reforms. 
By turning women's traditional social roles into public and political ones, this generation of reformers began to win broader support for women's votes.
The genesis of the Evanston Women's League dates back to 1889, during the early stages of the Progressive Era (and early in the town's history). However, it wasn't until 1912-13 that the women established a strong enough presence within the community to achieve reforms and also gain a home -- the historic building that stands today at 1702 Chicago Ave. 
The Evanston women focused heavily on civic improvements, such as borrowing an idea from Jane Addams to put pressure on the town to build playgrounds and parks and they achieved in pushing the city to establish a regular garbage pick-up process and inspect food at local markets. The women also inspired politicians to create an ordinance that limited the number of advertisements found at "EL" stations (the Chicago area's Elevated Train network) as to leave them more aesthetically appealing. 
The Woman's Club building also served the community, itself, by providing a clean, safe space that was used for meetings, events, dances, concert,s and other gatherings. In turn, that allowed the Women's Club to obtain funds that supplemented donations to the group. 
In addition to civic improvements, the Women's Club actively pursued social and political change, notably regarding issues attached to Woman's Suffrage, child labor, and public health -- the clubs' first undertaking involved the establishment of a hospital and organizing the Visiting Nurse Association. 
Throughout the years, the house stood as a center for helping the Evanston community, including women, Unlike many historic buildings that change purposes and ownership, the structure remains in the hands of the Women's Club. Its mission statement today reads, "Our mission is connecting women behind a shared purpose of volunteerism, social empowerment, and community support.
Sources
"Evanston Women's History Project: Celebrating a Community of Strong Women." Evanston Community Foundation. Accessed April 30, 2018. https://evanstonforever.org/ventures/collaborations/womens-history-project/. 
Hvizdak, Erin. It Takes A Village to Raise and Maintain a Building. Evanston History Center. . Accessed April 30, 2018. http://evanstonhistorycenter.org/it-takes-a-village-to-raise-and-maintain-a-building/. 
Lange, Allison, Ph,D. Female Reformers in the Progressive Era. National Women's History Museum. . . http://www.crusadeforthevote.org/progressive-era-reformers/. 
Painter, Nell Irvin. Standing at Armageddon: A Grassroots History of the Progressive Era. New York: W.W. Norton & Company, 2008, 1987. 
Women's Club of Evanston. Accessed April 30, 2018. https://www.wcofe.or. 
Photo Source
2015 Photo: Eric Allix Rogers via https://openhousechicago.org/sites/site/womans-club-of-evanston/
Additional Information