WVA Manufacturing / Alloy Electrometallurgical Plant
Introduction
Built in the 1930s by Union Carbide company, this electrometallurgical plant was, in many ways, the cause of the deadly Hawks Nest Tunnel disaster: the tunnel, dam, and powerhouse at Hawks Nest were built to supply power to this facility. The plant was originally owned by Union Carbide and is currently owned by Globe in conjunction with Dow Corning. Also throughout the years, the types of production at the plant has changed. It is now known as WVA Manufacturing.
Images
A picture of the plant from across the river circa 1975.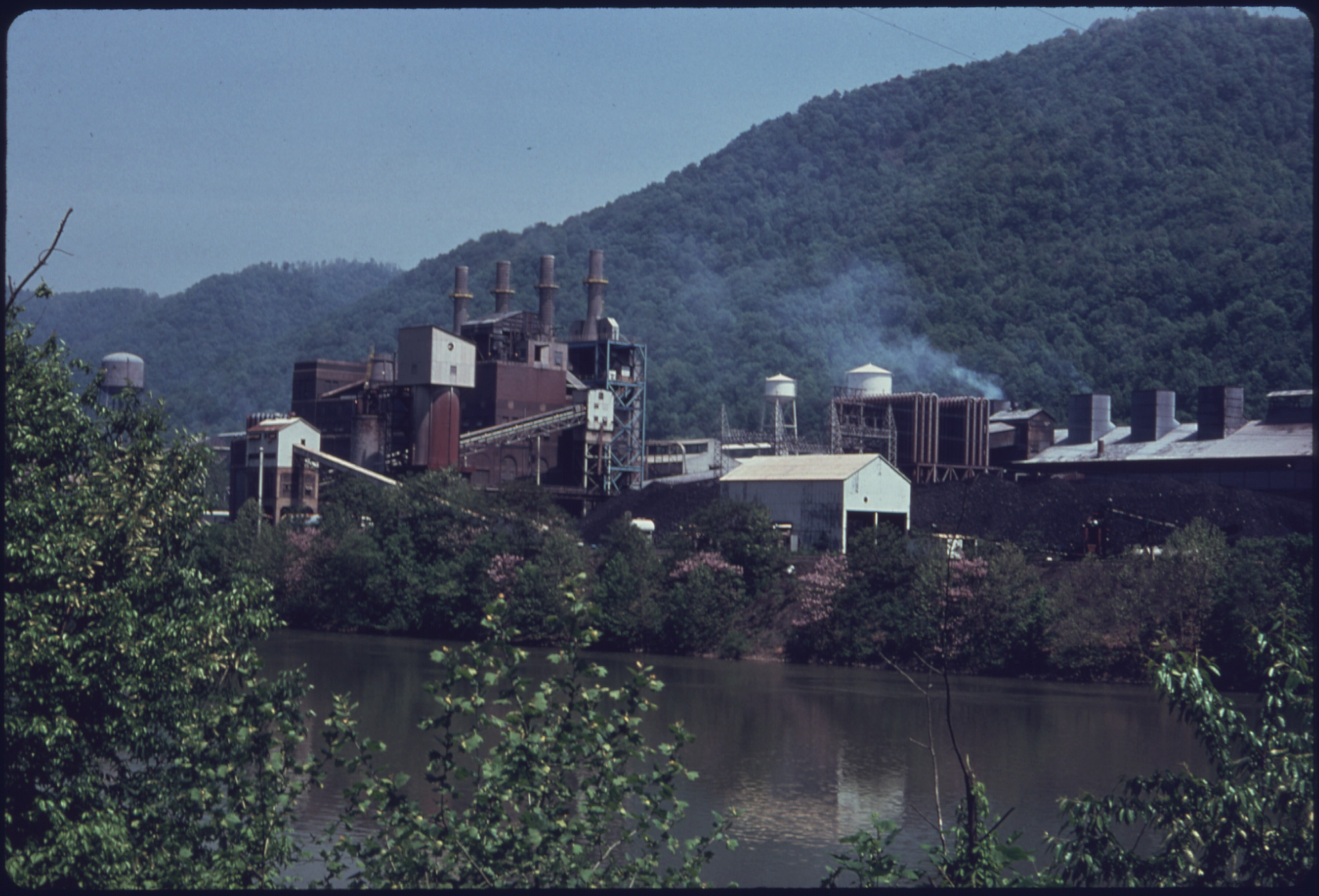 An aerial view of the plant circa 1950.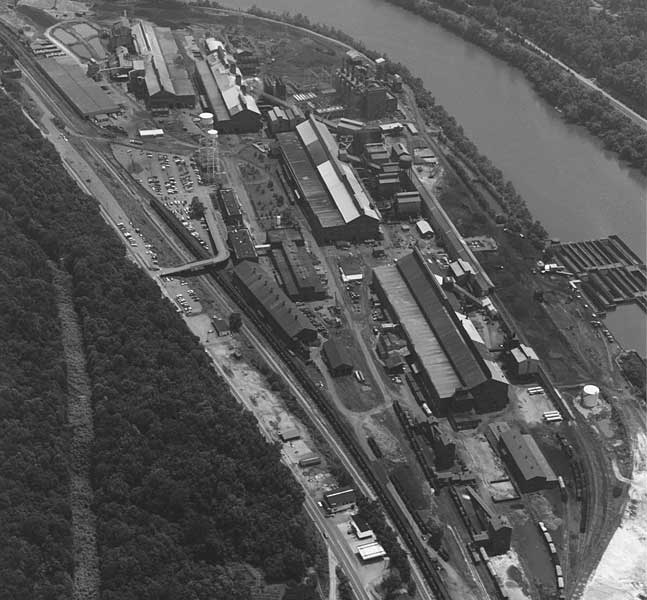 An example of what would be in the Union Carbide magazine. This one says Electro-Metallurgical Company and from August 1942.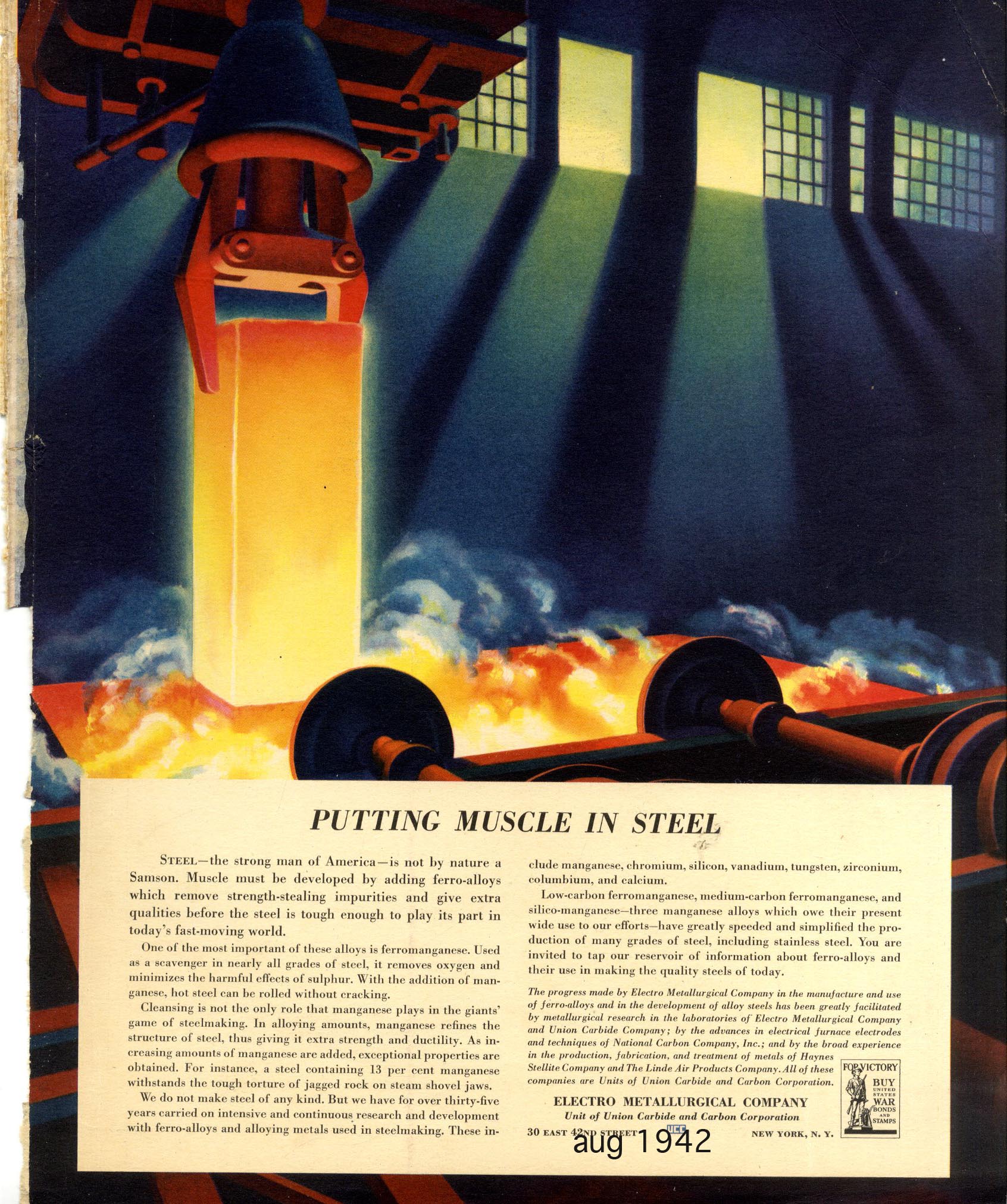 A worker in the "baghouse" control room circa 1975. Baghouses came into widespread use to control air pollution at power plants and factories in the late 1970s, and use a variety of methods to trap fine particulates from escaping the plant.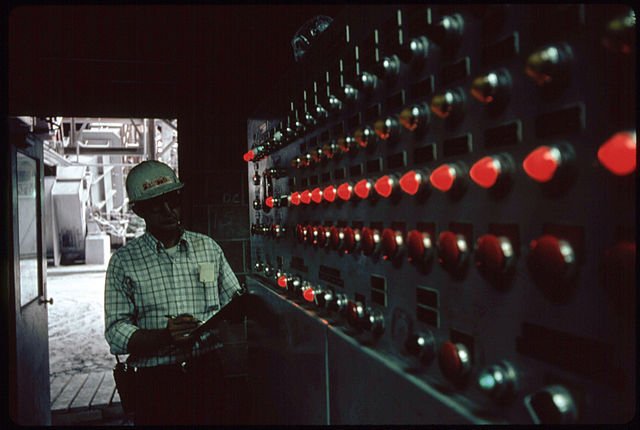 Backstory and Context
"The key element in the ambitious hydroelectric project was a tunnel designed to divert the meandering New River from Hawks Nest down a three-mile course through Gauley Mountain to a power station to be built near Gauley Bridge. The 100,000 kilowatts of electricity generated by the force of the river's 168-foot fall through the mountain would be transmitted five miles west to fire the electric arc furnaces of a huge ferroalloys smelting plant which the Electro-Metallurgical Company was planning to build on the Kanawha."
In the early 1930s, a metallurgic plant was built by Union Carbide, a revolutionary petrochemical company who was "developing a whole new world of alloyed metals, chemicals, and plastics.". The plant went into operation on July 9, 1936. The corporation in charge of the plant, Electro-Metallurgical Company, was actually a subsidiary of Union Carbide. Union Carbide also built the tunnel, dam and powerhouse at Hawks Nest to supply power to the plant. The project led to the Hawks Nest Tunnel Disaster, which claimed upwards of 764 miners' lives--most of whom died of silicosis. The town of Falls View was established to house the workers of the new plant.
Metallurgy, the technique or science of working or heating metals so as to give them certain desired shapes or properties, has been utilized for thousands of years--but Carbide's new silica-based processes were a modern development. Union Carbon produced mostly ferroalloys here until 1981. Ferroalloy is an alloy of iron (less than 50%) and one or more additional metals, important as a source of various metallic elements in the production of alloy steels. Union Carbide sold off a portion off a portion of its metal business in 1981 due to a string of industrial accidents, lawsuits, and the gradual dismantling of assets.
Once Elkem Metals took over in 1981, the plant focused on ferrosilicon. Ferrosilicon is an alloy of iron and silicon used in the production of steel and some types of iron. Production has since shifted once again to silicon metal, which is a metal derived from silicon and is used by chemical and aluminum industries as well as for silicon wafers in photovoltaic solar cells and electronic semiconductors. Elkem Metals sold the plant in 2005 to Globe who is currently operating the plant as a joint operation with Dow Corning--which purchased then-bankrupt Union Carbide in 1999, bringing the plant full circle.
Employment rates in ferroalloys have shrunk with Carbide's departure, though the company was once the largest employer in West Virginia--topping at about 12,000 total employees in the state during the 1940s. When the Alloy plant was sold to Globe in 2005, it employed a total of 175 workers. The plant still receives power from the tunnel, dam, and powerhouse.
Sources
Jordan, Jennifer. Hawks Nest. West Virginia Historical Society Quarterly. April 01, 1998. Accessed April 01, 2018. http://www.wvculture.org/history/wvhs/wvhs122.html.


Elkem's Alloy Plant sold to Ohio Firm. Montgomery Herald. December 22, 2005. Accessed April 15, 2018. http://www.montgomery-herald.com/news/local_news/elkem-s-alloy-plant-sold-to-ohio-firm/article_c7d26211-9e8e-58af-92e7-64609e5df365.html.

Alloy. Ferroglobe. . Accessed April 15, 2018. http://www.ferroglobe.com/business-areas/electrometallurgical/alloy/?lang=en.

Cantrell, Nathan. West Virginia's Chemical Industry. West Virginia Historical Society. April 01, 2004. Accessed April 28, 2018. http://www.wvculture.org/history/wvhs/wvhs1821.pdf.


Additional Information