Deila Holden Colony House
Introduction
The colony house at 5540 was originally owned and occupied by a Mrs. Delia Holden. The house was originally built in February of 1917. In 1917, Mrs. Holden paid $1,000 for the .56 acre lot and $10,000 for the construction of the house. Mrs. Holden owned the old Estrada tract which would become The Lakes, the present day housing development in this area. This property was the last owned by Pedro Estrada, the original owner of the Mexican Land grant known as Rancho Atascadero. During this time it was rare for single women to be able to afford houses at the time. The Decou family bought the home in the 50's and have lived there ever sence. Jay Decou owned the now out of business Decou Lumber Company on the Corner of El Camino Real and La Linia Avenue.
Images
5540 Rosario. Blk MA/Lot 5. Delia Holden - Dr Craig - Clarence Radke - (now Jerry De Cou III). Built 1917-18. Ca. 1920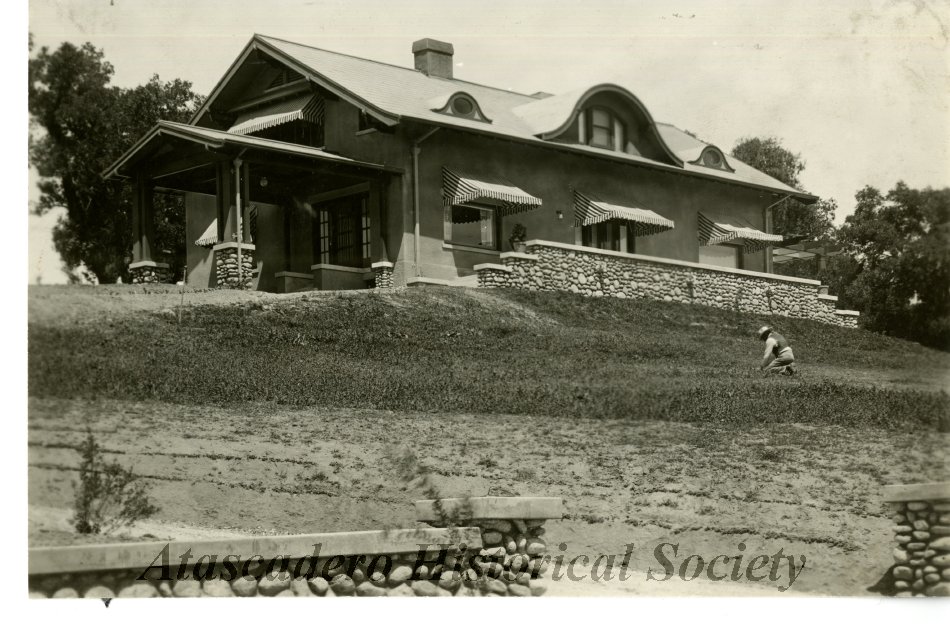 Backstory and Context
Homes constructed in the colony from 1915-1924 are referred to as colony homes. This time period was chosen because it starts with the first homes and ends about the time the Colony Holding Corporation went bankrupt. The colony homes provide a reminder of E.G Lewis' idea of a utopian society. Most colony homes reside on Atascadero side streets. Many different styles of homes were built in the colony. There were simple bungalows to Craftsman style homes, as well as some elaborate mansions. Atascadero Historical society member Lydia Schweich began locating colony homes so tabs could be kept on the historical locations. After her death, others in the society kept records up to date on the houses.
Backstory Narrative
Edward Gardner Lewis purchased 23,000 acres of rolling hills from J.H. Henry in the Spring of 1913. The Atascadero Colony was created by Lewis who formed the Colony Holding Corporation to take care of promoting the Atascadero enterprise. It was referred to as a "dream city". His motto was, "all the advantages of country life with city conveniences".
Sources
Allan, Lon W.. Atascadero: The vision of one -The work of many. Atascadero, CA. Mike Lucas.
Atascadero Historical Society Database