Ysleta Mission
Introduction
Ysleta Mission is located at the site of what is believed to be the first Catholic mission in present-day today Texas. The mission was founded by Antonio de Otermín, the governor of New Mexico at the time, and Fray Francisco de Ayeta in 1682. It was given to the Franciscan friars for the purpose of converting the Tigua Indians, who came as refugees to the area following the Pueblo revolt. Mission Corpus Christi de San Antonio de la Ysleta Sur, is the full title given to the old Spanish Mission. That mission was consecrated in 1682 and built by the Tigua speaking peoples originally from Isleta and Sandia Pueblos in present-day New Mexico. The mission is administered to by Franciscan priests and located east of El Paso, Texas. Dedicated to the Tiguas' patron, St. Anthony of Padua, the pueblo and mission became the focal point of a community that has existed for 300 years, making it the oldest continuously occupied settlement in Texas.
Images
Interior of Yselta Chapel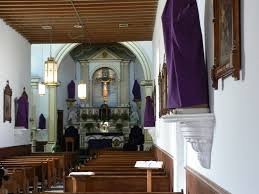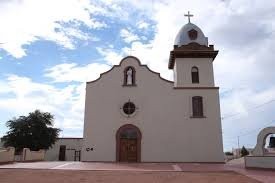 Celebration at the church in traditional Tigua clothing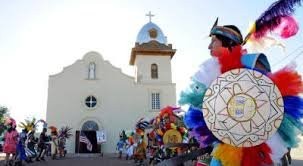 Backstory and Context
The original church fell into disrepair eventually, but the community reconstructed a church at the original site. most of the current church was constructed in 1851, while the silver-domed bell tower was built on in 1897. In 1881 the Jesuits took control of the church and renamed it Nuestra Señora del Monte Carmelo. The mission church was severely damaged by a fire in 1907, but it was shortly there after repaired and is still in use today by the El Paso Diocese.

The Tigua Native American people have always strongly identified with the mission, and still have ethnic celebrations there to this day. They can be seen outside the church with traditional garb and instruments on certain holidays and Catholic feast days. The Tigua tribe associated with the church had a great deal of difficulty becoming recognized as an officially designated tribe under US law, but in 1968 they were recognized by both the state and the federal government by means of a bill passed by Congress.
Sources
Yselta. National Park Services. . . https://www.nps.gov/subjects/travelspanishmissions/ysleta-mission-mission-corpus-christi-de-san-antonio-de-la-ysleta-sur.htm.


Additional Information