Ramsey Student Center
Introduction
The Ramsey Center is a 440,000 square foot athletic and student recreation center at the University of Georgia. Ramsey is home to a natatorium featuring a recreation pool and competitive swim and dive pools used by the swim and dive team. It is also home to several gymnasiums, including the volley ball team's facilities, along with several recreational basketball and badminton courts. There is also a rock climbing wall, 1/8 mile track, and a weight room.
Images
The volleyball arena inside the Ramsey Center
Gabrielsen Natatorium, home to UGA Swim&Dive in the Ramsey Center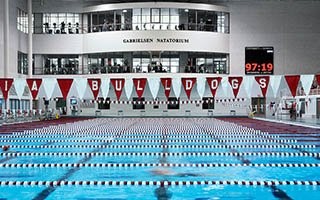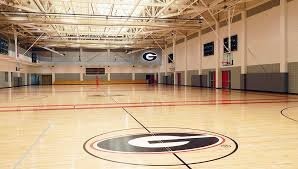 Weights facilities in Ramsey

Backstory and Context
The Ramsey Center opened in 1995, initially called the Student Physical Activities Center, it was renamed in 1996 as the Bernard B. and Eugenia A. Ramsey Student Center. Prior to the construction of Ramsey, students mainly worked out in Memorial Hall, which contained a pool and basketball gyms. Ramsey is a vast upgrade over the old fitness center in Memorial Hall. Ramsey is so state of the art that, in 1997, it was named the nation's best college recreation center by Sports Illustrated.

On the competitive side, Ramsey's Gabrielsen Natatorium has hosted four SEC Swimming and Diving Championships, three NCAA Championships, and the 2003 Diving World Championship Trials. Gabrielsen, the natatorium's namesake, coached the Bulldogs from 1948-1966. He led the team to three SEC titles, and coached the Bulldogs' first U.S. Olympian. Since the construction of Ramsey and the natatorium, the women's swim and dive team has won an impressive 7 NCAA titles.
Ramsey is also home to Georgia's Volleyball Arena. The volleyball team has called Ramsey their competitive and training home since it opened in 1995. The arena seats 1,925 people, creating a great competition environment. In their time competing at the Ramsey Center, the volleyball team has made multiple NCAA tournament appearances.
Sources
Middlebrooks, Marlee. Over the dog years: Ramsey Student Center celebrates 20th anniversary. The Red & Black. September 18, 2015. April 22, 2018. https://www.redandBlack.com/uganews/over-the-dog-years-ramsey-student-center-celebrates-th-anniversa....

Recreational Sports Facilities. Student Affairs, University of Georgia. . . https://recsports.uga.edu/site/content_page/facilities.

Gabrielsen Natatorium. Georgiadogs.com. 2018. . https://georgiadogs.com/sports/2017/6/17/gabrielsen-natatorium.aspx.

Volleyball Arena. georgiadogs.com. 2018. . https://georgiadogs.com/sports/2017/6/16/ramsey-center.aspx.