Fort Christina
Introduction
The first permanent, non-native settlement in Delaware, Fort Christina was established in 1638. Swedish and Finnish colonists named the fort for the twelve-year-old Swedish queen. In June of 1938, Fort Christina State Park was dedicated on the tercentenary of the site's founding. Located at the confluence of the Brandywine and Christina Creeks, the fort became the first Swedish settlement in North America. The site was added to the National Register of Historic Places in 1966.
Images
A rendering of what Fort Christina may have looked like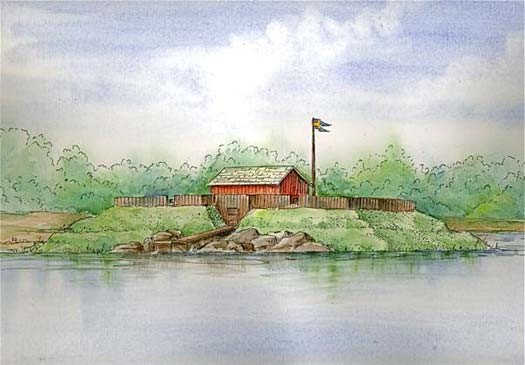 A monument depicting the Kalmar Nyckel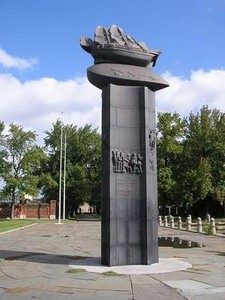 A replica of the Kalmar Nyckel docked at Fort Christina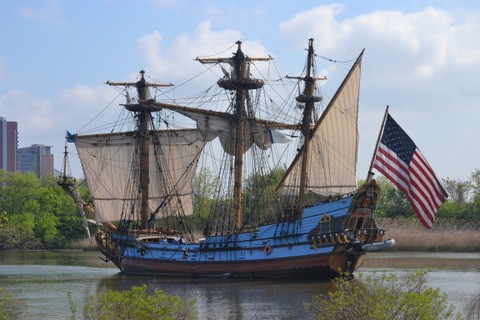 Backstory and Context
In March of 1638, two ships—the Kalmar Nyckel and the Fogel Grip, docked along the coastline of what is now Wilmington. The ships carried Swedish and Finnish colonists who set out from Goteborg, Sweden. These early settlers built the first log cabins in America modeled on typical Finnish homes of the time. Two years later, the Kalmar Nyckel returned to the settlement carrying women and children. All of the original settlers survived their first two years in the new colony.
A few years after that initial landing, in 1640, the Swedish settlers founded New Sweden just to the south of Fort Christina. Over the next fifteen years, more than 600 settlers from Sweden and Finland arrived in Fort Christina and the colony flourished, largely because of the lucrative fur trade. Lured by the colony's profitability and by their desire to control the fur trade, the Dutch attacked in 1655.
The area remained heavily Swedish, however. Even after the conquest of the English in 1664, the original settlement of Fort Christina remained the center of the town that spread and eventually became Wilmington. Even though direct Swedish control of the area ended in 1664, the English allowed the Swedes to live as they had always lived, with elements of their culture surviving to the present day.
In 1938, the State of Delaware observed the tercentenary of Fort Christina with the establishment of Fort Christina State Park. The site was dedicated by President Franklin Roosevelt and the ceremony was attended by a number of political figures, including Crown Princess Louise of Sweden. Present-day visitors to the park will see a tall, granite columnn topped with a sculpture of the Kalmar Nyckel. The sculpture was a gift from the people of Sweden to the people of the United States. The park is also home to a replica of the ship, which is open to the public.
Sources
"A Brief History of Fort Christina." State of Delaware - Division Historical and Cultural Affairs. Accessed April 23, 2018. https://history.delaware.gov/pdfs/historyFortChristina.pdf.

Greenwood, Richard. "Fort Christina." National Park Service - National Register of Historic Places Nomination Form. October 15, 1966. https://npgallery.nps.gov/GetAsset/63747359-6b54-4ad6-adbc-d3fed7ee7553.


Additional Information